ACNH Best Neighborhood Ideas & Layouts 2022 - Cottagecore, Japanese, Kidcore & More Animal Crossing Neighbourhoods
8/12/2022 10:21:29 AM
What is your favorite neighbourhood design idea in Animal Crossing New Horizons? Today we are getting some 15 ACNH best inspirations for neighborhoods 2022. We are going to give you inspiration for when you next come to build one.
15 Best Animal Crossing New Horizons Neighbourhood Ideas & Layouts
Making your island's neighborhoods seem great is crucial since they might make up a significant portion of the island itself. And neighborhoods are one of the hardest and most daunting things to build on Animal Crossing New Horizons. Thanks to Fleurs Crossing who collected the best ACNH neighbourhood layout ideas. Let's get started!
1. ACNH Cottagecore Neighbourhood Ideas
Island Creator @@LUSI_CROSSING
This is an amazing multi-tiered natural overgrown neighborhood. This Animal Crossing neighborhood design uses all of the villager homes. There are 3 levels, you've got the lower sunken level, you've got the middle tier, and you've got the upper tier. They all kind of work really cohesively together, they're all very rural feeling. The middle tier is probably your favorite because you have each individual villager's home on their own island. Honestly, you have never seen a neighborhood that is so intricate and works perfectly for the theme that Lusi has chosen. Just an amazing little neighborhood. Some of the creative areas are the gyroid farm, shop area, milk truck, and farm cutesy areas, but the terraforming is on point as well just a stunning neighborhood.
2. Best ACNH Neighborhood Layouts
Island Creator @SKUNA.CROSSING
This is an abandoned kidcore island neighborhood. In this neighborhood, you have 8 houses. It's split over 2 levels and it's really nicely done. You have little areas in between the villager houses, so you can add some personality in the villager yards with a little laundry area tv combo. The pathing here is really nice and it's super easy to navigate because there are nice wide inclines on either side of where the villager houses are located. So you can go up one side and come down the other, it's just a nice little idea here. the fences act as the backdrop here, so if you're wondering how to kind of work into the cliffs then that's a great tip always, even simple panels would work really nicely. This small ACNH neighborhood idea doesn't take up too much space, so definitely want to try it if you're struggling.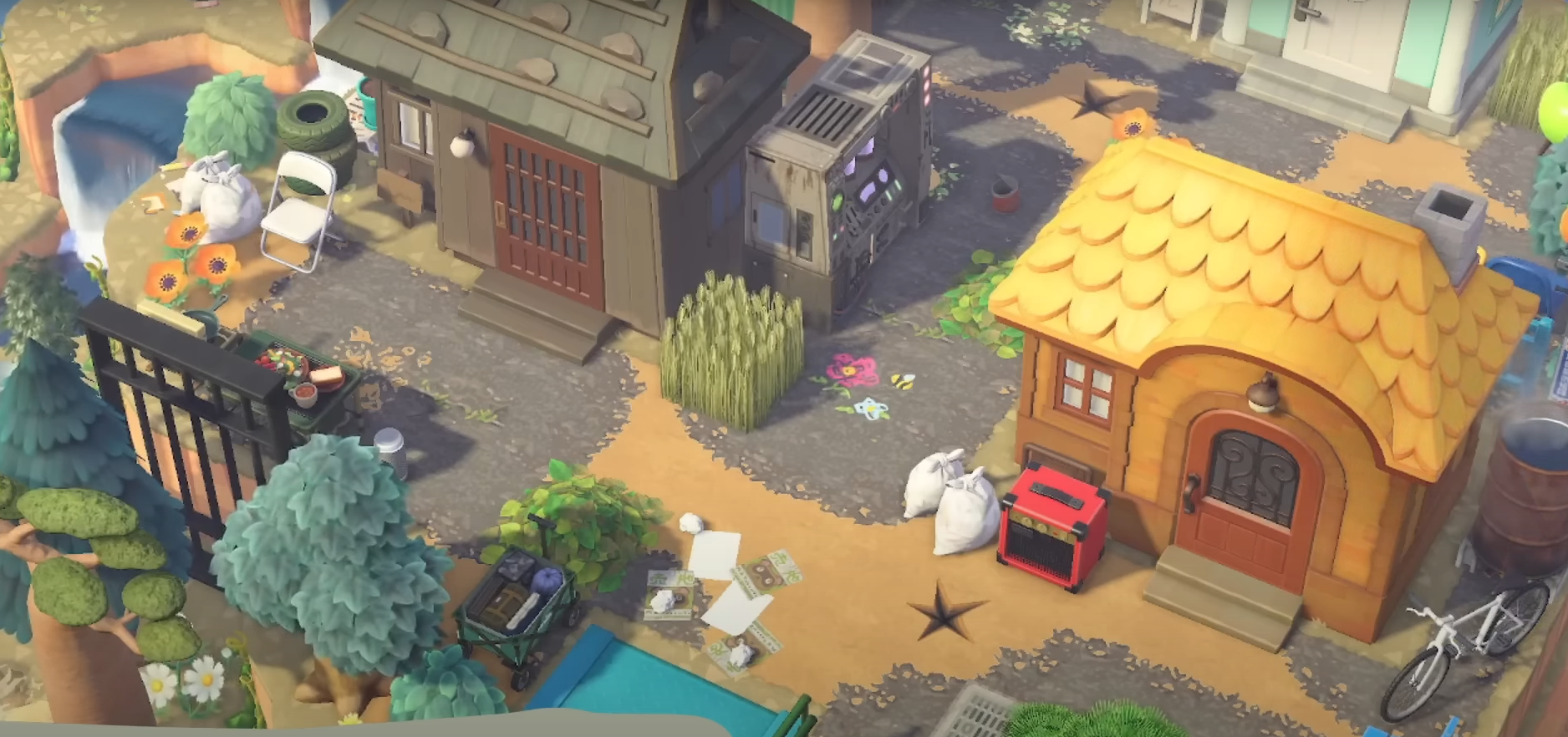 3. Best ACNH Neighborhood Entrance
Island Creator @ACNHPEACHBAY
This island is luscious, green, foresty, and overgrown. But this is a 4 house neighborhood, split over two levels but there is a twist. So instead of having your inclines at the front leading up to their homes on the second tier. What they've done is put it behind the houses, so it's hidden out of the way and it's got a kind of secret entrance up to it. She's left it nice and spacious on the lower levels as well, so you can get some yard activities in there like basketball and the soccer or football field just really pops was green. You will love the path running throughout it, the use of the fences is great and the wheat field is really amazing. Obviously, the whole setup is really not too over-complicated, but super effective.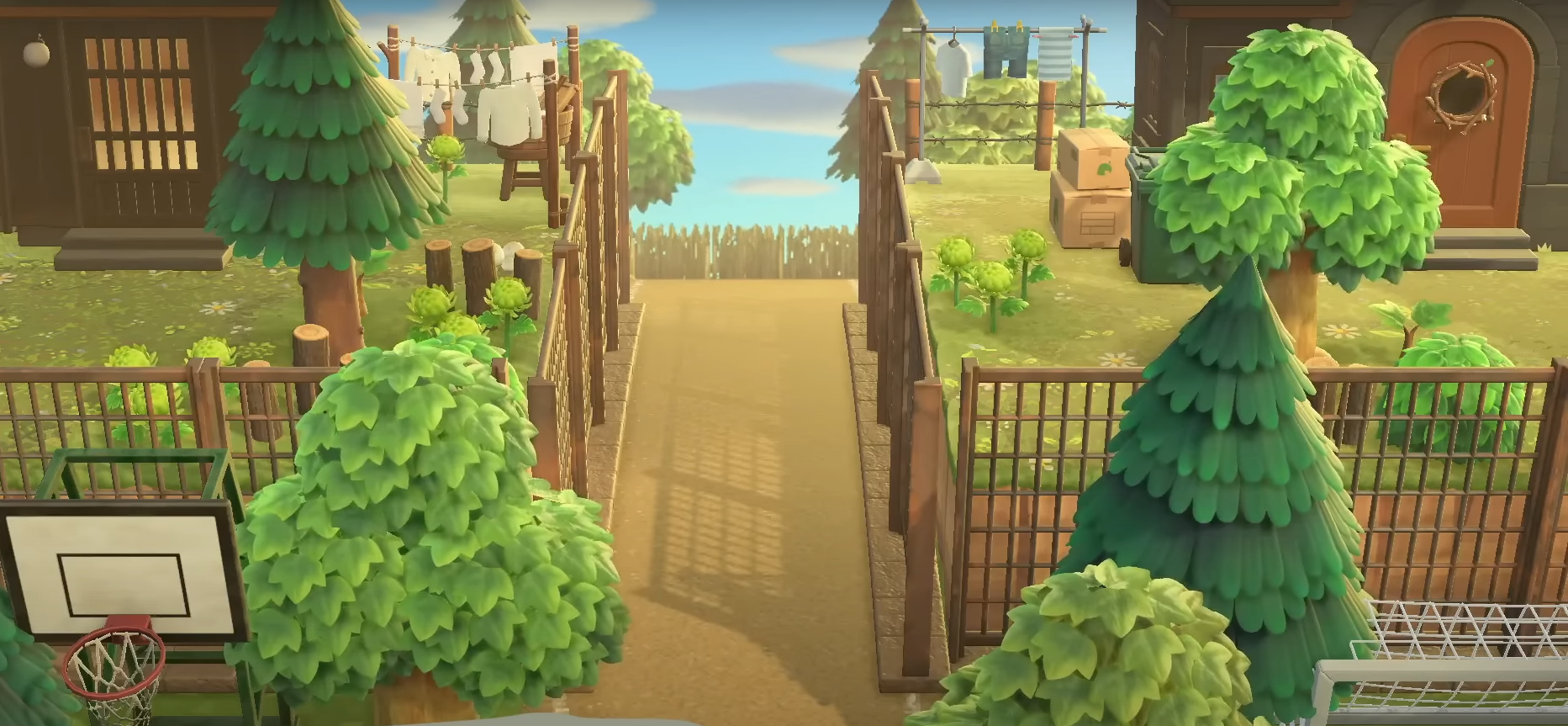 4. ACNH Japanse Neighborhood Design Ideas
Island Creator @MEGGAMES
This is an overgrown Japanese city island created. It's not yet finished but if you want to go check out the progress, check out MEGGAMES' youtube channel she does live streams when she's decorating. Her neighborhood is set at the very entrance of her island and it's all in a straight line. You've got the villager homes, two on each side. But then in between the villager homes, you've got these fantastic Japanese-inspired city buildings, the fake buildings and they look wonderful. There are so many different elements here. Then you've got the lovely city path which guides you left and right along, so it's easy to navigate. At the end of the city area, you have a little homestead, this little villager plonked out here where signifies moving from the city into the overgrown rural area. We also have a little farm here so this is really nice if you're trying to figure out how to go from city to rural. This is a fantastic, super easy layout and it's just full of so much stuff.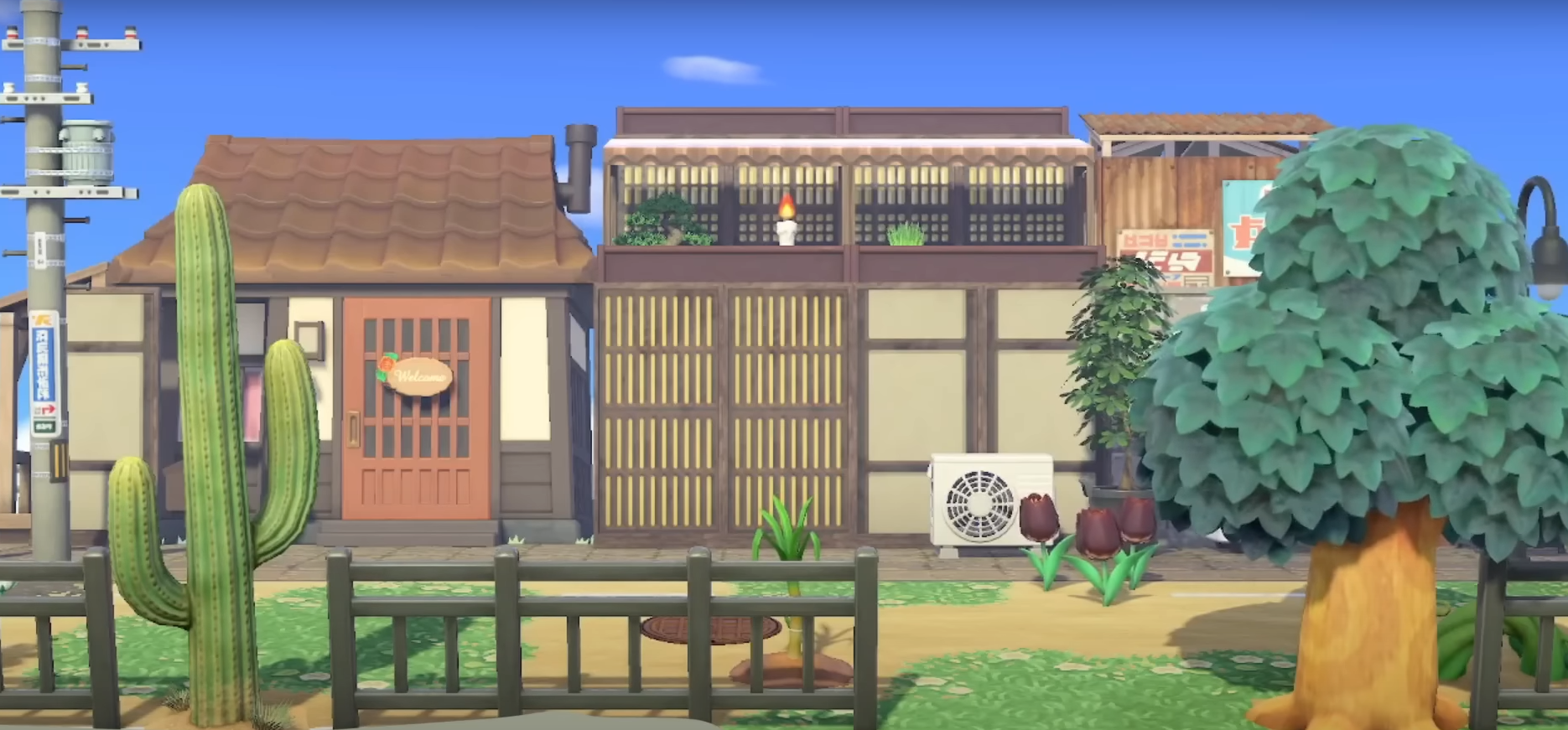 5. ACNH Kidcore Neighborhood Ideas

Island Creator @ACNH_AMANDUH
This is amazing, it's a bright and vibrant kidcore island and another unique ACNH neighborhood layout. Up top, we have two houses on either side of a sunken chevron shaped neighborhood. The creativity here is just mind-blowing, not to mention all of the unique and bright codes that she's used. All of the colors just work wonderfully together, it's just a fabulous and different layout. She's done a fantastic job. This works really nicely, it's easy to navigate and it's just beautiful. You get some great shots as well, the details are just impeccable.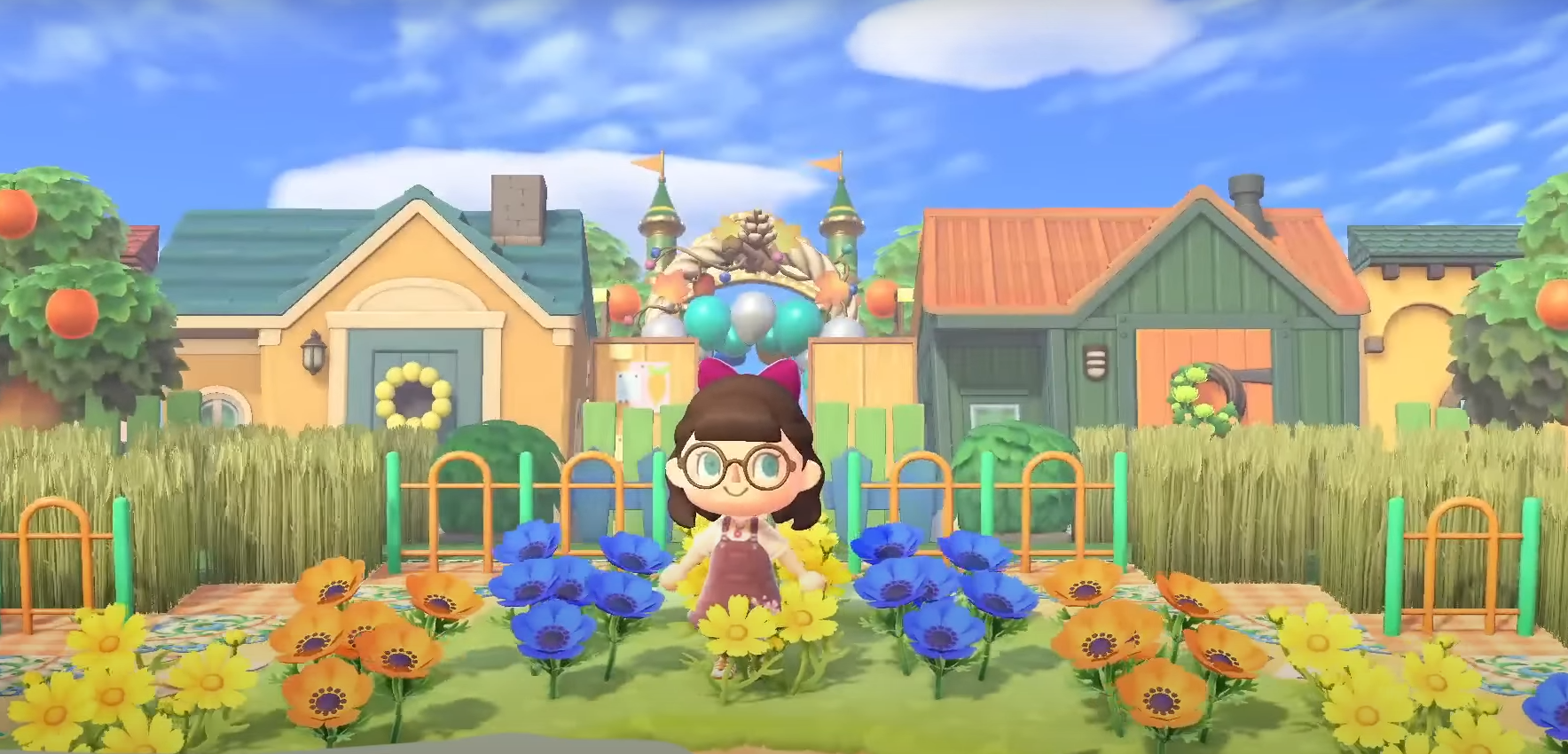 6. ACNH Springcore Neighborhood Designs
Island Creator @MAFFIN.ACNH
This is a gorgeous very lovely springcore island. What they've done is they've separated out some of their villager's homes, so they're sporadic spread across the island. But then you have this really quaint little adorable neighborhood with some of the cutest villagers. The houses match really nicely and then you have little trees in between and then you have a whole open yard area with some beautiful flowers situated behind it. It's quaint, it's cozy, it's easy to do, not overly complicated, and super effective neighborhood.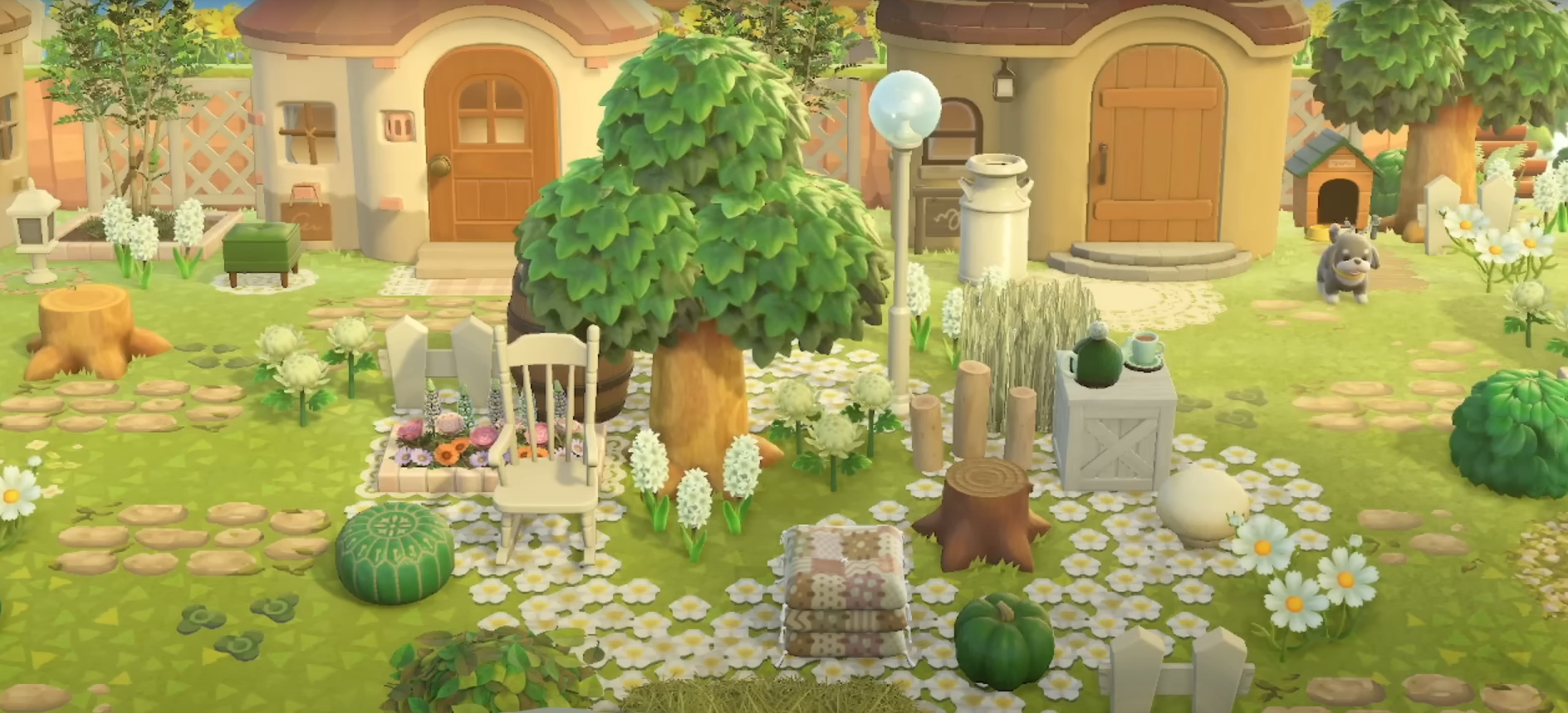 7. ACNH Spooky Neighborhood Ideas
Island Creator @ALEX.CROSSING_ISLANDS
This is a brand new Halloween island and she has done this fantastic little neighborhood here. There are 4 houses and they're surrounding the pumpkin carriage which is so cute and fits the theme perfectly. So she has 2 further out on either side and then 2 more central homes with the walkway running between, really nicely organized. You'll be able to capture all of the villagers homes in one shot. It's just a great way to add a cozy neighborhood all together in one. She's got some details here and there, there are door mats which are just adorable and there's also room for yards as well. There are some cozy blanket areas over on the left and then we've got some more farms, there's a pumpkin farm and things over on the right-hand side. The scatter of pumpkins is just perfect as well. This is a really great style of the neighborhood, it can be adaptable.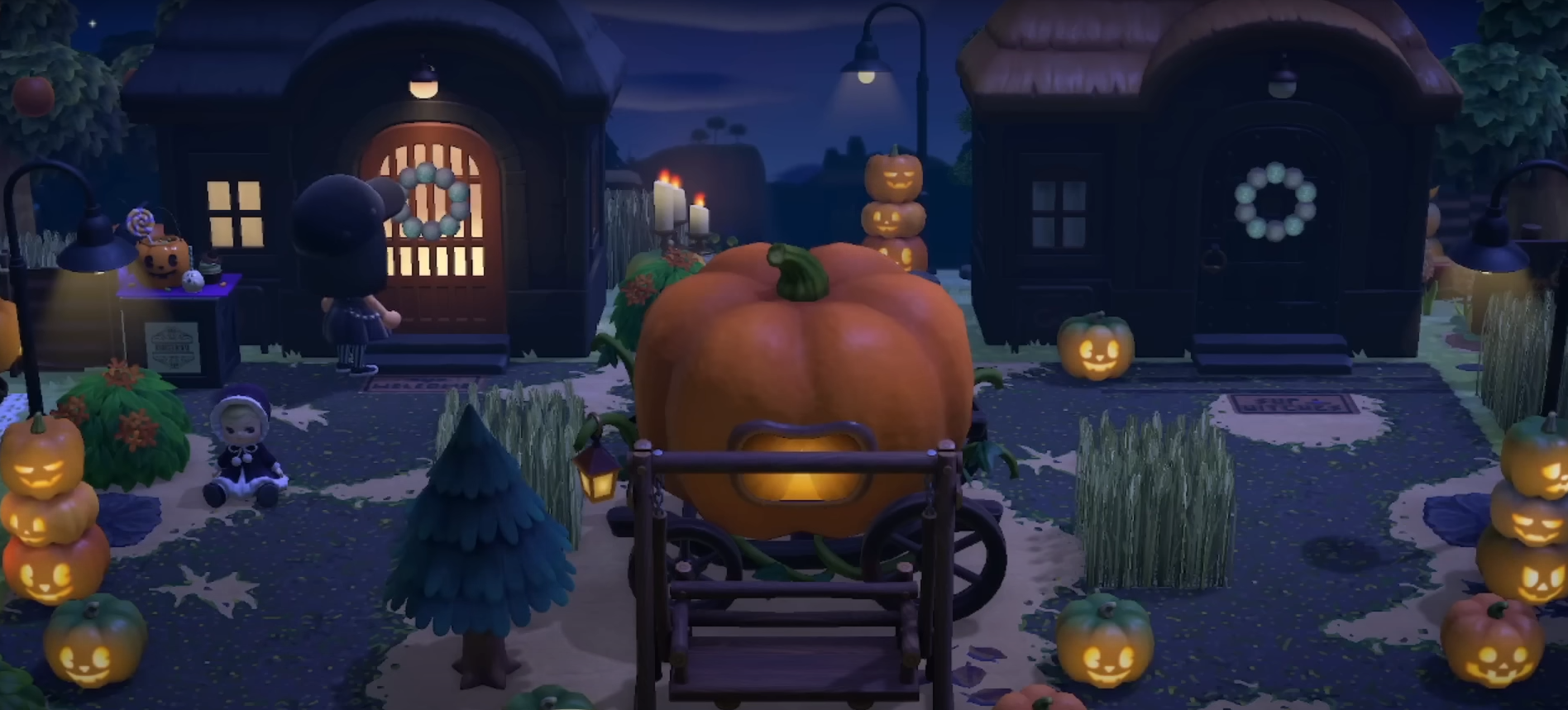 8. ACNH Tiered Neighborhood Ideas
Island Creator @Jolly_Crossing
This is a 4-home neighborhood split over 2 tiers, however, you have the contrast with the natural island area down the bottom. Then you head up the incline and it's much more structured with the in-game path which is overlaid with the grass. It's all so beautifully decorated, has lots of pinks, and fits perfectly with the sakura season. She's added in between the 2 houses on the top tier this little garden area is perfect, it's just stunning.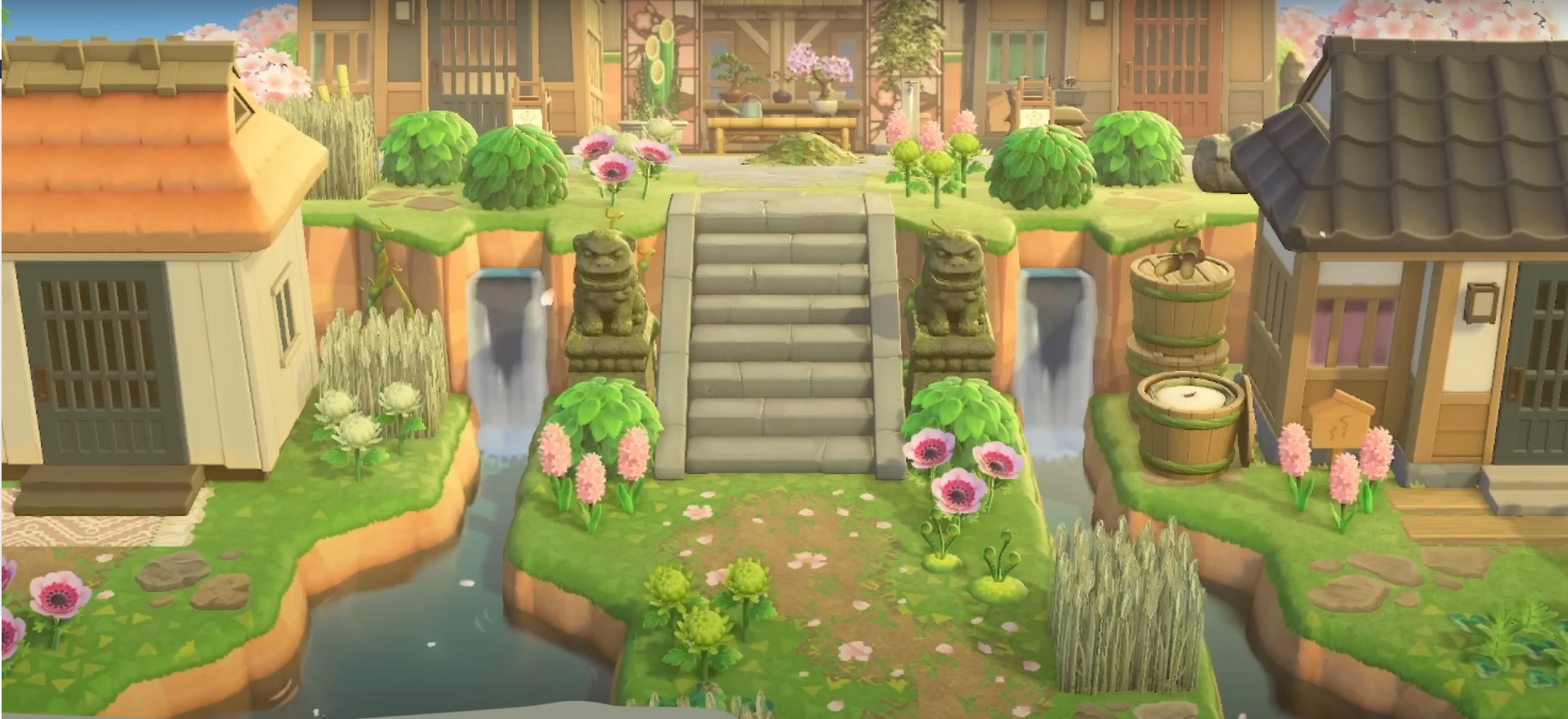 8. ACNH Camp Themed Neighbourhood Ideas
Island Creator @STORYBROOK_ACNH
This is the campgrounds for her camp-themed island and it's amazing. She's got 6 villager homes in here and she's spread it across 2 layers but in a nice neat line. The way that she's organized the homes means that when you're on the low level, you can still get a peek of the house on the upper level which is a really nice touch. She's also designed all of the houses, so they look the same so you get that real proper log cabin feel as if you are truly at camp. But if you decided to go for this style, you could change it up and match whatever theme works for you. It is quite nice to have it lengthways and again neighborhoods can be really big and bulky, so this one is not at all.
9. ACNH Winter Themed Neighbourhood Ideas
Island Creator @CHI_AUF_LUMMERLAND
This is a lovely wintery kind of regal elegant island and this is a simple idea. So what they've done is they've got 3 houses up the top and then they have a stepping stone way up and then they put a bakery in the middle. How cute is this idea? So it's with 3 homes over 2 levels and the details work really nicely as well, just a really cute cozy quaint little neighborhood that you can add so much to.
10. Animal Crossing Fairycore Neighbourhood Design
Island Creator @LILY_ACNH_
This is a springcore as well as fairycore island. The temptation with spring and natural islands is not to do neighborhoods, but you can definitely do it in a way that feels natural and relates to the theme. This is a great one to go for not taking up too much space. You have got little yard areas, you will love the circular area that she's done with the path. Trying to get a pass to look decent while doing a circular way is really tough but she's managed to pull it off excellently. There's just so much nature and beautiful things around it. It's just cute and adorable.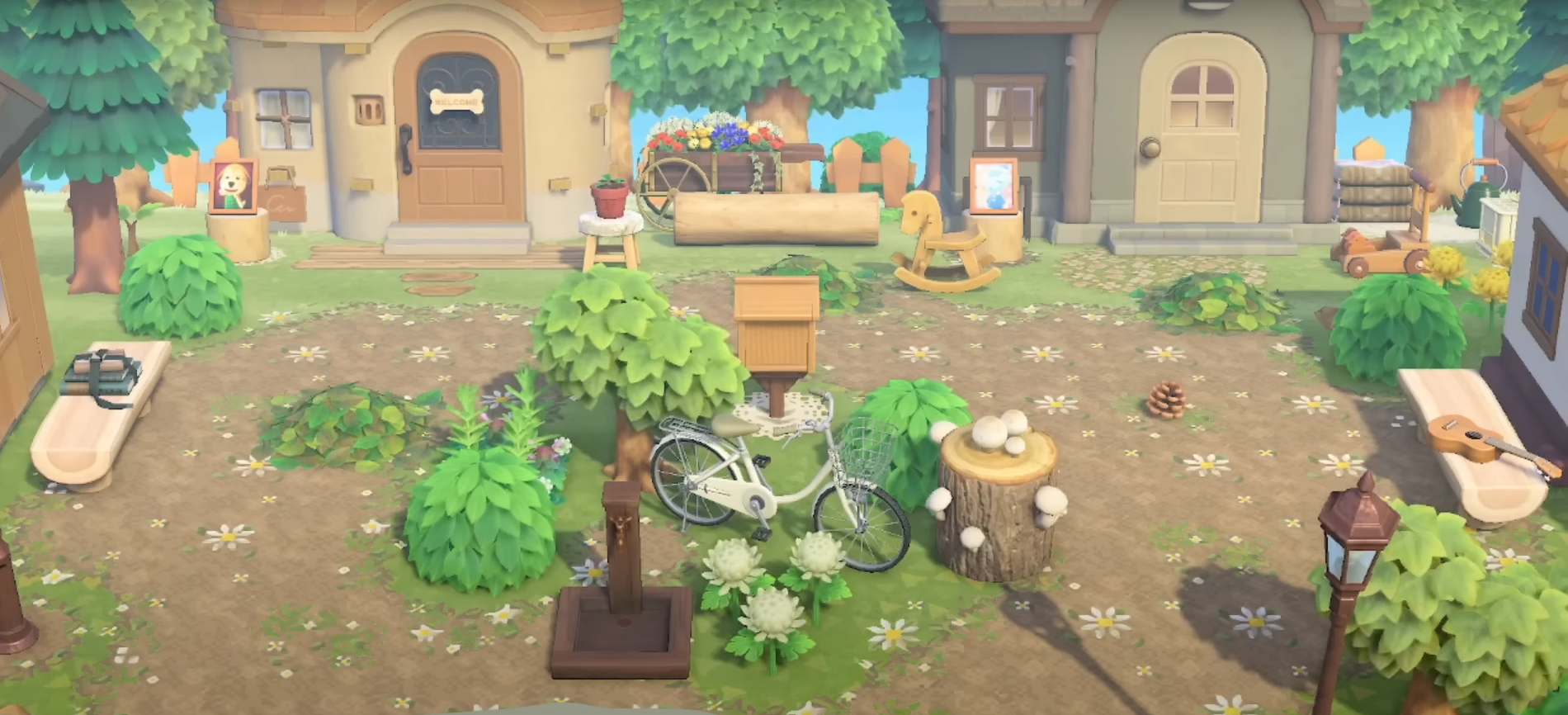 11. ACNH Mini Neighborhood Design Ideas
Island Creator @COORIEDOON_
This is a little mini neighborhood with 2 homes, they're all on the same level. She was having them set apart so they're diagonal. This means that you can really create lots of natural areas in between. She's got farms, there's a little artist area and a little sitting area as well out front of Mary's house. It's just cute and it works nicely. This is great if you don't want a put-together neighborhood or you don't want all of your houses together. Then having little smaller mini neighborhoods dotted around your island works really nicely as well.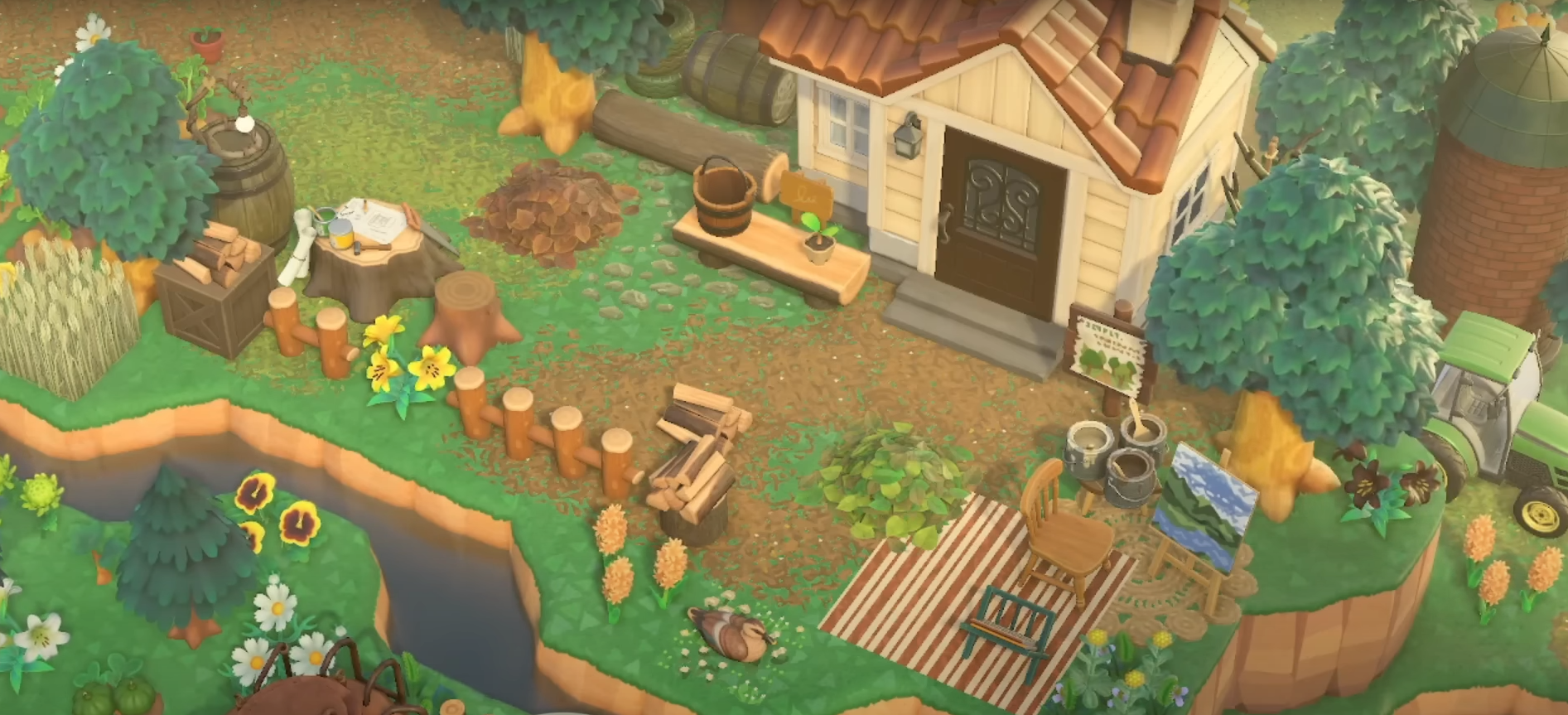 12. Best ACNH Neighborhood Paths
Island Creator @JACINTAPLAYS
This is another mini neighborhood with 2 villager homes. It is a sunken one, however so it's a little bit different from what we saw before. This is a beautiful springcore island and sunken neighborhoods work perfectly for this. Jacin has made it really easy to access it by having 2 inclines, one at the back and one at the front. There's some lovely little terraforming going on here, some trees, some cozy little details like the sewing area. It's just really quaint cozy and matches that springcore vibe and is a great way to go if you want to kind of have something a bit different on your island.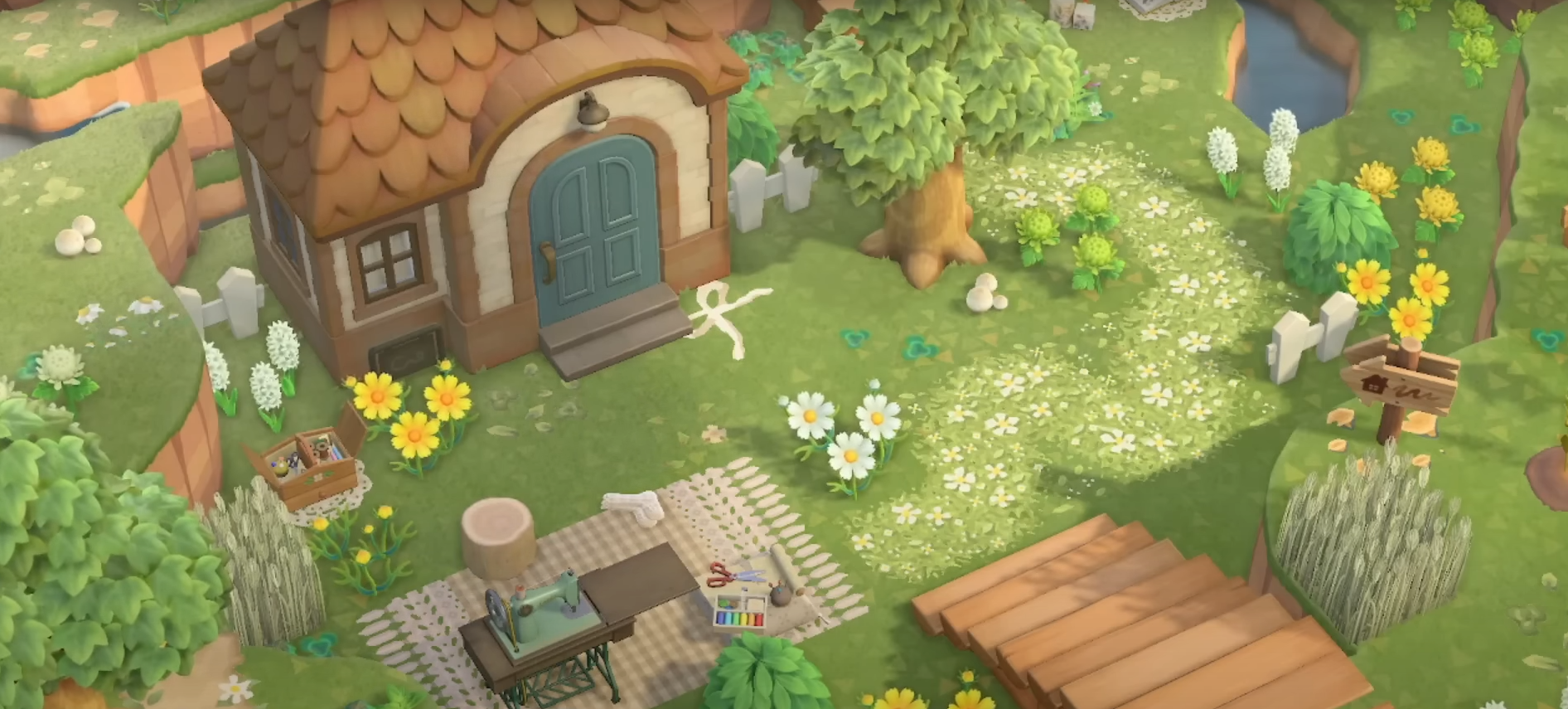 14. ACNH Halloween Neighborhood Ideas
Island Creator @PINKY_CROSSING
This is a Halloween town island. This was an absolutely perfect example of how to incorporate a structured simple yet really effective neighborhood into your island. Especially if you're working in a town or a city, you can take so much inspiration from this. There isn't a lot of yard space but what she's done with it works really well. So different par things work really nicely and all of those little details that she's added in to make it fit with her particular theme. You could definitely go ahead and incorporate that on your island. She has got 2 different sections to this, they're both slightly different and they're interlinked by using a bridge which is a nice way to kind of separate the areas but make it so close enough that it's easy to navigate over to them.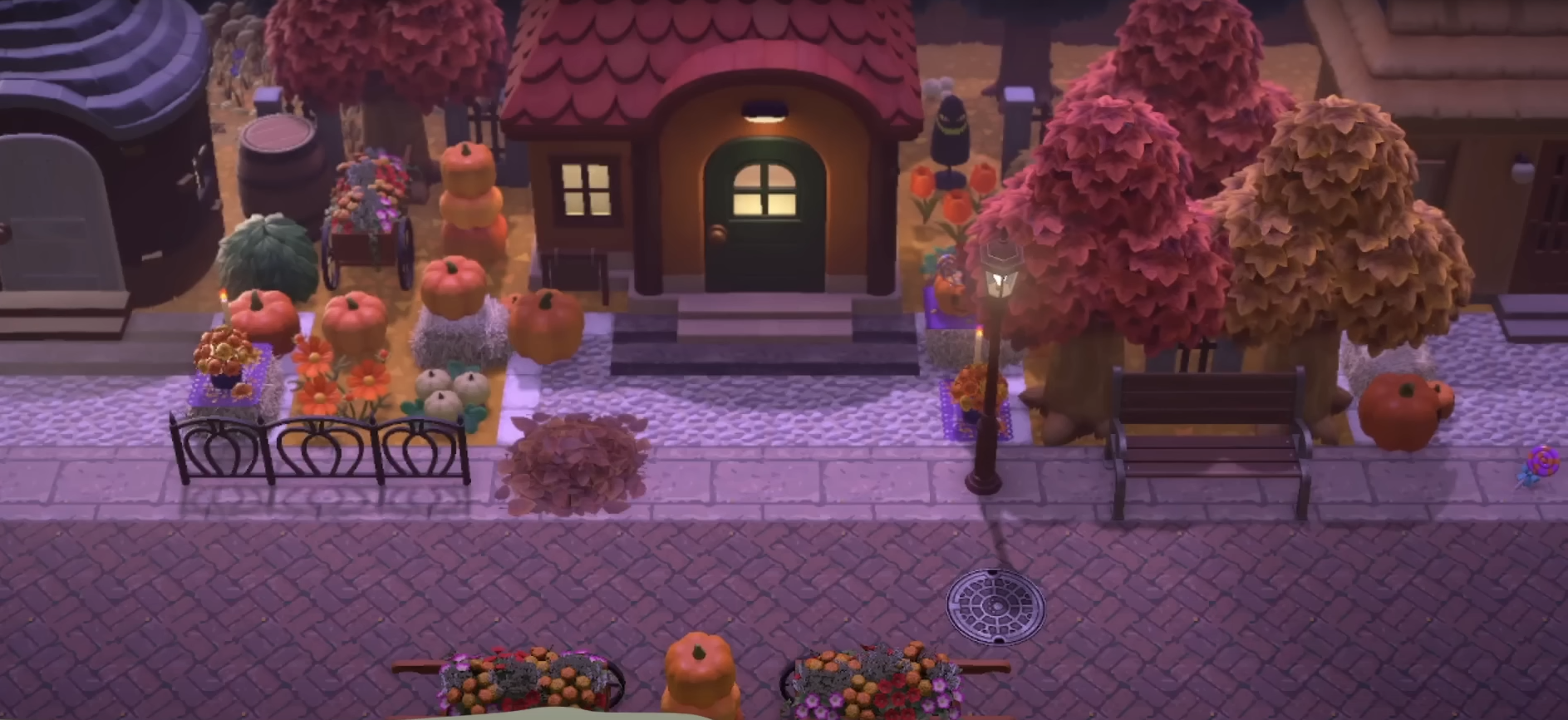 15. ACNH Autumn Themed Neighborhood Ideas
Island Creator @SPINELLICROSS
This is a wonderful autumn town and this neighborhood is so structured. She has incorporated all of the villager homes in this one, it is split over 2 levels but it works really nicely, it's super organized, and super clean and there are also even little spaces in the villages, yards areas for some personality. She has added mailboxes for each of the villagers, what an adorable touch. But this must have taken some time to get right, but plan it out and you can execute it wonderfully.