ACNH October Update 2022: Events, Seasonal Items, DIY Recipes, Critters in Animal Crossing Halloween Season
9/1/2022 4:49:52 AM
As in the real world, on our Animal Crossing New Horizons island, the arrival of October not only brings back comfortable weather on both hemispheres but also the joy of the holiday season and harvest. Read this ACNH October Update 2022 Guide to find out the new seasonal items, events, holidays, DIY recipes, and critters that will appear in the mid-autumn season!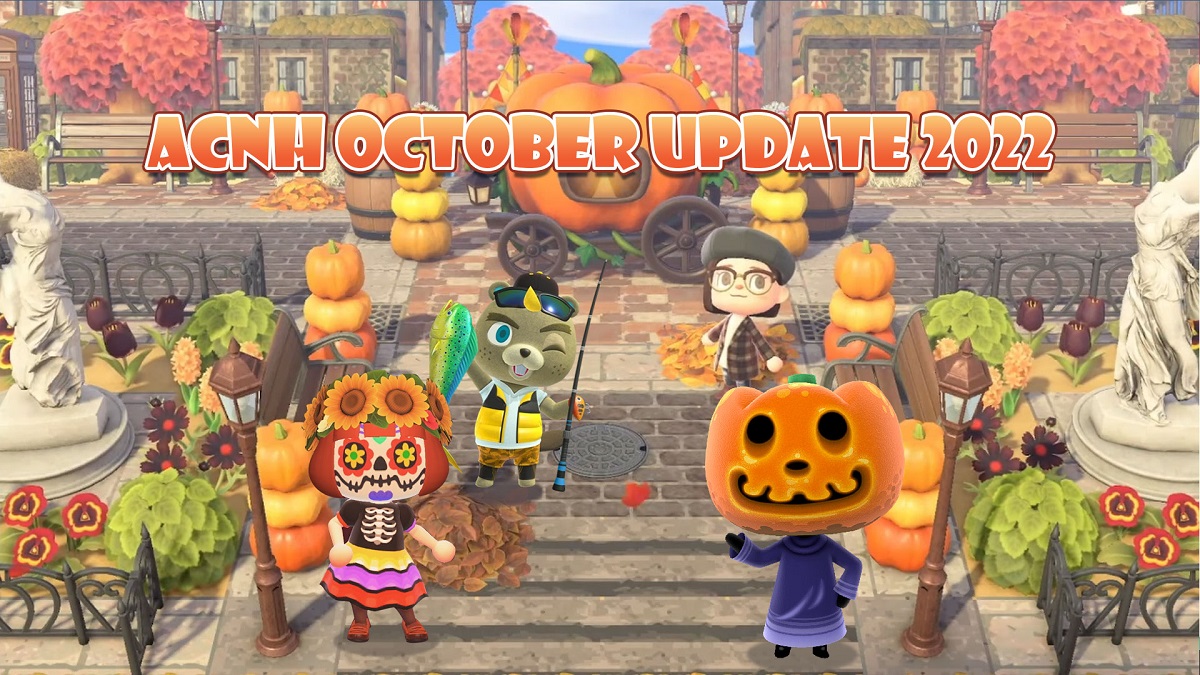 Animal Crossing New Horizons October Update 2022 (Events, Items, DIYs, Critters)
Whether in the southern or northern hemisphere, October is a busy and fun-filled season, not only will we be celebrating big festivals including Halloween, but we will also be able to collect a lot of seasonal DIY materials and recipes.
ACNH October Weather and Landscape
In October, we are on the verge of a more comfortable season in both hemispheres, as the northern hemisphere fully enters fruitful autumn and the southern hemisphere enters a grassy spring.
In October in the northern hemisphere, the golden autumn sunshine is warm and quiet, the autumn wind is gentle and gentle, the daytime is elegant and melodious, and the moderate amounts of rainfall bring a hint of coolness. The yellow of the trees and grass became darker, and the branches were covered with fruit. Make the most of fall and enjoy everything it has to offer - fresh air, cozy vibes, apple picking, and everything we've included on this fall wish list.
In October in the Southern Hemisphere, our island enters its most romantic cherry blossom season, and aside from the bright sunshine and mild spring breeze, also moderate rainfall occurs fairly regularly.
ACNH October Events & Seasonal Items
This brings us to one of the biggest reasons to love October yet is Halloween! October is not only a time to celebrate the pumpkin festival with family and friends, but also a time to remember the dead. Don't forget to celebrate festivals on your island by participating in the following events and get ACNH items related to these festivals to decorate your island.
C.J.'s Fishing Tourney
Date: October 8th, 2022 (Northern & Southern Hemisphere)
Items To Get: Fish Trophies, Anchor Statue, Fish Doorplate, Fish-Drying Rack, Fish Print, Fishing-Rod Stand, Fresh Cooler, Marine Pop Wall, Fish Rug, Fish Wand, Fish-Print Tee, Fish Pochette, Tackle Bag, Fish Umbrella
Halloween
Date: October 31st (Northern & Southern Hemisphere)
Items To Get: Jack's Robe, Jack's Face, Spooky Treats Basket, Spooky Tree, Spooky Trick Lamp, Spooky Carriage, Spooky Wand, Spooky Flooring, Spooky Garland, Spooky Rug, Spooky Table Setting, Spooky Wall, Haunt Reaction, Scare Reaction
Day of the Dead
Date: October 25 to November 3, 2022 (Northern & Southern Hemisphere)
Items To Get: Marigold Decoration
ACNH October DIY Recipes & Items
October is a busy season for anyone looking to source seasonal materials to create stylized designs for their islands. In the northern hemisphere Pinecone and Acorn hide in trees and pumpkins grow in the fields. In the southern hemisphere, the fluttering pink petals make people intoxicated, and the green young bamboo emerges from the ground. So no matter for northern or southern hemisphere islander, October is a crafting month with fall and spring DIY recipes!
Tree's Bounty Furniture & DIY Recipes
Date: September 1 to December 10 (Northern Hemisphere)
Seasonal DIY Materials To Get: Pine Cone, Acorn
Item To Craft:
Tree's Bounty Little Tree

Pile of Autumn Leaves

Autumn Leaf Fire

Pine Bonsai Tree

Tree's Bounty Mobile

Acorn Pochette

Tree's Bounty Lamp

Yellow Leaf Pile

Balancing Toy
Halloween Spooky Set Items & Pumpkin DIY Crafting Recipes
Date: October 1 to October 31 (Both Hemisphere)
Seasonal DIY Materials To Get: Orange Pumpkin (craft Spooky Set items for the first time); Yellow Pumpkins, White Pumpkins, Green Pumpkins (customize Spooky Set furniture items further into another color)
Item To Craft:
Spooky Arch

Spooky Candy Set

Spooky Chair

Spooky Lantern

Spooky Lantern Set

Spooky Scarecrow

Spooky Standing Lamp

Spooky Table

Spooky Tower

Spooky Treats Basket

Spooky Tree

Spooky Trick Lamp
Bamboo Set Furniture & DIY Recipes
Date: August 25 to November 30 (Southern Hemisphere)
Seasonal DIY Materials To Get: 120x Bamboo Piece, 62x Young Spring Bamboo, 8x Bamboo Shoot
Bamboo Items To Craft:
Bamboo Items Series:
Bamboo Basket

Bamboo Bench

Bamboo Candleholder

Bamboo Drum

Bamboo Floor Lamp

Bamboo Flooring

Bamboo Lattice Fence

Bamboo Lunch Box

Bamboo Partition

Bamboo Shelf

Bamboo Speaker

Bamboo Sphere

Bamboo Stool

Bamboo Stopblock

Bamboo Wall

Bamboo Wall Decoration

Dark Bamboo Bath Mat

Dark Bamboo Rug

Green Bamboo Fence

Green Bamboo Mat

Hearth

Light Bamboo Bath Mat

Yellow Bamboo Mat
Spring Bamboo Item Series:
Bamboo Doll

Bamboo Noodle Slide

Bamboo Wand

Bamboo-Grove Wall

Bamboo-Shoot Lamp

Basket Pack

Green-Leaf Pile

Light Bamboo Rug

Pan Flute

Steamer-Basket Set
Cherry-Blossom Items & DIY Recipes
Date: October 1st to October 10th (Southern Hemisphere)
Seasonal DIY Materials To Get: 95x Cherry-Blossom Petal
Cherry Items To Craft:
Blossom-Viewing Lantern

Cherry-Blossom Bonsai

Cherry-Blossom Branches

Cherry-Blossom Clock

Cherry-Blossom Flooring

Cherry-Blossom Pochette

Cherry-Blossom Pond Stone

Cherry-Blossom Rug

Cherry-Blossom Umbrella

Cherry-Blossom Wand

Cherry-Blossom-Petal Pile

Cherry-Blossom-Trees Wall

Outdoor Picnic Set

Sakura-Wood Flooring

Sakura-Wood Wall
Zodiac Furniture & Zodiac Fragment DIY Recipes
Libra Scale
Date: September 9 to October 23 (Both Hemisphere)
Seasonal DIY Materials To Get: 2x Libra Fragment, 3x Star Fragment
Scorpio Lamp
Date: October 24 to November 22 (Both Hemisphere)
Seasonal DIY Materials To Get: 2x Leo Fragment, 3x Star Fragment
ACNH October Critters (Bugs, Fish, Sea Creatures)
In October, in Northern Hemisphere, our island's climate and environment haven't changed significantly as we won't be seeing massive critter migrations, but we can still expect the return of new bugs, fishes, and sea creatures. While in Southern Hemisphere, as the temperatures warm up, tons of new bugs and fish have returned to our islands.
ACNH October New Bugs, Fish, Sea Creatures in Northern Hemisphere



Critter Name

Price

Location

Available Time

New Bugs

Ladybug

200 bells

Flowers

8am - 5pm

New Fish

Yellow Perch

300 bells

River

All Day

Dab

300 bells

Sea

All Day

New Sea Creatures

Seaweed

600 bells

Sea (Diving)

All Day

Spiny Lobster

5000 bells

Sea (Diving)

9pm - 4am

Venus' Flower Basket

5000 bells

Sea (Diving)

All Day
ACNH October New Bugs, Fish, Sea Creatures in Southern Hemisphere



Critter Name

Price

Location

Available Time

New Bugs

Common Bluebottle

300 bells

Flying

4am - 7pm

Agrias Butterfly

3000 bells

Flying

8am - 5pm

Rajah Brooke's Birdwing

2500 bells

Flying Above Flower

8am - 5pm

Atlas Moth

3300 bells

Trees

7pn - 4am

Madagascan Sunset Moth

2500 bells

Flying

8am - 4pm

Long Locust

200 bells

Ground

8am - 7pm

Darner Dragonfly

230 bells

Flying

8am - 5pm

Giant Water Bug

2000 bells

Ponds & Rivers

7pm - 8am

Jewel Beetle

2400 bells

Tree Stumps

All Day

Flea

70 bells

Flea-Infested Villagers

All Day

New Fish

Killifish

300 bells

Pond

All Day

Crawfish

200 bells

Pond

All Day

Snapping Turtle

5000 bells

River

9pm - 4am

Guppy

1300 bells

River

9am - 4pm

Neon Tetra

500 bells

River

9am - 4pm

Seahorse

1100 bells

Sea

All Day

Clownfish

650 bells

Oeacean

All Day

Surgeonfish

1000 bells

Sea

All Day

Butterfly Fish

1000 bells

Sea

All Day

Zebra Turkeyfish

500 bells

Sea

All Day

New Sea Creatures

Lobster

5000 bells

Sea (Diving)

All Day