ACNH Halloween Event 2022 - Halloween Items, Costumes, DIYs, Candies, Lollipops & How To Get Them
9/1/2022 9:21:18 AM
Happy Halloween! In Animal Crossing New Horizons, we are now only a couple of days away from the Halloween event, and meeting Jack the special Halloween character he would be stopping by our islands on the 1st of November with the event beginning at 5 pm. In this ACNH Halloween update 2022 guide, we talk about Halloween event items, rewards, diys, candies, lollipops, and more tips.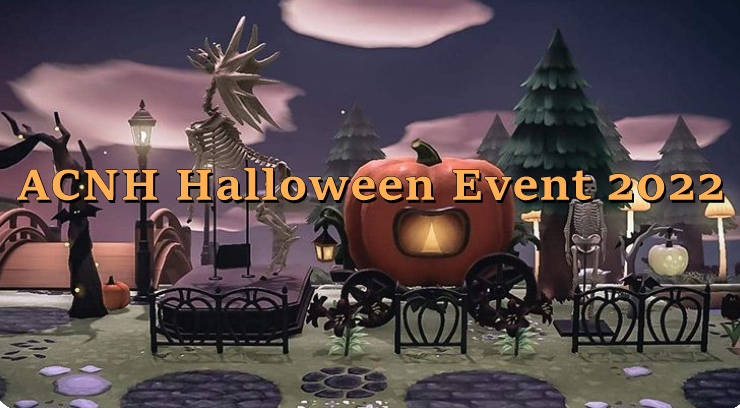 ACNH Halloween Update Guide 2022 - Halloween Event Items, Costumes, DIYs, Candies, Lollipops & How To Get Them
We've been preparing for Halloween pretty much since the beginning of the month by growing and harvesting all new pumpkins, learning spooky DIY recipes, and of course buying spooky furniture items from nook's cranny. The whole island began preparing for the Halloween festivities. From the end of October, many special characters started gearing up for the celebrations and can now be seen rocking some of the Halloween-themed headgear. Isabelle wearing the mage's hat during the morning announcement. But if you visit some of the other NPCs around the island you can now see the likes of Timmy and Tommy wearing adorable animal ears and Tom Nook and Mabel of the Able Sisters wearing some impish horns. The nook inc has also decorated the resident services in preparation for Halloween by placing some spooky pumpkin towers outside.
ACNH Halloween Items 2022
All you're going to need is to learn how to get all the crafting items and a majority of these crafting items are going to require orange pumpkins. Specifically, if you want to craft one of each of them you'll need over 80 orange pumpkins. So start stocking up on it!
How to unlock Halloween items?
All of these items are exclusive to the night of Halloween and can only be obtained during the event. The spooky carriage, garland, table setting, and spooky wand all have corresponding DIY recipes available too. The spooky rug flooring and wall are only physical items that you can receive and can't be learned anyway. If you still have a bunch of other recipes to find don't worry, as many of the villagers will be handing those out throughout the evening too.
How to unlock Jack's rewards?
As the first couple of times you encountered Jack in the evening, he will reward you with your very own Jack's robe and Jack's head which will come in very handy to scare your villagers later.
How to unlock Halloween Costumes?
Even our favorite tailors are getting into the Halloween vibe, and that means new costumes at Able Sisters!
How to unlock Halloween customization?
If you want to get the new skin colors as well as eye colors, all you need to do is go to buy them with Nook Miles at the nook terminal.
ACNH Halloween DIY Recipes List 2022
Spooky Table
Orange Pumpkin x 14
Softwood x 10
Spooky Carriage
Orange Pumpkin x 30
Hardwood x 20
Wood x 20
Softwood x 20
Iron Nugget x 10
Spooky Arch
Orange Pumpkin x 10
Hardwood x 10
Clay x 3
Spooky Lantern Set
Orange Pumpkin x 4
Clump of Weeds x 4
Spooky Standing Lamp
Orange Pumpkin x 3
Hardwood x 5
Clay x 1
Spooky Scarecrow
Orange Pumpkin x 3
Wood x 4
Spooky Tower
Orange Pumpkin x 7
Spooky Chair
Orange Pumpkin x 3
Softwood x 3
Spooky Lantern
Orange Pumpkin x 4
Spooky Table Setting
Orange Pumpkin x 1
Iron Nugget x 1
Clay x 1
Spooky Candy Set
Orange Pumpkin x 1
Candy x 1
Spooky Garland
Orange Pumpkin x 1
Iron Nugget x 1
Clay x 1
Spooky Wand
Spooky Lantern x 1
Star Fragment x 3
Spooky Fence
Orange Pumpkin x 3
Iron Nugget x 5
ACNH Halloween Reactions 2022
Spooky items aren't the only unlockable rewards that become available during the ACNH Halloween update 2022. As you know a somewhat endearing and popular feature of Animal Crossing is of course the reactions or emotions. These are typically learned from villagers when they want to share with you something they've learned or experienced and are extremely useful when playing with friends or just interacting with the other villagers. Haunt and scare are of course perfectly suited for Halloween, however, they are actually exclusive reactions and not available until the Halloween event begins.
How to unlock reactions
Each of these reactions is unlocked slightly differently. To unlock haunt, you simply need to give Jack a piece of candy and he will teach you the reaction. To unlock scare, you have to give a villager a piece of candy when they trick or treat you.
How To Get Candy In ACNH Halloween Update
Candy has been sold for 120 ACNH bells in the cabinet at nook's cranny since the beginning of the month and plays a huge role in the events of Halloween. In short, you need the candy to give both villages and Jack in order to receive the exclusive spooky items and reactions. If you've been buying them most days, you'll probably have collected enough to earn all the extra items. To get extra candy if you're running low, all you have to do is wear a Halloween costume and visit your fellow villagers on Halloween. If they're impressed with your attempt at dressing up they'll gift you bonus candy which is super useful. Furthermore, if you dress up as Jack himself using his exclusive outfit, you can actually scare the villagers into handing over their candy.
How To Get Lollipop In ACNH Halloween Update
Candy isn't the only candy that plays an important role in the upcoming Animal Crossing Halloween event. As you'll need a handful of lollipops too. Lollipops are Jack's favorite type of candy and in exchange for handing these lollipops over, he will reward you with some of the more desirable spooky exclusives. Including the spooky carriage, the spooky carriage recipe, and finally this spooky wand. In total, you'll need 3 lollipops one for each reward, but you'll need to sacrifice some of your candy to get them. To get lollipops, you must give your hard-earned candy to villagers during Halloween while trick-or-treating. And in return for sharing your candy, villagers will reward you with random treats. These could be duplicate spooky items, spooky recipes, reactions, or a lollipop. The only downside is the randomness of it.