Top 10 Halloween & Thanksgiving Design Ideas in Animal Crossing | ACNH Fall Island Ideas 2022
9/19/2022 6:01:58 PM
Fall is here, it's time to give your island a little makeover for the cozy festive season. So here we are about to share with you the Top 10 fall island ideas covering the best designs for Halloween and Thanksgiving holidays. Now let's dive into it!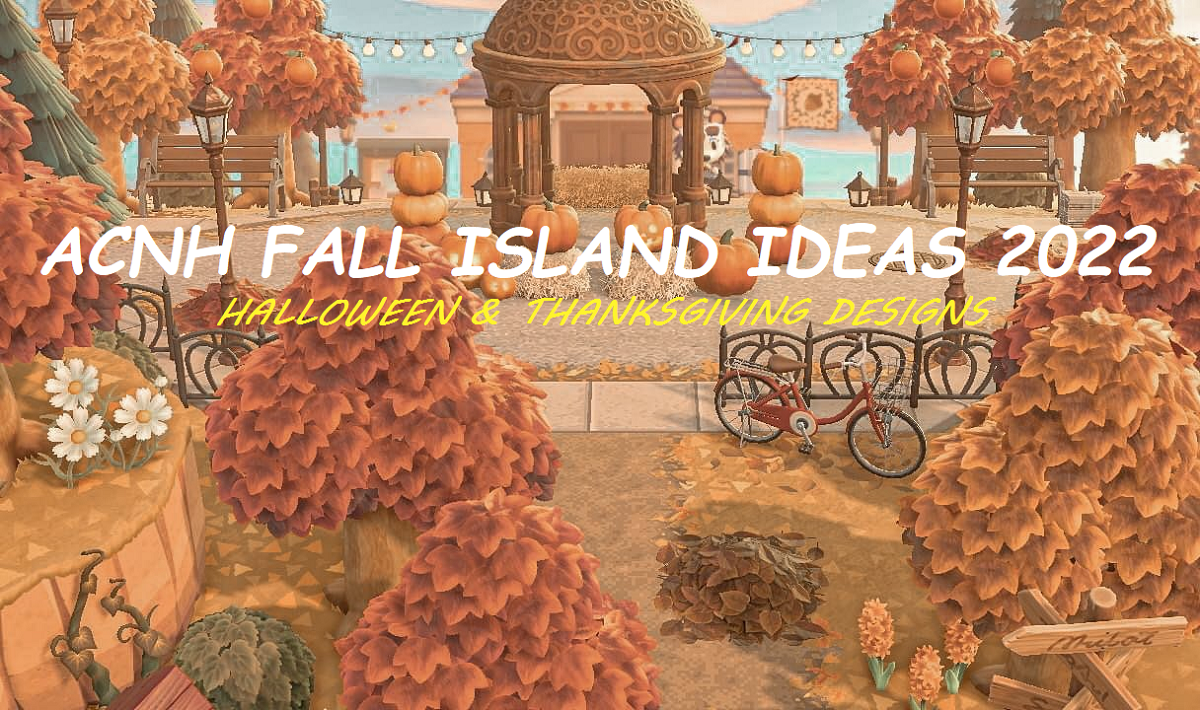 Top 10 ACNH Autumn Island Design Ideas for Halloween & Thanksgiving Holiday
We do this guide to give you some inspiration on ways that you can change your island ready for the Halloween and Thanksgiving season, these aren't big builds but just small holiday decorations that you are able to create easily and you can keep using them for a long time until you get tired of them.
1. Build Up Autumnal Small Spaces
In order to fit the fall holiday season on your island, trying to incorporate as many, mushroom and autumn bounty furniture items as possible in small spaces is always the idea that you won't go wrong. For example, doing an autumnal twist on a florist with bounty and maple items, making a cozy seating area with mushroom table, creating a fairy forest area with red and white mushroom customization, and building up an autumn farm with dropped mushrooms or pumpkins.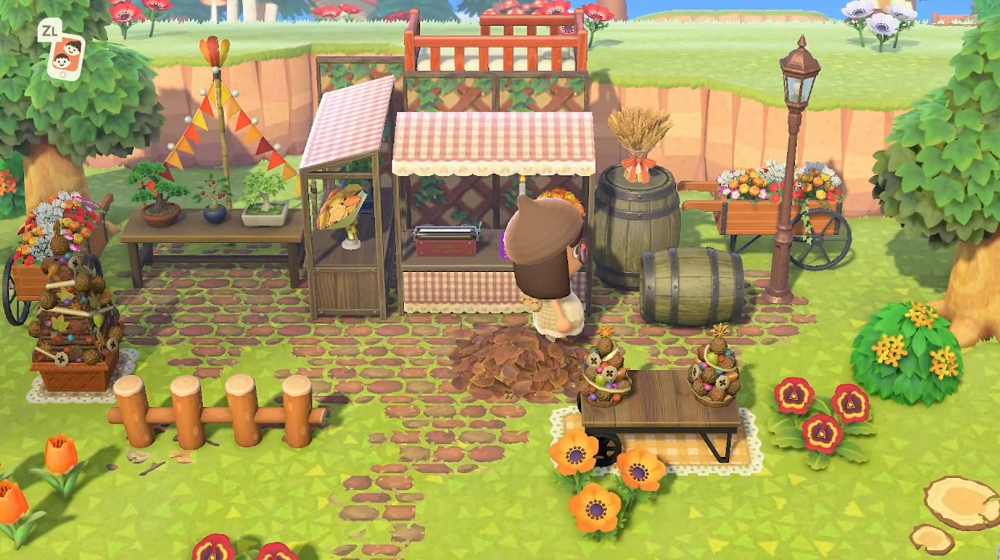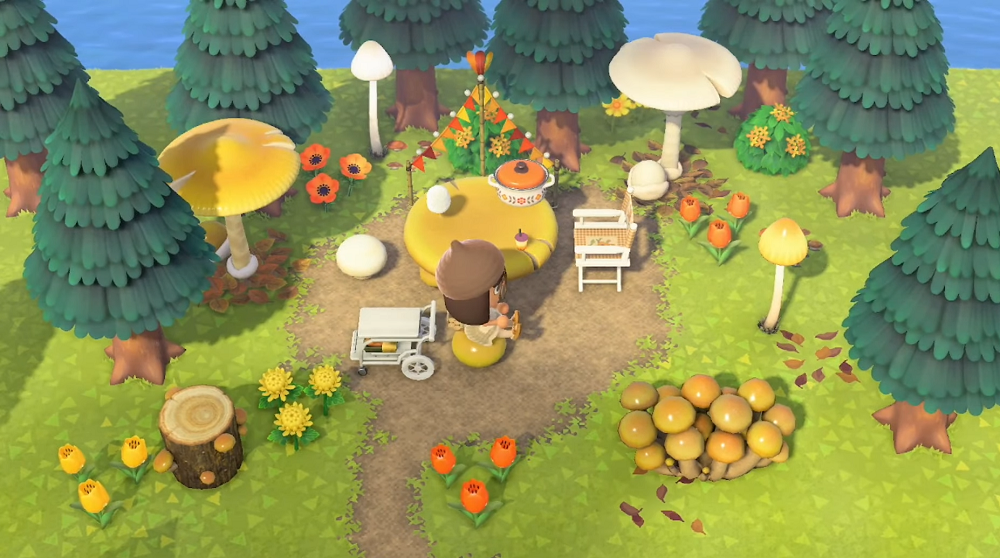 2. Little Trick-or-Treat Spot
Just put some Halloween theme items together around a tool - decorate the stool with Halloween-themed patterns, assorted candies, and lollipops such as a candy bag customized with cushion, and then obviously there are lots of pumpkins around like the pumpkin tower and lantern. Drop a piece of candy on the ground to add some more sweets here and there. This is a nice little spot maybe you can put it in a transition area near a villager's home, so it gives the idea that you've got people coming to your houses or places on your island to trick-or-treat.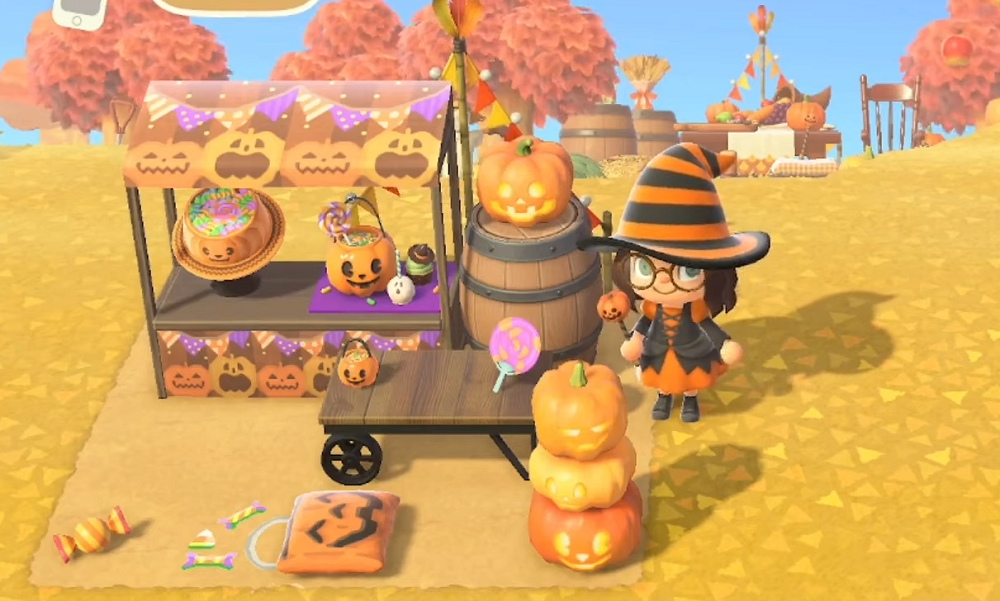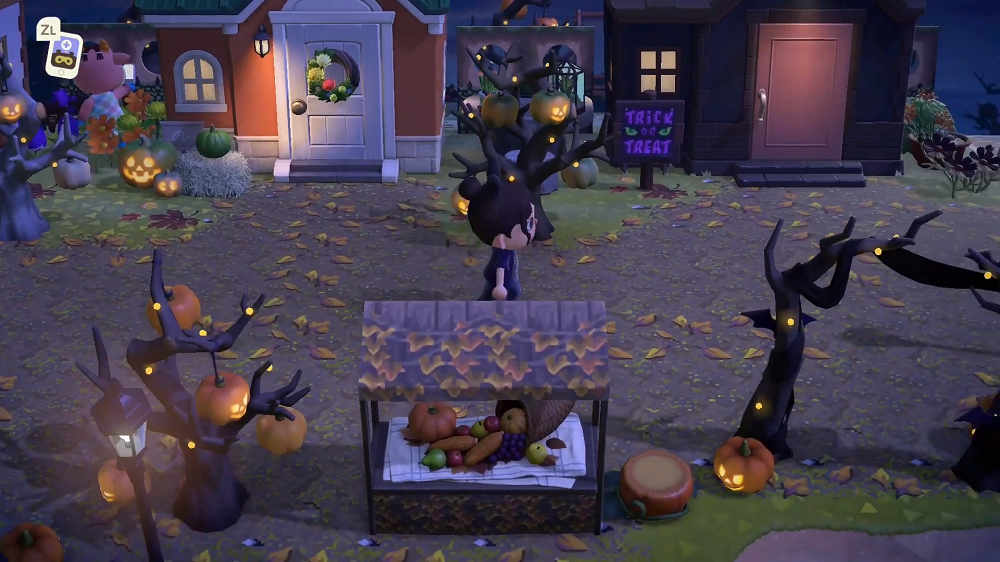 3. Hay Maze
This is probably a bit of a crossover between Autumn and also Halloween, but if you're having some sort of Halloween or Thanksgiving festival on your island, you could do something cute hay maze and keep it in theme with the Halloween/Thanksgiving by adding lots of pumpkins and fall theme items (such as Pile of Leaves, Tree's Bounty Arch) everywhere. For example, you can mix up the hay beds with the lantern sets which is a nice way to add in some extra pumpkins because you can never have too many and then put dirt on the ground and some custom designs to make it feel a bit more farmy. Hay farm is a really cute build and even if you're not doing a Halloween island, you could definitely take this inspiration for your fall or cottagecore island.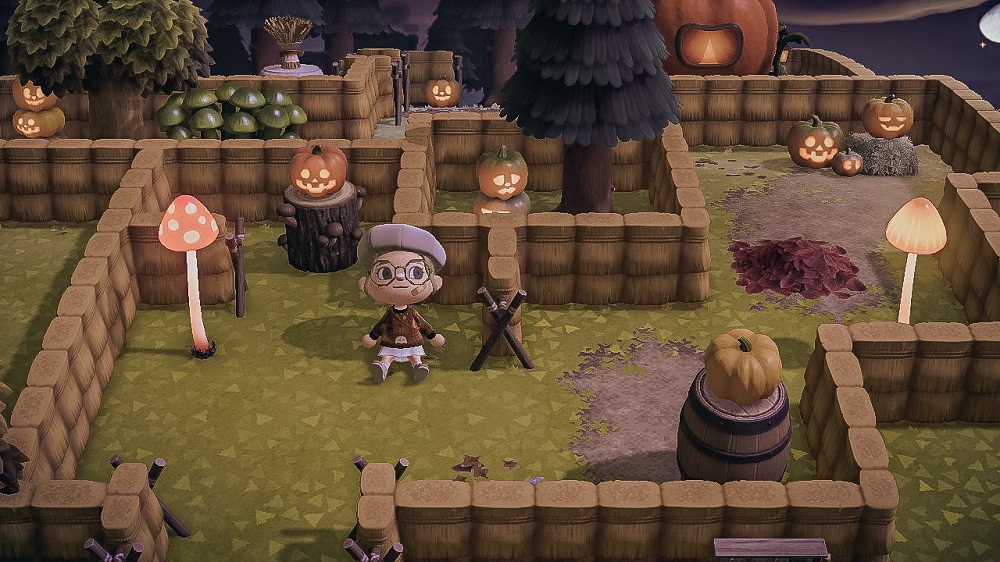 4. Sewing Shop for Holiday Outfit
For Halloween and Thanksgiving, you're definitely going to need a holiday outfit, so why not make a little sewing shop? You could incorporate this with your Able Sisters where all of your islanders can come and purchase their holiday costumes. Here we show you a quite gothic look sewing shop, but you could definitely make it more fun by adding more spooky or thanksgiving holiday items, clothes, and custom designs. For a spooky vibe, the pumpkin fence or the spooky fence is a great way to section it off. And it would look great incorporated with Able Sisters because it's got like a ready color on the walls so that would be a nice addition. And when winter comes, you can even easily transform the outside sewing store into a Christmas-themed sewing shop or toy workshop.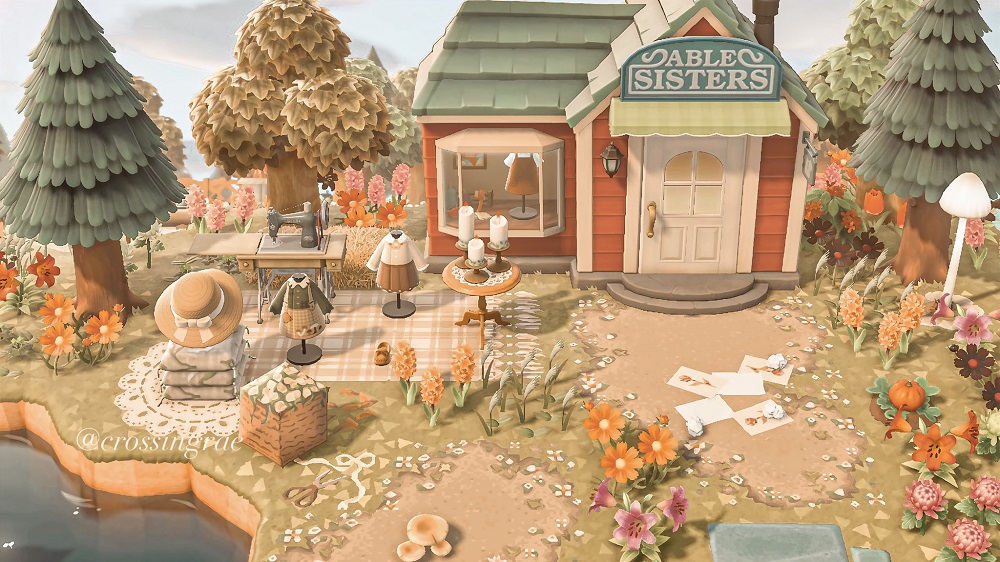 5. Holiday Party Area
For the next island design idea for the holiday, we bring you inside because what would Halloween be without celebrating by hosting your very own party and feast? Use the birthday tables or pumpkin table to give it that real party feels, then also get the birthday sign at the back as well but you need to turn that around to get rid of the happy birthday sign. Get the Jack poster taking center stage on the wall, and decorate the area by hanging Halloween garlands and placing pumpkin lanterns. Lots of candy and pumpkins are dotted around everywhere, also come with the spooky rug and the spooky wallpaper as well.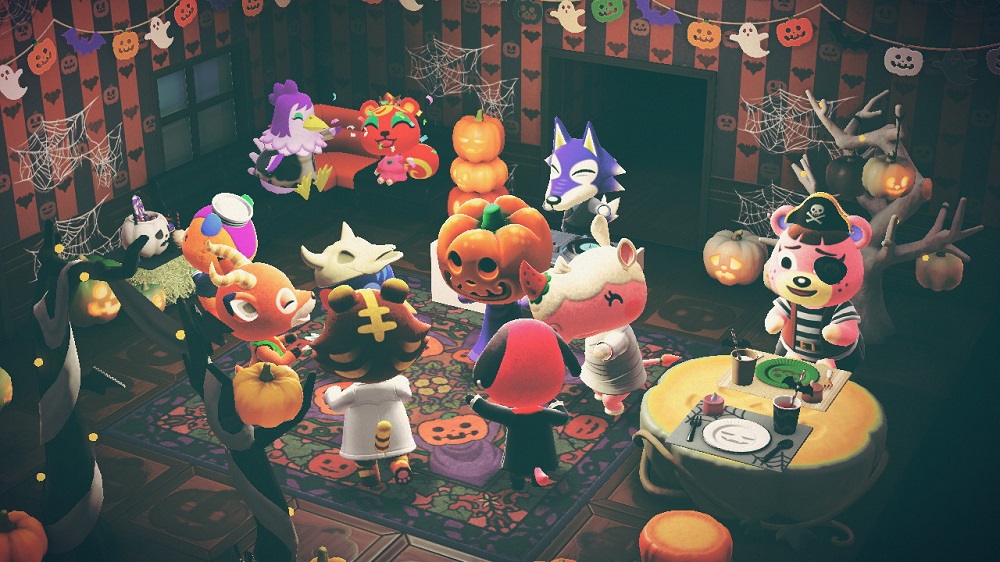 6. Turkey Day Dining Room & Holiday Feast Area
In the fall, there is no doubt that it is most appropriate to enjoy a festive feast on the island with your friends and village names, especially during Thanksgiving. So creating a holiday dinner room in your house or having a fun and festive area outdoors for your Thanksgiving feast is a good idea. And this festival dinner area can even be extended to Christmas in winter, with only a little adjustment.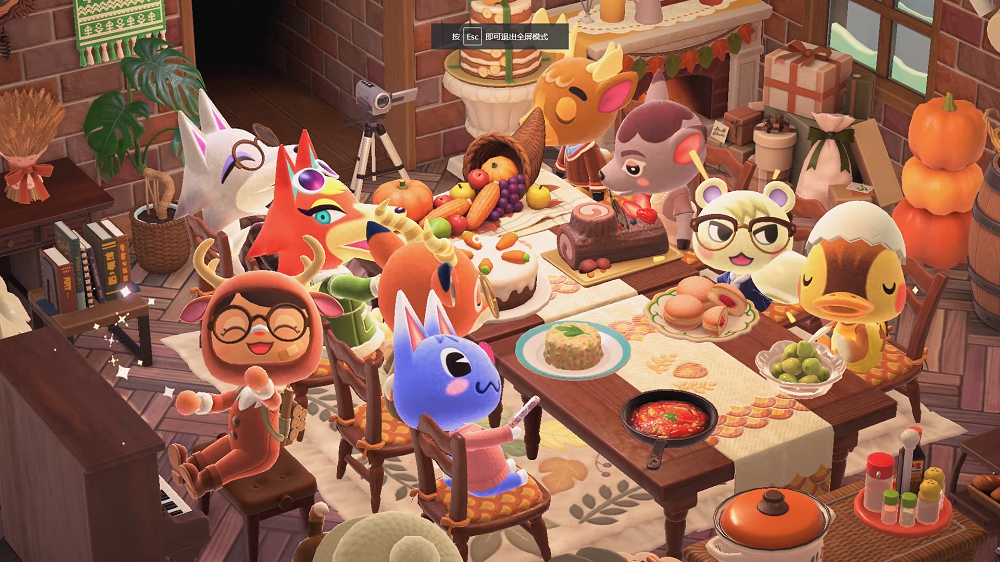 7. Decorate Some Villager Houses
Perhaps you don't want to go full out Halloween but maybe you want to do some little things here and there as a nod to it, so why not just put some small items outside of your villager homes just to signify that you're still celebrating Halloween and maybe you can just take some nice seasonal pictures. So for this house, we've got a little pumpkin display on the left and a little trick-or-treaters spot on the right side, maybe this village is a little bit anti-social so just leave the suites outside for everyone to come and help themselves.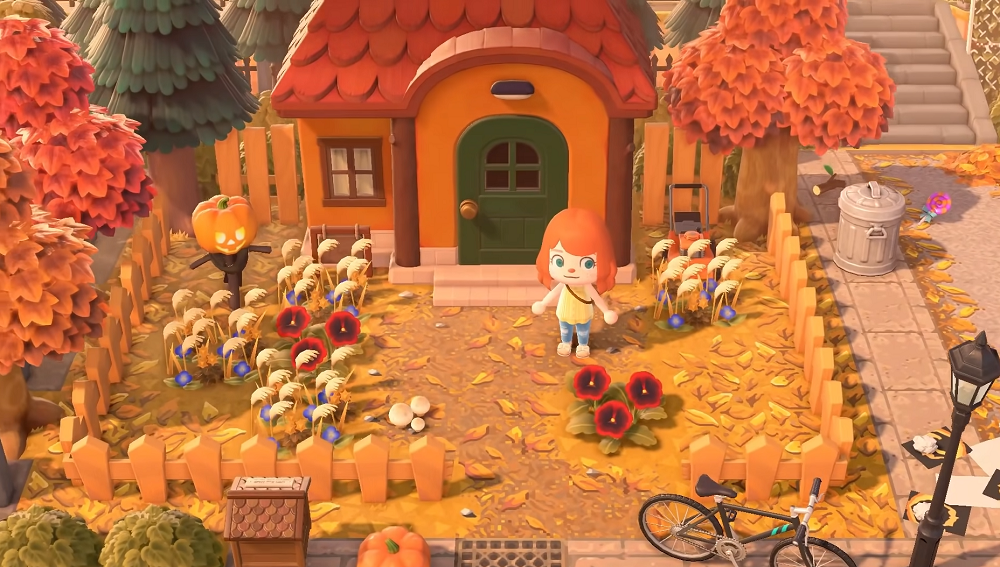 8. Creepy Builds
What would a spooky Halloween island be without a cemetery or a haunted house, there are both small little ways to add some spookiness to your island. You can just add in two of the western-style stones, some candles, and a street lamp, some weeds on the dirt just to give that overgrown slightly more creepy vibes for this cemetery.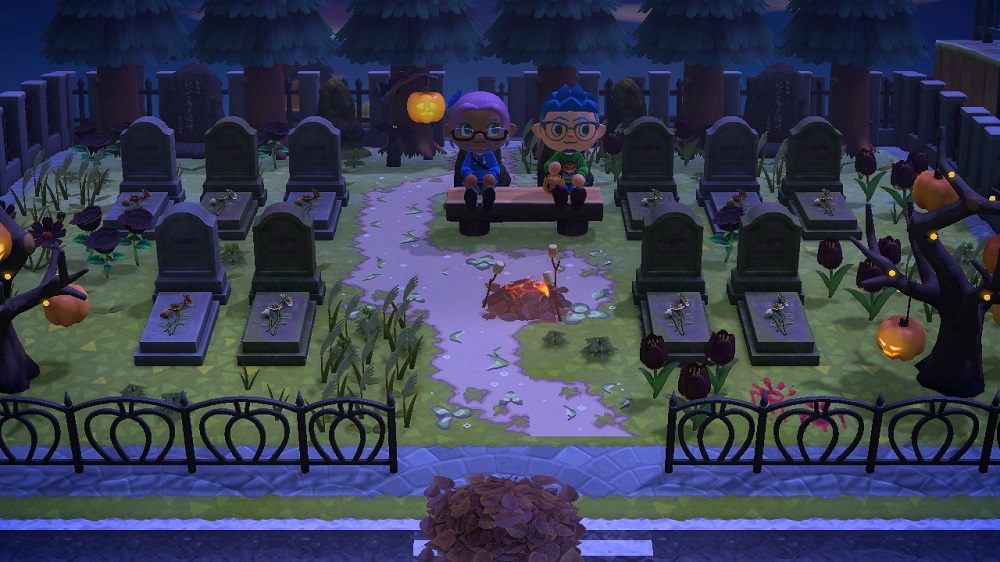 9. Pumpkin Patch or Autumn Farm
Another fall theme build you could do is to add a pumpkin patch or harvest farm to your island. You can mix it up with all different pumpkins here we've got the dropped ones, the planted ones, and some of the pumpkin furniture as well. And then try to incorporate some weeds etc just to make it really rustic and a little bit more interesting. Alongside the pumpkin patch, you can create a pumpkin carving area or thanksgiving feast preparation area, this is just a very rustic one with the chopping board, some food items, and pumpkins laying around. It's a really cute way to just have a holiday feast preparation area alongside your pumpkin patch or fall farm, or maybe you could have it by a villager's house, there's a whole different bunch of ways that you could incorporate a special holiday theme area into your island.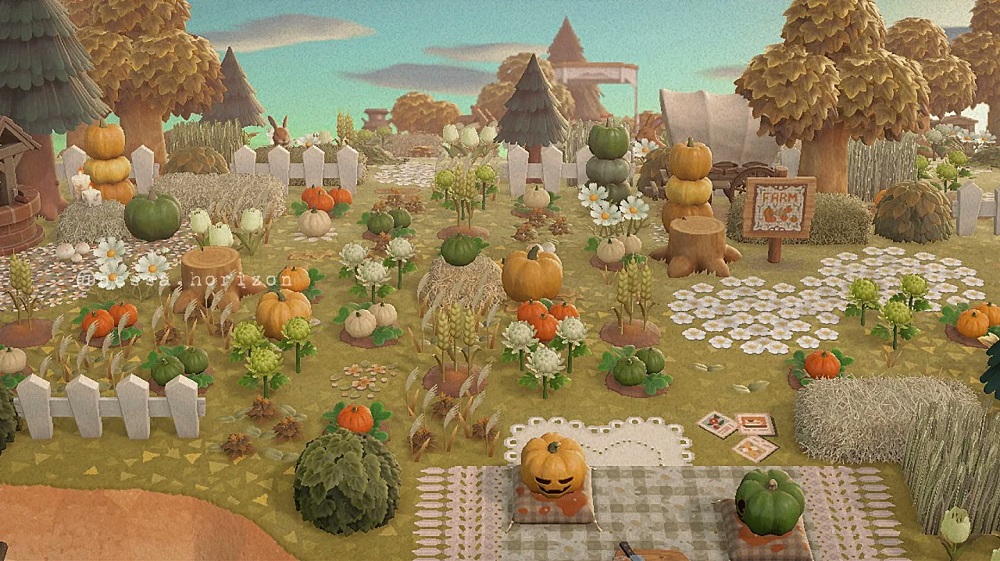 10. Halloween Photo Spot
Add a cute little Halloween twist to your island to make a Halloween photo spot, so there are a few amazing cut-out stand designs that are just perfect for the spooky season. Put some spooky items around it, it would look great in the transitions area. Maybe you could put one of the video recorders out front, so it looks like someone's actually taking a picture that would be cute but either way it's another simple way to add some Halloween festivity to your island.