ACNH November Updates & Changes 2022: New Events, Seasonal Items, DIYs, Critters & Changes in Animal Crossing
10/8/2022 5:00:49 PM
In this ACNH November Update 2022 Guide, we're taking a look ahead to the harvest month of November and breaking down the new events, seasonal items & DIY recipes, critters, updates, and changes we can expect to see around the Animal Crossing New Horizons Island, along with a few new surprises that you may not know.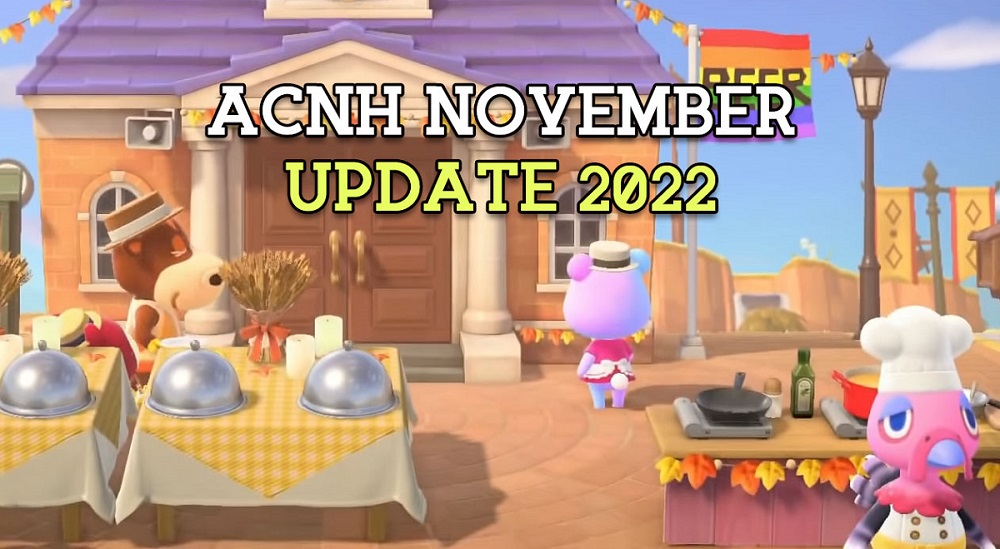 Animal Crossing New Horizons November Update 2022 (Events, Items, DIYs, Critters, Changes)
On our Animal Crossing New Horizons, November is the time of the change of seasons, as in the northern hemisphere we enter late autumn and prepare for a cold winter, and in the southern hemisphere summer will also begin. Even though we're only celebrating the harvest this month, the change of seasons has brought us new seasonal materials and DIY recipes, prompting the return of some critters. So, it's still a busy month for new players or those who haven't collected ACNH items related to this season.
ACNH November Events & Seasonal Items (2022)
November seems to be just the right time to celebrate the harvest, and getting Turkey Day Items will definitely keep you busy all month on the island. Also in the southern hemisphere, Bug Off will kick off the summer.
Day of the Dead

Date: October 25th to November 3rd, 2022

Items To Get: Marigold Decoration
Day of the Dead is traditionally celebrated in Mexico and other parts of the world, honoring those who have passed. During this time the Marigold Decoration can be purchased in honor of the real-world Event. It's only available for a short time, and unfortunately can't be customized.
 It's pretty cool though. You don't want to miss it.
ACNH Thanksgiving Turkey Day Event (Northern & Southern Hemisphere)
Date: November 24th, 2022

Items To Get: 12 Turkey Day Set Items, 4 Turkey Day cooking recipes
Now, November really needs no introduction because it is of course the harvest season, which means it's time to celebrate Thanksgiving. Thanksgiving is of course the annual event that sees the special character Frankilin return to host a Turkey Day activity. Now to join Franklin's Thanksgiving feast on November 24th, some things need to be prepared - collect some mushrooms and corps, catch some fish, and capture some sea creatures. Once Thanksgiving Day arrives, Franklin stops by to host the Turkey Day Event. By cooking the Thanksgiving dishes for him, he will be handing out exclusive items including the cooking DIY recipes and Turkey Day set DIY recipes. So you better get stocked up!
Lantern Festival
Date: November 1st to 11th, 2022

Items To Get: Handheld Lantern (6 different variations)
From November 1st to the 11th is the seasonal lantern festival celebrating the European holiday St. Martin's Day, like other seasonal events, you can log into Nook Shopping under the Seasonal Tab and find the Handheld Lantern to order between these dates.

Shichi-Go-San
Date: November 11th to 20th, 2022

Items To Get: Chitose Ame
Shichi-Go-San is a Japanese holiday that runs from November 11th to the 20th, and you can order the Chitose Ame item from Nook Shopping as well during this time.
Thanksgiving Postcard
Date: November 1st to 30th, 2022
As you know, you can head to Dodo Airlines and interact with the Postcard stand to send a letter. Anyway, most Months and Seasons see exclusive designs available for a limited time, which can of course be used for any letters you send. Once again, in honor of the Thanksgiving season, exclusive Postcard designs are available, including the Turkey Day Card which is available from the start of November, through to November 24th. So, if you don't make a habit of sending letters to your villagers, it might be worth checking them out.
Bug-Off (Southern Hemisphere)
Date: November 19th, 2022

Items To Get: Artisanal Bug Cage, Bug Aloha Shirt, Bug Cage, Bug Wand, Butterflies Wall, Butterfly Backpack, Ladybug Rug, Ladybug Umbrella, Spider Doorplate (8 Variations, Scroll Down), Spider Web, Termite Mound, Toy Centipede, Toy Cockroach, Gold Bug Trophy, Silver Bug Trophy, Bronze Bug Trophy
Moving on, now we're coming to the start of the Summer Season in the Southern Hemisphere, it's time for the first Bug Off of the year. As always Flick will stop by to host the bug capture tourney and challenge players to catch as many bugs as possible within a time limit. It's a great opportunity to earn bug set items and bug trophies. If you want to.
ACNH November Seasonal Materials & DIY Recipes
There are tons of Seasonal materials and DIY recipes to keep you busy on the island, so let's take a look at what items we have to collect and craft in the northern and southern hemispheres respectively.
ACNH November DIY Recipes & Items in Northern Hemispheres
We are now in the final month of autumn with many of us now foraging for mushrooms and collecting those all-new mushroom-themed DIY recipes. Now alongside these new mushroom items, November has a number of things to keep us occupied for the final fall month, we can still collect acorns and pinecones by shaking trees and of course, collecting their corresponding trees bounty recipes as well as looking forward to the final seasonal material called maple leaves which will begin spawning in just a couple of weeks time.
Tree's Bounty Furniture DIY Recipes
Date: September 1 to December 10 (Northern Hemisphere)
Seasonal DIY Materials To Get: Pine Cone, Acorn
Item To Craft:
Tree's Bounty Little Tree
Pile of Autumn Leaves
Autumn Leaf Fire
Pine Bonsai Tree
Tree's Bounty Mobile
Acorn Pochette
Tree's Bounty Lamp
Yellow Leaf Pile
Balancing Toy
Mushroom DIY Recipes & Furniture
Date: November 1 to November 30 (Northern Hemisphere)
Seasonal DIY Materials To Get: 14x Flat Mushroom, 1x Rare Mushroom, 8x Round Mushroom, 15x Skinny Mushroom, 3x Elegant Mushroom
Forest Flooring
Forest Wall
Mush Lamp
Mush Log
Mush Low Stool
Mush Parasol
Mush Partition
Mush Table
Mush Umbrella
Mush Wall
Mushroom Wand
Mushroom Wreath
Maple Leaf DIY Recipes & Items
Date: November 6 to November 25 (Northern Hemisphere)
Seasonal DIY Materials To Get: 57x Maple Leaf
Autumn Wall
Colored-Leaves Flooring
Leaf Stool
Maple-Leaf Pochette
Maple-Leaf Pond Stone
Maple-Leaf Rug
Maple-Leaf Umbrella
Red-Leaf Pile
Tree's Bounty Arch
Tree's Bounty Big Tree
ACNH November DIY Recipes & Items in Southern Hemispheres
While there is no change to the materials you can encounter around the Southern Hemisphere Island here. Both Young Spring Bamboos and Bamboo Shoots continue to be available well into the end of November.
Bamboo Set Furniture & DIY Recipes
Date: August 25 to November 30 (Southern Hemisphere)
Seasonal DIY Materials To Get: 120x Bamboo Pieces, 62x Young Spring Bamboo, 8x Bamboo Shoot
Bamboo Items To Craft:
Bamboo Items Series:
Bamboo Basket
Bamboo Bench
Bamboo Candleholder
Bamboo Drum
Bamboo Floor Lamp
Bamboo Flooring
Bamboo Lattice Fence
Bamboo Lunch Box
Bamboo Partition
Bamboo Shelf
Bamboo Speaker
Bamboo Sphere
Bamboo Stool
Bamboo Stopblock
Bamboo Wall
Bamboo Wall Decoration
Dark Bamboo Bath Mat
Dark Bamboo Rug
Green Bamboo Fence
Green Bamboo Mat
Hearth
Light Bamboo Bath Mat
Yellow Bamboo Mat
Spring Bamboo Item Series:
Bamboo Doll
Bamboo Noodle Slide
Bamboo Wand
Bamboo-Grove Wall
Bamboo-Shoot Lamp
Basket Pack
Green-Leaf Pile
Light Bamboo Rug
Pan Flute
Steamer-Basket Set
There are also some seasonal materials and DIY recipes available on both hemispheres:
Scorpio DIY Recipes & Items
Date: October 24th to November 22nd (Both Hemispheres)
Seasonal DIY Materials To Get: 2x Scorpius fragments
Zodiac Items To Craft: Scorpio lamp
ACNH November Critters (2022)

Now, as with any shift in weather or change in a month, the types of Critters we can encounter around Animal Crossing New Horizons Island also change.
ANCH November Bugs, Fish, Sea Creatures (Northern Hemisphere)
Players in the Northern Hemisphere can expect to see 13 new Critters, including the Tarantula, Blue Marlin, and Sea Pig, amongst others. This is quite low because we of course approaching the Winter Season.
New Bugs

Tarantula (8000 Bells)
Damselfly (500 Bells)
Mole Cricket (500 Bells)
New Fish
Blue Marlin (10000 Bells)
Tuna (7000 Bells)
Blowfish (5000 Bells)
Football Fish (2500 Bells)
Bitterling (900 Bells)
New Sea Creatures
Sea Pig (10000 Bells)
Red King Crab (8000 Bells)
Snow Crab (6000 Bells)
Dungeness Crab (1900 Bells)
Sea Cucumber (500 Bells)
ANCH November Bugs, Fish, Sea Creatures (Southern Hemisphere)
However for those in the Southern Hemisphere, it is the end of spring, so a total of 21 Critters enjoy the nice weather and can be encountered around the Island during November. These include the Scorpion, the Mahi-Mahi, and the Gigas Giant Clam, amongst others.
New Bugs
Scorpion (8000 Bells)
Banded Dragonfly (4500 Bells)
Queen Alexandra's Birdwing (4000 Bells)
Great Purple Emperor (3000 Bells)
Rosalia Batesi Beetle (3000 Bells)
Diving Beetle (800 Bells)
Violin Beetle (450 Bells)
Pondskater (130 Bells)
New Fish
Mahi-Mahi (6000 Bells)
Giant Trevally (4500 Bells)
Angelfish (3000 Bells)
Betta (2500 Bells)
Nibble Fish (1500 Bells)
Rainbowfish (800 Bells)
Catfish (800 Bells)
Frog (120 Bells)
New Sea Creatures
Gigas Giant Clam (15000 Bells)
Vampire Squid (10000 Bells)
Slate Pencil Urchin (2000 Bells)
Sea Urchin (1700 Bells)
Spotted Garden Eel (1100 Bells)
ACNH November Island Scenery Changes (2022)
Weather Phenomena
Now interestingly November sees the lowest chances of heavy rain than any other time of year at only 7%, which means fewer thunderstorms and fewer chances of Rainbows. However, there is still a 26% chance of normal rainfall until mid-late November. These percentages are a lot lower because the Rain will transition into Snow flurries in late November. And for those interesting Cirrus and Cirrocumulus Clouds that began spawning in September will continue to appear throughout November.
For those in the Southern Hemisphere, there are no real changes, however, the River and Sea Fog you can often see between 5 am and 9 am disappears, and can no longer be encountered.
ACNH November Nature
From month to month are the changes to the Bushes. You may have already noticed on Northern Hemisphere both Orange and Yellow Tea Olives stopped flowering at the end of October before the Snow starts to fall and Holly Bushes begin to flower until December 31st. While in the Southern Hemisphere, Pink & White Azalea Bushes continue to bloom through to the end of November.