ACNH Outdoor Storage Guide - How To Use & Get Storage Sheds In Animal Crossing New Horizons
10/25/2022 5:59:12 PM
Today we're going to talk all about the new storage shed in Animal Crossing New Horizons. This is probably one of most players' favorite ACNH items right now because it is so useful. We are going to show you all the different ways to use outdoor storage and how to get one.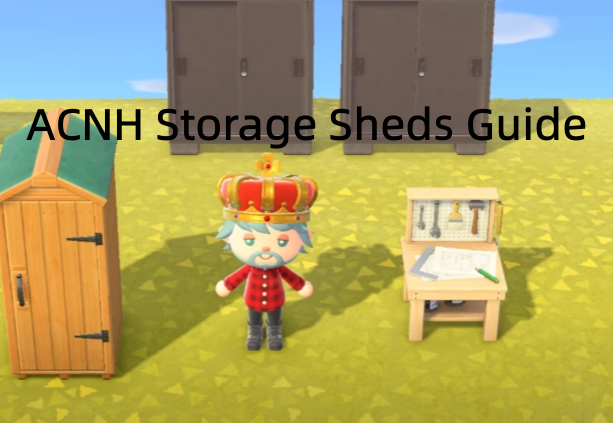 ACNH Outdoor Storage Guide - How To Get Storage Sheds In Animal Crossing New Horizons
With ACNH outdoor storage, you can access your storage anywhere. You can open this up and you can put something away or you can get something out. It's just so cool how we can access our storage without having to run all the way back to our house. Furthermore, we can actually put our extra DIYs in our store now. So we no longer have to like just lay them on the ground on our island anymore. Another cool thing that we can use with a storage shed we can actually use it as an extra inventory. We can just carry one with us at all times. So if we ever want anything we can just you know take it out. It also makes cleaning up your island so much easier.
ACNH Storage Shed Types
1. Wooden Storage Shed
Animal Crossing outdoor storage does come in different colors and variations. With the wooden one, you can actually customize storage sheds to actually fit the theme of the island. It comes in brown, ivory, green, blue, red, dark brown, ash, and black.
2. Storage Shed
Here are all the customization options for the furniture shed. This one you can't really change the colors, but it has various decorations. It does come in other colors though but we can't customize the color. The storage shade color comes in light blue, blue, green, red, beige, black, pink, damaged, including bicycle sticker, storage label, text label, floral wreath sticker, logo sticker, hot-air-ballon stickers, and installation permits.
How To Get Storage Sheds In Animal Crossing New Horizons?
1. ACNH Storage Shed DIY Recipes
Wooden Storage Shed
Wood x 30
Hardwood x 30
Softwood x 30
Iron Nugget x 30
The fastest way to get all these would probably be to go to either a mystery island or Kappn's island. The mystery island is probably a better option just because there are going to be more trees.
2. Buy Storage Shed With Nook Miles
In order to get the storage shed, you're going to need to talk to Tom Nook. There's going to be an option to upgrade your storage. Are you ready to speed 500k ACNH bells? Now you need to have your house fully upgraded in order to get this option. If you don't have your house fully upgraded and you're still in debt to Tom Nook, you'd better check the guides. If your house is fully upgraded in order to get one of these, you'll need to go to the atm. Both of these storage sheds will cost 6000 ACNH nook miles.