ACNH Winter Update 2022 - New Events, Items & Changes in Animal Crossing Winter Season
10/29/2022 11:49:19 AM
Winter is the last season of Animal Crossing New Horizons, it marks the end of the current year and the coming of the new year. In this ACNH winter update 2022, let's take a look at the exclusive new items, events, dates, and changes in the snow season, from November to February.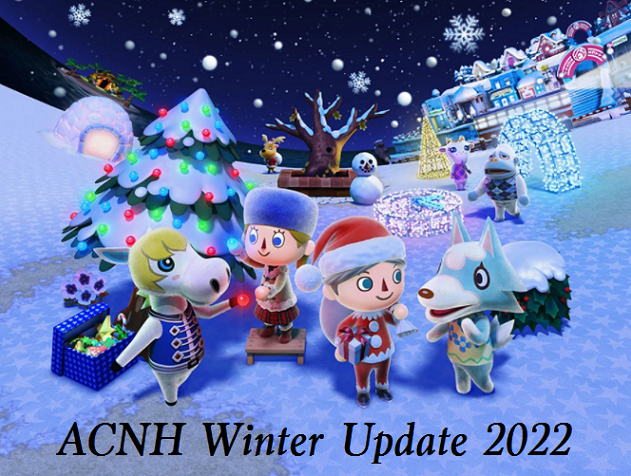 Related Read: ACNH December Update 2022
When Does Winter Start and End in Animal Crossing New Horizons
In Animal Crossing New Horizons, the winter starts on November 26 and ends on February 24 in the northern hemisphere, and starts on May 26 and ends on August 24 in the southern hemisphere.
ACNH Winter (Snow) Season Changes 2022
Once the winter begins in ACNH, the main weather will change to snowy and cloudy, the first snow may come as soon as late November, but usually in December. When the snow falls on the island, players can roll up the snowballs and make snow boys get new recipes. You can also catch snowflakes during snowstorms to craft frozen items. There would be frequent snowy days around Christmas Day.
In addition, all existing cedar trees will be decorated with colorful, flashing lights in December, which brings a spirit of the festival. And the lights will disappear in the first week of the year.
If you look up at the sky, you may be lucky enough to see the Aurora Borealis, which happens between December 11 and February 24.
ACNH Winter Update 2022 - New Animal Crossing New Horizons Winter Items & Events
Check out a full list of regular events and Nook Shopping seasonal items that are available in winter, which is from November 26, 2022, to February 24, 2023. For big events like Christmas Toy Day and Festivale, you can buy ACNH items within the series from Nook's Cranny and earn special rewards from the characters, for other Nook Shopping events, you'll need to purchase the seasonal items at Nook Stop. A confirmed brand new item that you are able to get is the Zodiac Rabbit Figurine during the New Year's Day event, we are expecting to get a new balloon arch and more items for celebrating the new year.
ACNH Winter Items & Events 2022 - 2023
1. Winter Solstice (December 15 to December 22)
- Items: Midwinter Sweater, Aurora Wall, Bathtub with Yuzu, Tangyuan
2. Ōmisoka (December 22 to December 31)
- Items: New Year's Noodles
3. Silvester (December 22 to December 31)
- Items: Berliner
4. Nochevieja (December 22 to December 31)
- Items: Twelve-Grape Dish
5. New Year's Eve (December 22 to December 31)
- Items: Sparkling Cider, Olivier Salad
6. New Year's Day 2023 (December 22, 2022, to January 5, 2023)
- Items: 2023 Celebratory Arch (New), Yut Nori, Zodiac Rabbit Figurine (New)
7. Shōgatsu (December 22, 2022, to January 5, 2023)
- Items: Kadomatsu, Kagamimochi, New Year's Shimekazari, Otoshidama Envelope, Osechi
8. Toy Day (December 24)
- Toy Day set items: Dinosaur Toy, Puppy Plushie, Kids' Tent, Pop-up Book, Dollhouse, Tin Robot, Mini Circuit, RC Helicopter, Set of Stockings
- Christmas clothing items: Santa Hat, Santa Coat, Santa Pants, Santa Beard, Reindeer Hat, Reindeer Costume, Holiday Sweater, Festive Dress, Reindeer Sweater, Festive-tree Dress
9. Nanakusa Gayu or Jinjitsu (January 5 to January 7)
- Items: Nanakusa Gayu
10. Big Game Celebration (January 15 to February 15)
- Items: Football Rug, Football Cheer Megaphone, Fiery Cheer Megaphone, Starry Cheer Megaphone, Glittery Cheer Megaphone
11. Setsubun or Bean Throwing Festival (January 25 to February 3)
- Items: Bean-Tossing Kit
12. Groundhog Day (January 25 to February 2)
- Items: Resetti Model
13. Chinese Lunar New Year (January 30 to February 6)
- Items: Lucky Red Envelope, Lunar New Year Decoration
14. Seollal (January 30 to February 6)
- Items: Bokjumeoni Lucky Pouch
15. Valentine's Day (February 1 to February 14)
- Items: Chocolate Heart, Heart-Shaped Bouquet
16. Carnival of Venice (February 7 to March 1)
- Items: Venetian Carnival Mask
17. Festivale 2023 (February 20)
- Festivale furniture items: Festivale balloon lamp, Festivale confetti machine, Festivale drum, Festivale flag, Festivale garland, Festivale lamp, Festivale parasol, Festivale stage, Festivale stall
- Festivale clothing items: Festivale accessory, Festivale costume, Festivale tank dress
18. Hinamatsuri Festival (February 22 to March 3)
- Items: Hinaningyo, Blossom Lantern