ACNH December Update 2022 - New Animal Crossing New Horizons Events, Items, DIYs & Changes in December
11/16/2022 11:13:15 AM
In the month of December, we are going to gather all information for you based on the current game. Below is the ACNH update for December 2022, covering new Animal Crossing December events, items, DIY recipes, and changes.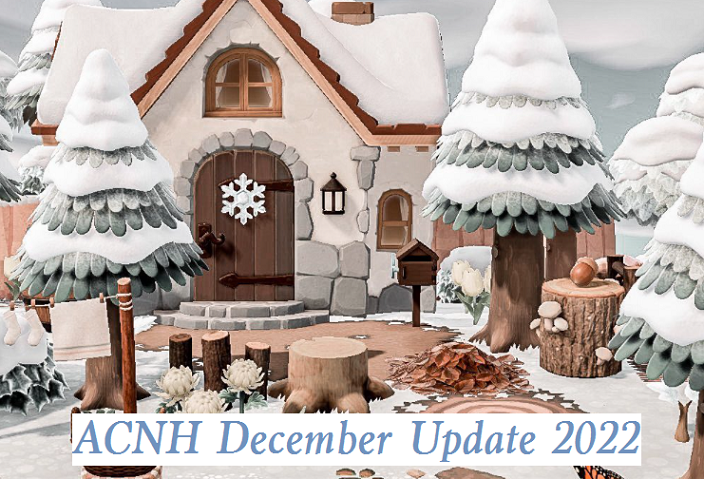 ACNH December Update 2022 - New Events and Items in Animal Crossing New Horizons December
In the last month, the weathers change, snow is falling, and we'll have two big regular events coming in late December, whether you want to get fun toys or warm new year items, it's the chance again. So we list the ACNH December items 2022 that are available by purchasing from Nook's Cranny and Nook Shopping or getting them for free from special villagers.
1. Winter Solstice (December 15 to December 22)
The first Nook Shopping seasonal event in December is Winter Solstice, which allows players to buy four different items in Nook Stop starting from December 15 in the Northern Hemisphere.
Seasonal Items: Midwinter Sweater, Aurora Wall, Bathtub with Yuzu, Tangyuan
2. New Year's Eve (December 22 to December 31)
Lots of seasonal events will happen in December due to how different countries celebrate the New Year, including Ōmisoka, Silvester, Nochevieja, and New Year's Eve. These seasonal items are available from December 22 to 31. The New Year's Eve Countdown 2022 will be held on December 31 to celebrate the upcoming new year, on that day, you'll find decorations appear on your island, and Isabelle and Tom Nook will offer free gifts as well. At 11 PM, it's the time for villagers to join in the new year countdown activity.
Seasonal Items: New Year's Noodles, Berliner, Twelve-Grape Dish, Sparkling Cider, Olivier Salad
Other items: Light Stick & Party Popper (free), New Year's Hats, New Year's Silk Hat
3. Toy Day (December 24)
The character Jingle will come to your island on December 24 for the Toy Day 2022 event, help him deliver gifts to your villagers, and hang up the Toy Day Stockings before logging off to receive special rewards from Jingle. You can also buy Toy Day set items in Nook's Cranny starting from December 1 to December 25.
ACNH Toy Day Items:
- Dinosaur Toy
- Dollhouse
- Kids' Tent
- Mini Circuit
- Pop-up Book
- Puppy Plushie
- RC Helicopter
- Tin Robot
- Set of Stockings
4. New Year's Day (December 22, 2022, to January 5, 2023)
Even though New Year's Day is held on January 1 every year, the Nook Shopping seasonal items are available to purchase from December 22, this year, we'll get a new item Zodiac Rabbit Figurine, and expect a new balloon arch.
Seasonal Items: 2023 Celebratory Arch (to be confirmed), Yut Nori, Kadomatsu, Otoshidama Envelope, Kagamimochi, New Year's Shimekazari, Osechi, Zodiac Rabbit Figurine

ACNH December DIY Recipes 2022
What Winter DIYs will be available in December 2022 of Animal Crossing New Horizons? There are five series of recipes you can access during the last month.
1. Acorn & Pine Cone DIY Recipe (September to December 10)
The duration of ACNH acorn and pine cone DIY crafting recipes lasting a long time, you can still craft the Animal Crossing items included in this set at early December.
Acorn Pochette: 6 Acorn
Acorn Rug: 6 Acorn
Leaf Campfire: 3 Pine Cone, 5 Clump of Weeds, 3 Tree Branch
Pile of Leaves: 3 Pine Cone, 5 Clump of Weeds
Pine Bonsai Tree: 8 Pine Cone, 5 Clay
Traditional Balancing Toy: 4 Acorn, 2 Hardwood
Tree's Bounty Arch: 4 Pine Cone, 5 Acorn, 5 Maple Leaf, 15 Tree Branch
Tree's Bounty Big Tree: 4 Acorn, 4 Clay, 5 Maple Leaf, 5 Pine Cone, 5 Tree Branch
Tree's Bounty Lamp: 6 Acorn, 4 Clay
Tree's Bounty Little Tree: 6 Pine Cone, 4 Acorn, 1 Hardwood
Tree's Bounty Mobile: 2 Pine Cone, 3 Acorn, 3 Tree Branch
Yellow-Leaf Pile: 3 Acorn, 5 Clump of Weeds
2. Sagittarius Season Recipe (November 23 to December 21)
In the Sagittarius season, the DIY recipe can be obtained from Celeste during the zodiac month of Sagittarius.
- Sagittarius Arrow: 3× Star Fragment, 2× Sagittarius Fragment, and 2× Gold Nugget
3. Capricorn Season Recipe (December 22 to January 19)
December 22 to January 19 is Capricorn season, this time of year offers you the Capricorn Ornament which is also available from celeste from message bottles.
- Capricorn Ornament: 3× Star Fragment, 2× Capricorn Fragment, 2× Gold Nugget, and 12× Stone
4. Frozen Snowflake & Large Snowflake Recipe (December 11, 2022, to February 24, 2023)
In Animal Crossing New Horizons Northern Hemisphere, snow generally starts to fall from mid-to-late November, but heavy snow will sweep all of your islands on December 10, which results in the snow finally sticking to your island. Starting on December 11, you can start collecting snowflakes and getting seasonal recipes to craft ACNH furniture items in the following set.
- Frozen Mini Snowperson: Large Snowflake ×1, Snowflake ×2
- Frozen Fence: Snowflake ×5
- Frozen Floor Tiles: Snowflake ×8
- Snowflake Wreath: Snowflake ×4
- Ski Slope Flooring: Snowflake ×8
- Ski Slop Wall: Snowflake ×8
- Iceberg Flooring: Snowflake ×10
- Iceberg Wall: Snowflake ×10
- Snowflake Pochette: Snowflake ×6
- Snowflake Wall: Snowflake ×12
- Falling-Snow Wall: Snowflake ×3, Stone ×10
- Frozen Arch: Large Snowflake ×1, Snowflake ×10
- Frozen Bed: Large Snowflake ×1, Snowflake ×10
- Frozen Chair: Large Snowflake ×1, Snowflake ×3
- Frozen Counter: Large Snowflake ×1, Snowflake ×5
- Frozen Partition: Large Snowflake ×1, Snowflake ×6
- Frozen Pillar: Large Snowflake ×1, Snowflake ×3
- Frozen Sculpture: Large Snowflake ×1, Snowflake ×4
- Frozen Table: Large Snowflake ×1, Snowflake ×8
- Frozen Tree: Large Snowflake ×1, Snowflake ×8
- Frozen-Treat Set: Large Snowflake ×1, Snowflake ×1
- Ice Flooring: Large Snowflake ×1, Snowflake ×8
- Ice Wall: Large Snowflake ×1, Snowflake ×8
- Ice Wand: Large Snowflake ×1, Star Fragment ×3
- Snowman Head: Snowman Hat: Large Snowflake ×1, Snowflake ×5
- 3 Tier Snowman: Large Snowflake ×1, Snowflake ×6, Tree Branch ×2
5. Festive Ornament Recipe (December 15, 2022, to January 6, 2023)
- Ornament table lamp: Red Ornament ×2, Iron Nugget ×2
- Giant ornament: Red Ornament ×10
- Ornament garland: Red Ornament ×2, Blue Ornament ×2, Gold Ornament ×2, Iron Nugget ×5
- Ornament tree: Red Ornament ×3, Blue Ornament ×2, Gold Ornament ×1, Iron Nugget ×3
- Ornament crown: Red Ornament ×3, Blue Ornament ×3, Gold Ornament ×3
- Ornament Wreath: Blue Ornament ×6, Gold Ornament ×2
- Big Festive Tree: Red Ornament ×6, Blue Ornament ×6, Gold Ornament ×4, Wood ×5, Clay ×5
- Festive Rug: Red Ornament ×5, Blue Ornament ×5, Gold Ornament ×5
- Festive Top Set: Gold Ornament ×2, Hardwood ×1
- Festive Tree: Red Ornament ×3, Blue Ornament ×3, Gold Ornament ×2, Wood ×5
- Holiday Candle: Red Ornament ×5, Clump of Weeds ×5
- Illuminated Present: Red Ornament ×3, Gold Ornament ×4, Iron Nugget ×3
- Illuminated Reindeer: Gold Ornament ×6, Iron Nugget ×5
- Illuminated Snowflakes: Blue Ornament ×9, Iron Nugget ×3
- Illuminated Tree: Red Ornament ×8, Blue Ornament ×8, Gold Ornament ×6, Iron Nugget ×6
- Jingle Wall: Red Ornament ×5, Blue Ornament ×5, Gold Ornament ×5, Clay ×5
- Ornament Mobile: Red Ornament ×1, Blue Ornament ×1, Gold Ornament ×1, Tree Branch ×4
- Tabletop Festive Tree: Gold Ornament ×5, Tree Branch ×3, Clay ×2