ACNH Fall Entrance Designs & Ideas 2022 - 10 Best Ways To Decorate Your Island Entrances
10/31/2022 11:29:46 AM
Many gamers of Animal Crossing: New Horizons consider the island-decorating portion of the game to be its most enjoyable part. So if you are looking for ways to decorate the area outside your house in Fall, this guide is for you! We bring you some ideas for your fall & winter entrance in Animal Crossing New Horizons with each design code.
ACNH Fall Entrance Designs & Ideas 2022 - 10 Best Ways To Decorate Your Island Entrances
1. Best Fall Entrance Design For ACNH Island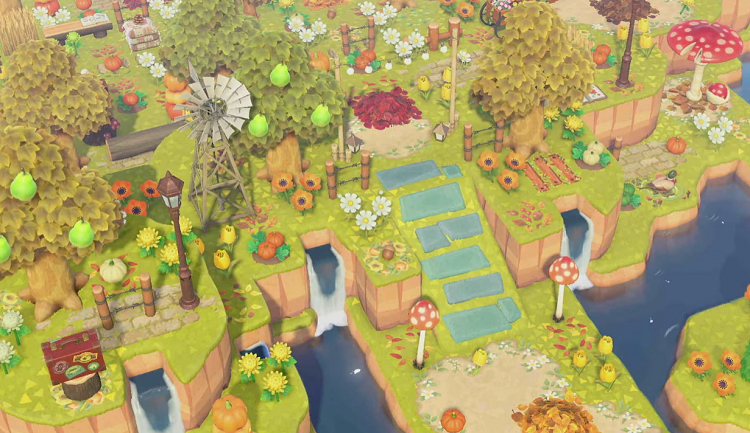 This island is not complete, but the entrance is stunning. The first view that you see when you step off of the airport, and it is stunning. The use of the pear trees are beautiful, usually people use apple trees for fall and it's different but it still works really well. What a gorgeous Island!
2. Best Island Entrance Design Code - DA-5778-8026-9203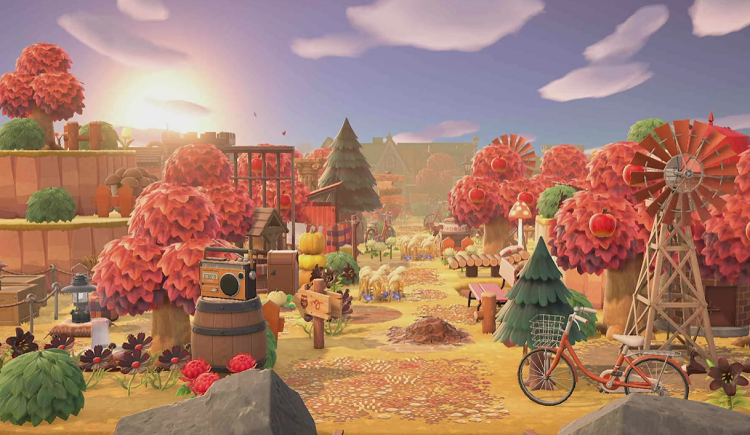 This island is called pepperton, the entire tour this island is so pretty. This island entrance is so unique because the museum is right at the entrance, that is so neat and unique, most people put their Museum towards the back of the island, but here it is right front center in the spotlight.
3. Fall Entrance Idea For 2022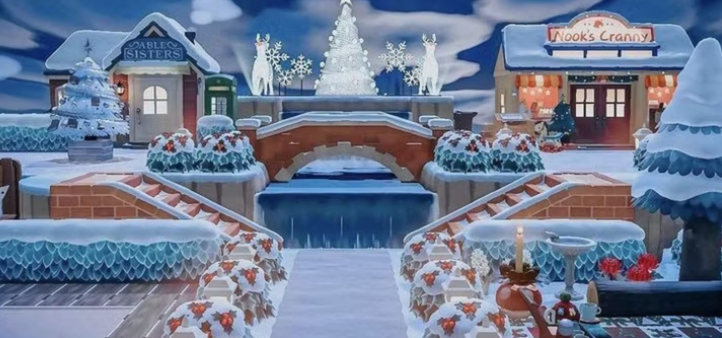 If you're having a lot of visitors over to your island, it might be because they're visiting your local shops. For example, if you're participating in the online "Stalk Market," other players might be visiting to sell their Turnips! So, why not place your shops front-and-center for ease of access? It also means that you can block off the rest of your island and not fret about your visitors shaking your money trees or picking your flowers.
4. Autumn Entrance Ideas For ACNH Island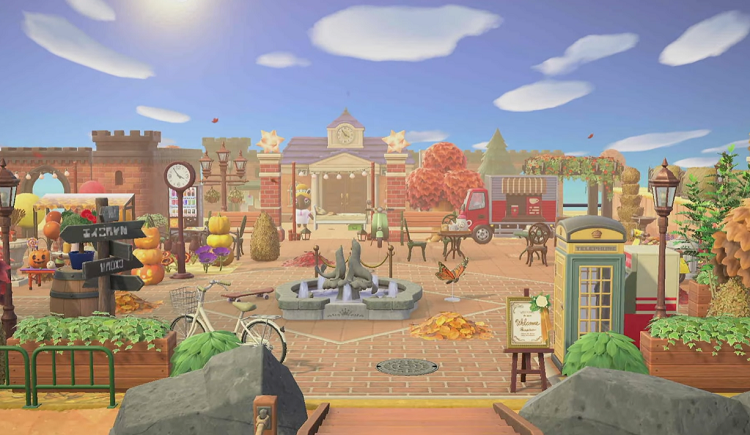 Check out this view of resident services, the creator's island is not complete but it looks so great. We love the little cafe coffee truck that she made to the right, the festive station on the left with all of the Halloween décor. She even made a little snack vending area with some tables in the flower beds, everything looks so good.
5. Island Entrance Idea For Fall - Cinnamon DA-4137-6065-6043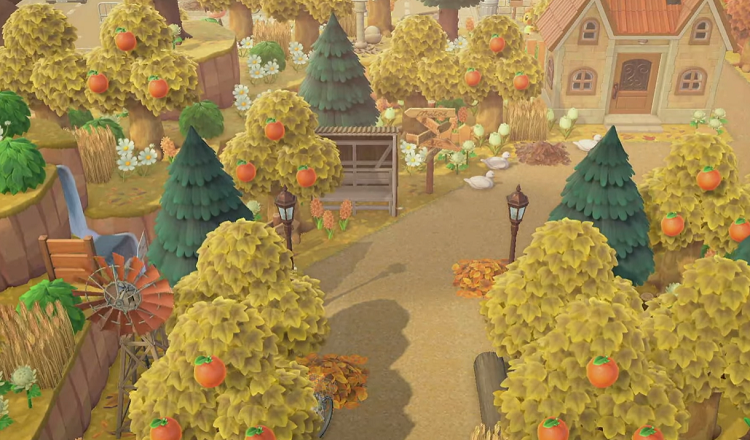 This island entrance is beautiful, it's not just apple trees we are using the orange trees now, it's stunning, they work so well. We can see some houses in the background and the pathway that she used is unique. Planting all of these trees like this had to have just taken so long and the terraforming just looks awesome.
6. Vintage Entrance For Island - DA-2194-1136-4840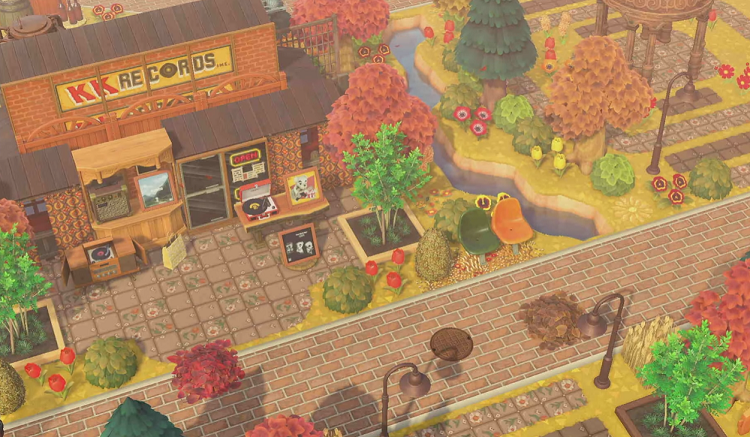 This island has a vintage 70s theme, when you walk out of the airport, you come to the KK Record Shop which is so pretty and well planned. Then if you go to the right, it takes you to resident services, through a little gazebo, it's just such a beautiful island, we definitely recommend checking out the dream address.
7. Foggy Island Entrance Design - DA-0839-9371-4537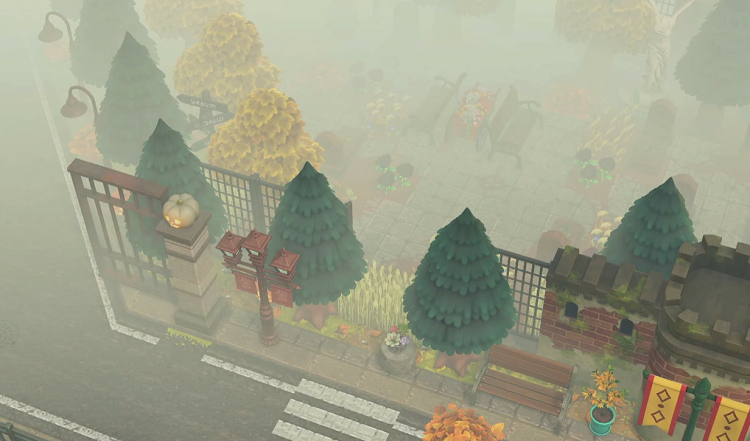 This is a city core Island and it's done by someone on Instagram, we love how eerie and fall this feels, it just feels incredible. When you walk in, there is a cemetery with a seating area. Then if you walk to the left down this very foggy pathway, the trees are angled and that just takes you right to resident services. If you go to the right, it takes you down the Eerie pathway which you will have to see for yourself by visiting the dream address.
8. Fall Kidcore Island Entrance Idea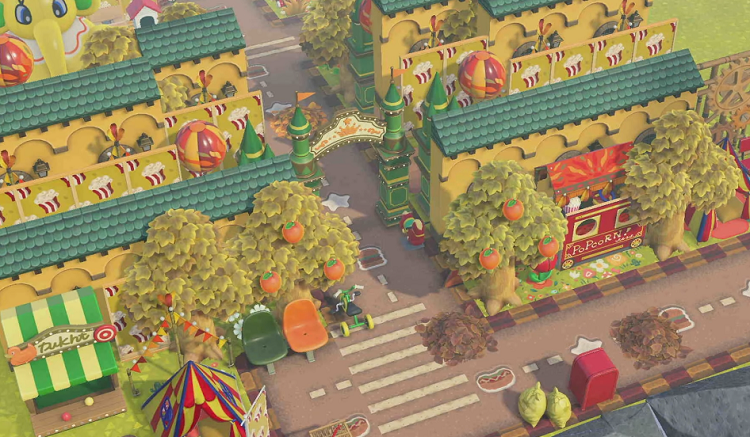 This island is fall kidcore, check out that popcorn stand right there and the Ducks, the tent, the custom designs, everything is gorgeous. We love the road and the food on the road designs is so beautiful, the orange trees, the creator used the medieval walls and the elephants up in the air. Check out the amount of details in this, it's so layered and everything about it is stunning. Just take a minute and soak all of this in.
9. ACNH 2.0 Update Island Entrance Design - DA-9251-3078-0737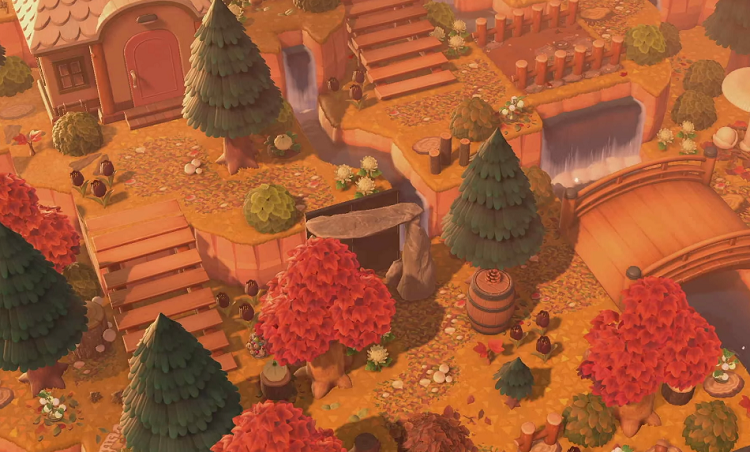 This is the 2.0 update Island, but it is gorgeous anyway, you wouldn't even be able to tell that it's before the update because it's just incredible. Look at that little baby tree right there, the mushrooms, the cave, all of the Villager homes being at the entrance is so cute. Check out all of the terraforming and inclines used here, it would be really neat to include this even though it is a 2.0 update, it still deserves all of the love like that is a gorgeous view. This island is so full, it's so fall. you guys I love it and the airport is like way over here across the bridge, This island entrance just looks really good.
10. Best Island Entrance Design Shared by fairyglen_crossing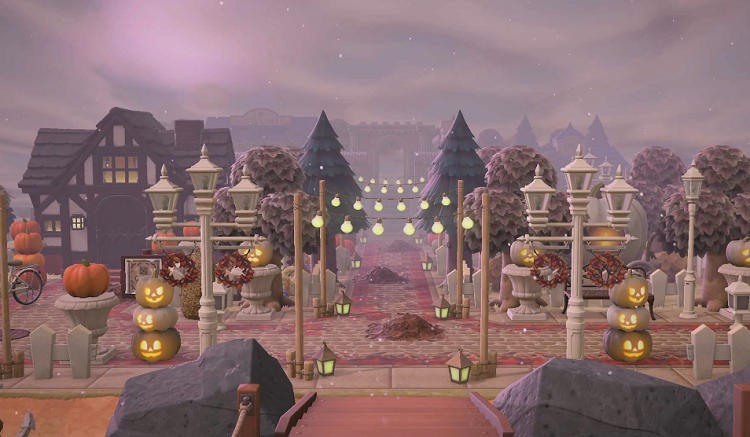 This island is just Chef kiss, it's a snowy winter town and it's spooky and Autumn and it's everything about the Autumn season, it's just amazing. This is what you walk into when you step out from the airport, there is a haunted in to the left and a spooky carriage on the right, it's just a little pumpkin spice themed town with some nice Halloween decorations and lots of spooky vibes. It's just such an amazing entrance and a very well thought out Island layout.