ACNH Valentine's Day 2023: Items, Gifts, Villager Letters, Postcards in Animal Crossing Valentine's Day Event
2/1/2023 8:06:55 PM
February is a fairly busy month anyway, sees a pretty wholesome Event and Villager activity you don't want to miss. That Event is, of course, Valentine's Day, which like the real world is celebrated on February 14th. However, a bunch of stuff associated with Valentine's Day begins on February 1st.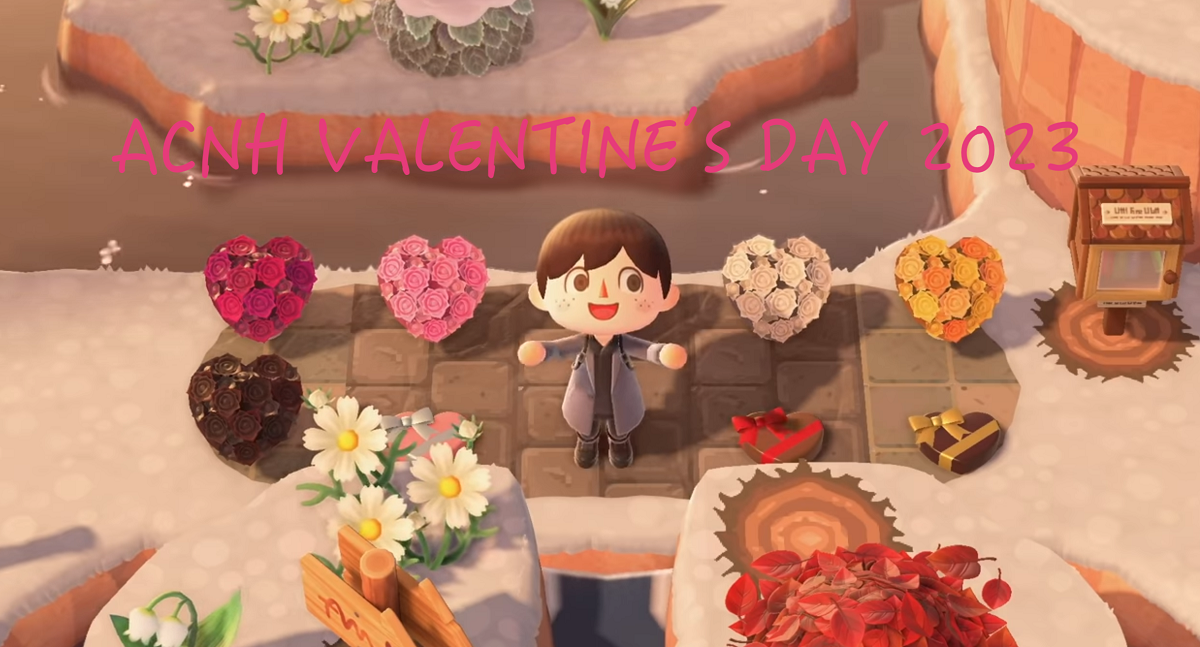 ACNH Valentine's Day Event 2023 - Items, Gifts, Villager's Letters & More
Valentine's Day is a surprisingly larger Event than it seems and offers a lot more content than the typical Nook Stop Seasonal Events. And in short, the better prepared you are, the more content you'll get to experience. At least for those who enjoy taking part in Events.
Depending on how seriously you take Animal Crossing New Horizons, and how much you love your Villagers, there is some preparation you can do, in the lead-up to the Event. Of course, this is entirely optional, but doing a tiny bit of preparation for the Event, if you're already playing, will make sure you get the most out of the experience. So, here we are going to break down a couple of things you can do for Valentine's Day.
1 - ACNH Valentines Day Items 2023 on Nook Stop
The first is of course buy a bunch of the limited-time Chocolate Heart and Heart-Shaped Bouquet items in different color variations from the Nook Stop. Note that you can not customize the Valentine's Day items into another color via customization, so don't forget to check Nook Shopping daily to get the color variations you want. This is because you may want to send them out to your Villagers or lovers in the Mail in honor of Valentine's Day, or use them to decorate your island.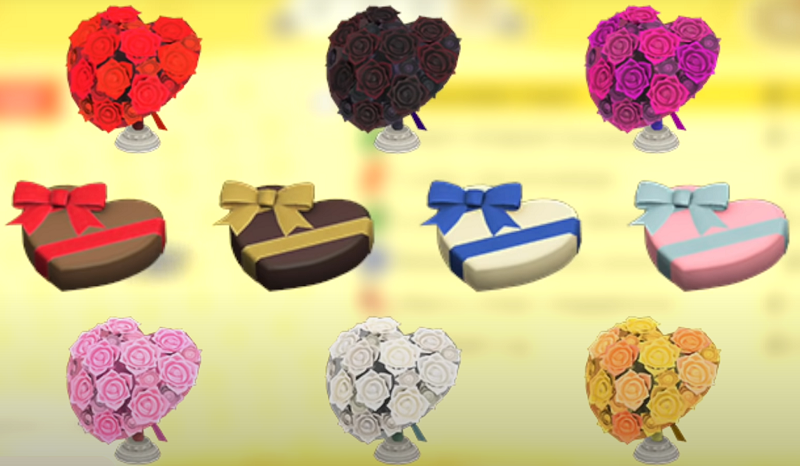 2 - Valentine's Day Letters & Special Dialogues
And the Second is becoming Best-Friends with your villagers, or at the very least boasting their Friendship-Level as high as possible, before February 14th. Now the reason your Friendship-Level with Villagers is so important is that this essentially defines how they interact with you during Valentine's Day, and decides whether or not they're going to send you a Valentine's Day letter and present. And not only does this basically unlock rare Dialogue whilst you play, but there are several types of Valentine's Day Letters you can receive.
The reason you may want to have as many Best-Friends as possible before Valentine's is that there are different Valentine's Day letters and dialogue available from different Villager Personalities. So if you want the most out of this mini Event, and to experience everything there is to offer because you enjoy all the hidden content in Animal Crossing New Horizons, you're going to want to prepare for the Event as much as possible, and boast those Friendship-Levels.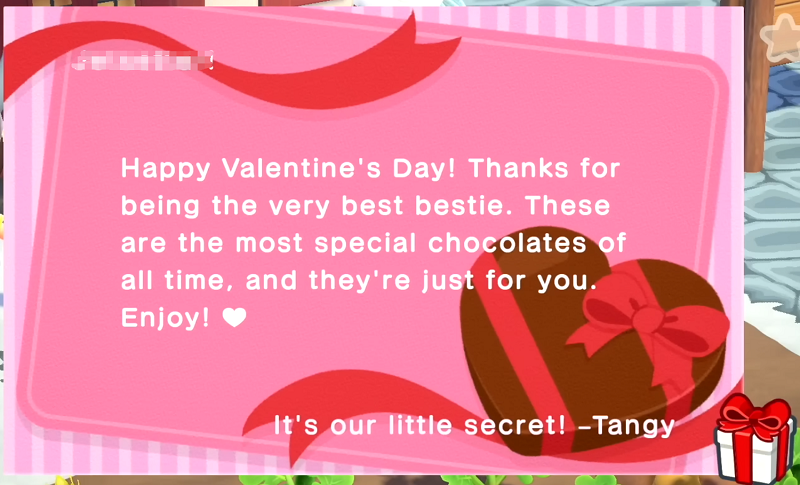 How To Receive Valentine's Day Letters from Your Villagers?
But first, it's useful to know how you can increase your Friendship-Levels with your Villagers, in order to receive these letters. Essentially, there are 6 Friendship Tiers:
Level 1 and 2 are New Friends

Level 2 and 3 are Good Friends

Level 5 and 6 are Best Friends
Each with a point system, that increases or decreases based on how you interact with them.
Now the Friendship Mechanic is a giant rabbit hole and we could talk about it for hours, so we'll just highlight the main aspects you need to know. Essentially all you need to do is regularly talk with your Villagers, by making sure you get that daily conversation and continuing with any Side-Quests they ask you to do. This could be catching a Bug, Selling them an Item they asked for, attending Birthday Parties or even giving them medicine when they're sick.
If you pretty much go along with what the Villagers are asking of you, you will gain points for each interaction, and your Friendship-Level with them will increase.
Fortunately, unlike earlier games, there's not much that will actually decrease your Villager's Friendship-Level, but if you're really cruel and keep hitting them with a net until they react and get upset, it will damage your Friendship slightly. As well as sending them trash or rotten turnips for example. Weirdly enough, ignoring them does nothing, and their friendship levels will stay the same, which is why it's so hard to get Villagers to move out in Animal Crossing New Horizons, compared to previous games.
Anyway, if you speak to your Villagers several times a day when you pass them, or deliver the lost items correctly, for example, you'll be Best-Friends with Villagers in no time. And only at this point, will Villagers decide to send you Valentine's Day letters and a gift. Which let's face it, is super adorable.
Now, as a quick side note, the Villager Photo mechanic also follows this system and is based on Friendship-Level. So if also you're looking to collect Villager Photos, and wondering why you haven't received any yet, it's probably because you need to interact with your Villagers more.
3 - Free Gifts from Isabelle & Villagers
Anyway, no matter whether you prepare for the Event or not, Isabelle being the adorable hard-working Island Resident she is will send you a Valentine's Day Letter, along with a Seasonal Gift. But, you also have the chance to receive a bonus Valentine's Day Letters, and more gifts, from your best friends. And the more Best-Friends you have, the more Letters you can receive.
4 - Valentine's Day Postcards
Valentine's Day provides some charming limited-time postcards that you can use to distribute Valentine's Day notes or send gifts to your neighbors or even pals. If you visit Dodo Airlines, you can choose from various unique Valentine's Day cards at the postcard booth. However, they do provide particularly special designs that can only be used during the valentine's day seasonal event and in the run-up to valentine's day itself. These are exactly the same as regular postcards and can even be written and delivered in the same way. Therefore, even if you don't often write to your villagers, it might be worthwhile to do so within the next day or two only to view these unique cards and employ these chocolate and love designs.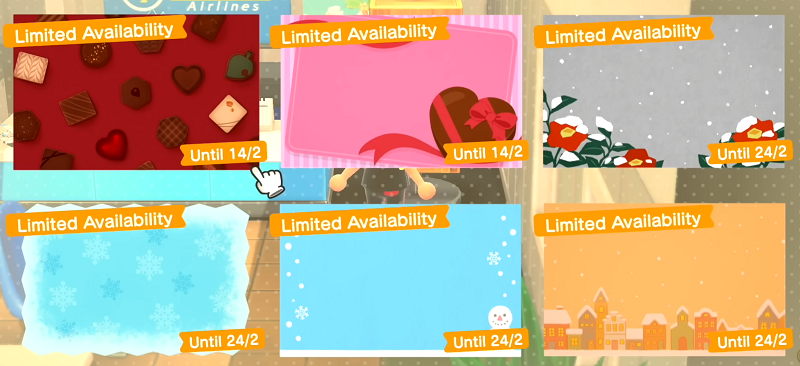 5 - Brewster's Hot Chocolate on Valentine's Day
Brewster moving on is one of the cutest additions that Valentine's Day brings to Animal Crossing New Horizons yet is frequently disregarded. If you come to the roost on Valentine's Day, Brewster will greet you and bring you hot chocolate in observance of the holiday rather than glasses of coffee. If you have a buddy and want to ask them to visit ACNH for Valentine's Day, taking a trip to the roost would be a particularly lovely surprise for them since this is the only day you can get Brewster's unique drink.