ACNH Personality Types 2023 - Every Villager Personality Change In Animal Crossing
1/31/2023 7:29:34 PM
Today we discuss the personality types of villagers in ACNH. We take a look at every villager who debuted in Animal Crossing as 1 particular personality type, but have since been changed to another. There are 18 in total, across 5 generations, including 2 villagers in Animal Crossing New Horizons. Without further ado, let's get straight into this guide and learn which are personalities-changed villagers in ACNH 2023 and how to change a villager's personality type!
ACNH Villager Personality Type Changes 2023 - All Personalities-Changed Villagers in Animal Crossing
Now Animal Crossing New Horizons and the past titles are full of interesting facts, backstories and hidden details you may not know. For example, only Jog and big sister villagers can be your two starting villages in New Horizons. But did you know the next 3 are always Peppy, Normal and Lazy in that order. Anyway, another interesting detail surrounding villager personality types are that several animals have in fact had their personality changed. It's true there are 18 Animal Crossing villages that at some point or another have had their personalities switched to a different type. This typically occurs when a new Animal Crossing game is released.
Here is every personality change in Animal Crossing New Horizons:
Big Sister Villagers
These are their new personality types and probably the ones you recognize them to be. So what better place to start than big sister, giving you always encounter one when you first start a new island. In total, 6 big sister villagers in Animal Crossing used to have different personality types in previous games. These include Sylvia, Ursula, Paula, Charlise, Plucky and Faith. Each of these characters are big sister villagers. However, that wasn't always the case. Sylvia and Ursula used to be Snooty, however returned to New Leaf as big sister. Paula, Charlise and Plucky used to be Peppy, but again return to New Leaf as big sister. And Faith was originally a normal koala and after being missing from several installments of Animal Crossing, return to New Horizons as big sister. We'll discuss why these changes occur towards the end of the guide.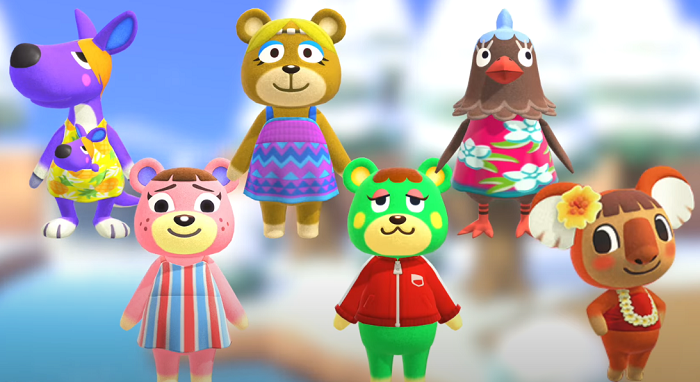 Cranky Villagers
In total, there are 3 cranky villagers as you know them now who used to have different personality types. These include Harry, T-Bone and Dobie. Harry was originally a jock villager before returning to Animal Crossing City Folk as cranky. Interestingly, he was the second villager ever to see a personality change. T-Bone and Dobie were previously lazy before returning to New Leaf as cranky until New Leaf, it wasn't common to change personality types, but 3 villagers do predate this game with Harry being one of them.
Jock Villagers
Speaking of personality changes that predate modern Animal Crossing games, we have one jock villager. Rowan is the only villager who is now a jock who originally had a different personality type. Rowan, the tiger debuted in the original as cranky, but when he returned to Wild World he was switched to Jock. Rowan was the first and only villager to see a personality change until the City Folk era. Furthermore, it's not surprising to know only one villager was changed to jock given jog is the most common personality type.
Smug Villagers
In total, there are 7 smug villages, as you know them now who started out with different personalities. These include O'Hare, Curlos, Ed, Leopold, Kidd, Huck and Roswell. O'Hare and Curlos debuted in Animal Crossing with the cranky personality type before returning to New Leaf as smug. Ed and Leopold were originally Jock, but once again returned in New Leaf as smug. Kidd, Huck and Roswell debuted as lazy villagers before switching to smug. All of these villagers saw personality changes in New Leaf with the exception of Roswell who returned to New Horizons as smug after being absent from the series for several games. Second two big sister the smug personality type is the least common, so it makes sense it saw some of the most changes.
Snooty Villagers
Snooty is another personality type that only saw 1 change. Violet, the Gorilla who debuted in e-plus is of course a snooty villager. However, she originally had the peppy personality type and it wasn't until she returned to City Folks she became snooty. Violet was only one of two villagers to see a personality change in City Folk, making her and Harry, the joint second personality changes overall after Rowan.
Reasons to Personality Changes Occur in Animal Crossing
In total, there have been 18 personality changes over the years with 1 in Wild World, 2 in Sydney Folk, 8 in New Leaf, 5 in Welcome Amiibo and 2 in Animal Crossing New Horizons. Interestingly, there isn't a single lazy normal or peppy villager right now that used to have a different personality type. There are 3 primary reasons for the changes that did happen though:
1. Islanders Returning. The first being those who were originally Islanders before becoming residents in future games.

2. Filing New Personalities. The second filling new personality types after smug and big sister were first introduced to New Leaf.

3. Balancing Villagers. The third being an attempt to balancing some of the villager types and personality types.
To this day, John and normal villagers are the most common and smug and big sister are the least common. If the day ever comes that a new Mainline game is released, we'll see even more changes to personalities to balance them even more. And maybe even to some of the personalities that are currently unaffected.
How To Change a Villager's Personality Type in Animal Crossing?

All you need is the NmlNpcParam.bcsv file, which can be obtained from dumping the romfs folder from your copy of New Horizons, and HXD, or any other hex editing program.
All you have to do is just replace one of the values below with another one to change a villager's personality. To make sure it's the villager you're trying to change, make sure that below the area you're replacing, it lists the same ID as that villager! e.g. cat23 for Raymond, or cbr19 for Judy.
The Hex Values
Smug: 9E 6C 2D 61
Lazy: 3C 2B DA 0C
Jock: DA BF 41 66
Cranky: E1 E1 25 D8
Peppy: 62 08 56 CF
Normal: 84 9C CD A5
Snooty: 0D 0A 3C 73
Uchi: 44 67 70 70