ACNH Spring Updates & Changes 2023 - March, April, May Events, Items, DIY Recipes & Critters
2/3/2023 7:22:27 PM
Spring is not far away from us in Animal Crossing New Horizons. As the weather turns warmer, you might notice your grass turning from a swampy brown to a more luscious green. What are all the different creatures that can be caught? What events will happen? What items can get, and what craft materials can collect? In this ACNH March, April, May update guide 2023, we talk about the events, items, DIY recipes, and critters for Spring.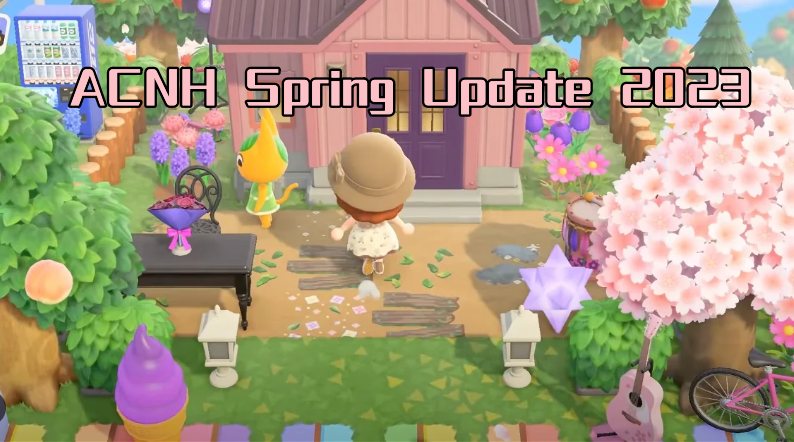 ACNH Spring (March, April, May) Update Guide 2023: Events, Items, DIYs, Critters & Changes

In Animal Crossing New Horizons, spring is the season that occurs between late February and May. During this time, new spring-themed ACNH items become available for purchase in stores, and certain bugs and fish become more common. Cherry blossom petals will fall from the sky, flowers will bloom, and new life will be brought to the island. The weather will be mild and breezy, perfect for exploring and catching bugs. If you are interested in preparing for the upcoming season, then watch our ACNH guide to Spring.
ACNH Spring Events & Items 2023
March
π Day
The mathematical constant (pi), whose initial digits are 3.14, is celebrated on March 14th, or 3/14. In recognition of the significance of to the study of circles in mathematics, many people opt to celebrate by eating a circular treat: pie. From March 1-14, during the Day Nook Shopping seasonal event, you may purchase the Pie for 314 ACNH Bells. While the relevant seasonal event is active, this item is available for purchase exclusively via the catalog. Its cost alludes to the first three numbers.
Shamrock Day
The 17th of March is Shamrock Day in both Animal Crossing: New Leaf and Animal Crossing: New Horizons. It's modeled after the real-world celebration of Saint Patrick's Day, and it only takes place in places throughout North America. You can get Shamrock Rug, Shamrock Soda, and Shamrock Doorplate.
April Fool's Day
In both Animal Crossing and City Folk, April 1st is celebrated as April Fool's Day. Pranks are performed on this day just as they were on an actual day. The Whoopee Cushion will be available at Nook Shopping between March 26 and April 1.
April
Singmogil (Tree Day)
Tree Day is observed in Animal Crossing: New Horizons from April 1st until the 10th. Singmogil is a real-world festival observed in Korea that is similar to Arbor Day in the West, and Tree Planting Day is an event that occurs on the same day. Nook Stop at Home Services or the Nook Shopping App on the Nook Phone will sell the forsythia tree for Animal Crossing bells throughout the event period.
Prom Season
In Animal Crossing, the month of April is dedicated to the Prom Season shopping event, which honors the tradition of formal high school dances, known as "proms," that are common in many areas of the globe and to which students traditionally wear formal attire such as gowns and tuxedos. New prom flooring, prom wall, prom sash, and prom outfits are available to get in Animal Crossing: New Horizons Spring update 2023.
Fishing Tourney
On April 8, you may participate in the Fishing Tournament in Animal Crossing: New Horizons. If you happen to be playing the game on one of the days that the Fishing Tourney is being held, you may expect to see the C.J. special character camping out in a tent outside Resident Services at the crack of dawn.
Bunny Day
On April 9, players may participate in Bunny Day in Animal Crossing. In return for six eggs, the Easter-themed game's protagonist, Zipper T. Bunny, will provide the player with a variety of Easter-related goodies. Zipper makes an appearance on both the first and final day of the eight-day-long Bunny Day festivities. While exploring, players may come upon eggs that may be utilized in the event's DIY Bunny Day Series furnishings and clothes.
Earth Day

The 15 of April marks the beginning of Nature Day. Let's get Leif together in the Plaza. In addition to bushes, he also has uncommon flower seeds for sale. Your bunch of weeds may be sold to him for 20 bells. For the duration of the Nature Day event, there will be unique time-sensitive activities where you may earn Animal Crossing Nook Miles and special rewards.
Children's Day
The fifth of May is Children's Day, also known as Boy's Day, in Animal Crossing. At Nook Shopping, you may get a carp banner and a newspaper helmet between April 28 and May 5.
May Day
In Animal Crossing Spring update, the May Day Tour is a limited-time holiday event that introduces a new mystery island to explore with the return of fan-favorite Rover! The May Day celebrations will officially begin with an in-game morning statement from Isabelle. The May Day Tour Maze is a unique maze puzzle that can only be accessed during the May Day event by purchasing a May Day Ticket at the Airport. You may get a unique reward by solving the challenge and talking to Rover at the conclusion of the game.
May
Mother's Day
In the ACNH Spring event update, the player's mother is honored at a special event called Mother's Day. Although the exact date varies by area in North America, it is generally celebrated on the second Sunday of May. During the month of May, the Thank-You Mom Mug will be available for 600 Bells at Nook Shopping.
Cheese Rolling Day
Is your passion for cheese such that you'd follow a wheel of Double Gloucester rolling down a slope at 60 miles per hour? Indeed, many people in Europe share this view. Fun and games until someone end up with curd. During the Cheese Rolling season of Nook Shopping, you may get the double Gloucester cheese for 1,200 Bells Animal Crossing as a commemorative item for this year's Cheese Rolling celebration.
International Museum Day
Inspired by the actual holiday of the same name, May 18th to May 31st was declared International Museum Day. It's possible that the three stamp stations spread across the museum's insect, fish, fossil, and art halls will move around daily for this event. The station will stamp the player's card if they interact with it.
ACNH Spring Crafting Materials & DIY Recipes 2023
Bamboo
The Young Spring Bamboo is an ACNH Spring material that can be used to craft several different items. If you want to acquire Young Spring Bamboo in Animal Crossing: New Horizons the natural way, you need to be playing during Spring Season, which occurs between February 25 and May 31 in the Northern Hemisphere. Here is a list of some of the DIY (Do-It-Yourself) recipes that use Young Spring Bamboo:
Bamboo Wand

Bamboo Shelf

Bamboo Partition

Bamboo Bench

Bamboo Lunch Box

Bamboo Noodle Slide

Bamboo Piece

Bamboo Nesting Table

Bamboo Rug

Bamboo Shoot

Bamboo Shoot Lamp
These DIY recipes can be obtained through various means, such as balloons, message bottles, and from Tom Nook. By collecting materials and crafting items, players can decorate their islands and make them their own unique paradise.
Cherry Blossom
The Cherry Blossom Season is a special time of year when cherry blossom petals fall from the sky, creating a picturesque atmosphere on the player's island. From April 1st to April 10th in the Northern Hemisphere, several cherry blossom-themed DIY recipes become available, including:
Cherry-Blossom Clock

Cherry-Blossom Bonsai Tree

Cherry-Blossom Umbrella

Cherry-Blossom Pond Stone

Cherry-Blossom Flooring

Cherry-Blossom Petal pile

Cherry-Blossom Branches

Cherry-Blossom Festival Rug

Cherry-Blossom Lamp

Cherry-Blossom Tee

Cherry-Blossom Wand
These ACNH Spring recipes 2023 can be obtained through various means, such as from balloons, message bottles, and from Tom Nook. By crafting these items, players can bring the beauty of the cherry blossom season to their island and create a festive atmosphere.
ACNH Spring Bugs, Fish & Deep Sea Creatures 2023
In the ACNH Spring update 2023, there are new bugs and fish that become available during the spring season. Some of the new bugs you can catch include the Emperor Butterfly, the Ladybug, and the Peacock Butterfly. Some of the new fish you can catch include the Betta, the Neon Tetra, the Rainbowfish, and the Tilapia. Each season also introduces new sea creatures such as sea anemones and sea stars, so be sure to check the tide pools. It is recommended to keep an eye on the in-game Critterpedia to see what's new and what you still need to catch!