ACNH Fireworks Show Event 2023: Start Time, Rewards (Redd's Items, Boppers, Clothing) & Firework Tips
7/3/2023 10:30:57 AM
August had a special event called the Fireworks Festival in Animal Crossing New Horizons. The Fireworks Festival is a festive celebration where players can enjoy a colorful fireworks display and participate in various activities. In this ACNH Fireworks Show event 2023 guide, we talk about the start time, rewards, activities, and custom fireworks tips. It's a time for players to come together, enjoy the virtual fireworks display, and immerse themselves in the joyous ambiance of the event.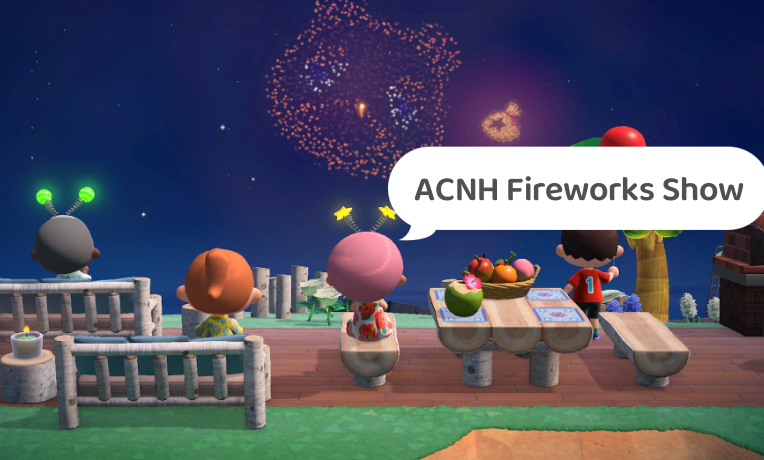 ACNH Fireworks Festival Event 2023: Start Time, Rewards, Activities & Fireworks Custom Tips
The Fireworks Festival event in Animal Crossing: New Horizons is beloved by players. The fireworks display during the event is visually stunning. The colorful explosions light up the night sky, creating a beautiful and mesmerizing spectacle. Players enjoy the vibrant colors, patterns, and effects of the fireworks, which add a touch of magic and charm to their virtual island. The Fireworks Festival offers unique rewards that can only be obtained during the event. These rewards may include special furniture items, clothing, accessories, or DIY recipes. Players enjoy collecting these exclusive Animal Crossing items to decorate their homes or customize their characters, adding a sense of achievement and personalization to their gameplay. Next, we dive into everything you need for the ACNH Fireworks Festival event.
ACNH Fireworks Show Event Dates & Times 2023
ACNH Fireworks Festival event usually occurs every Sunday evening during the summer months and starts at 7 p.m. local time in the game. The event runs from 7 p.m. until midnight, allowing players to enjoy the fireworks display and participate in various activities during that time. It's important to note that the specific start time may vary depending on your in-game time zone and the date of the event. Animal Crossing New Horizons Fireworks Show begins on the following dates for 2023:
August 6, 2023
August 13, 2023
August 20, 2023
August 27, 2023
ACNH Fireworks Show Event Activities 2023
The Fireworks Festival in Animal Crossing New Horizons offers various activities for players to enjoy. Here are some of the activities typically associated with the event:
1. Fireworks Display: The highlight of the Fireworks Festival is, of course, the fireworks themselves. During the event, colorful fireworks will light up the sky, creating a stunning visual spectacle. Players can gather in the town plaza or on the beach to watch the fireworks show.
2. Redd's Raffle: Redd, the fox character, sets up a stall in the plaza during the Fireworks Festival. Players can purchase raffle tickets from him using in-game currency. These tickets can be exchanged for a chance to win exclusive prizes and items. The raffle prizes can range from furniture items to clothing and accessories.
3. Custom Fireworks Design: Players have the opportunity to design their own custom fireworks patterns using the game's design app, called the Custom Design Pro Editor+. These designs can be displayed during the fireworks show, adding a personal touch to the event. Players can create their own unique designs or use designs shared by others in the Animal Crossing community.
4. Villager Interactions: The Fireworks Festival attracts many of the villagers in your town. You can engage in conversations with them, watch the fireworks together, and participate in special activities. Some villagers may have specific requests or mini-games related to the event, adding to the festive atmosphere.
5. Dressing up in Festival Attire: To embrace the spirit of the Fireworks Festival, players can dress up in special summer-themed outfits or costumes. You can purchase festival attire from the Able Sisters' shop or create custom designs to wear during the event. This allows for personalization and adds to the festive ambiance.
ACNH Fireworks Show Event Rewards & Items 2023
Redd's Raffle Prize Items
To participate in Redd's Raffle, players can purchase raffle tickets from Redd using ACNH Bells. The tickets are then used to enter the raffle and have a chance to win different items and rewards. The prizes can vary and may include festival-themed furniture, clothing items, accessories, DIY recipes, or unique tools. Each raffle ticket purchased for Redd's Raffle entitles the winner to a single, randomly selected holiday prize from a pool of twenty-four.
Many of Redd's rewards are temporary and will vanish once they have been used. There's just one way to enjoy a Red Sparkler, Blue Sparkler, Fountain Firework, or Bubble Blower. Cotton candy, frozen treats, and boba all serve three distinct purposes.
Red Sparkler

Blue Sparkler

Fountain Firework

Bubble Blower

Uchiwa Fan

Pinwheel

Tweeter

Blue Balloon

Red Balloon

Yellow Balloon

Green Balloon

Pink Balloon

Ramune-Soda Frozen Treat

Orange Frozen Treat

Chocolate Frozen Treat

Plain Cotton Candy

Melon Cotton Candy

Ramune-Soda Cotton Candy

Strawberry Cotton Candy

Boba Milk Tea

Boba Coffee

Boba Strawberry Tea

Boba Mango Tea

Boba Green Tea
Isabelle's Bopper Items
During the Fireworks Show event, Isabelle will be selling four additional unique Bopper products. She will provide you with one at no cost on each event date. Timmy and Tommy are selling headbands called "Boppers," which emit a dazzling glow at night, for 245 Bells.
Bulb Bopper

Flower Bopper

Star Bopper

Heart Bopper
Able Sisters Clothing Items
During the Animal Crossing Fireworks Festival event, the Able Sisters' shop typically offers special clothing items that are themed around the event. These clothing items are often designed to enhance the festive atmosphere of the fireworks show.
Casual Kimono (Green)

Casual Kimono (Aqua)

Casual Kimono (Dark Blue)

Casual Kimono (Mustard)

Kabuki-Actor Yukata (Gray)

Kabuki-Actor Yukata (Dark Blue)

Kabuki-Actor Yukata (Fuchsia)

Morning-Glory Yukata (White)

Morning-Glory Yukata (Aqua)

Morning-Glory Yukata (Pale Green)

Morning-Glory Yukata (Dark Blue)

Zori (Aqua)

Zori (White)

Zori (Black)

Zori (Pink)

Zori (Light Pink)

Zori (Green)
ACNH Custom Fireworks Design Tips 2023
Creating custom designs for the fireworks display during the Fireworks Festival in Animal Crossing: New Horizons can be a fun and creative way to personalize the event. Here are some tips to help you make the most of your fireworks custom designs:
1. Consider the Canvas: When designing fireworks, keep in mind that the canvas size for fireworks designs is 32x32 pixels. This limited space means you should focus on creating simple, bold, and easily recognizable patterns that will look great when they burst in the sky.
2. Use Vibrant Colors: Fireworks are known for their vibrant and dazzling colors. Take advantage of the wide range of colors available in the design app to make your fireworks designs visually striking. Experiment with different color combinations to achieve the desired effect.
2. Symmetry and Patterns: Symmetry and repeating patterns can create visually appealing fireworks designs. Consider using symmetrical shapes or mirrored patterns to give your fireworks a balanced and harmonious look. Experiment with different shapes, such as stars, bursts, or spirals, to add variety to your designs.
3. Layering and Transparency: Utilize the layering feature in the design app to create more complex and dynamic fireworks designs. You can overlay different shapes, colors, or effects to achieve more intricate patterns. Additionally, using transparency can add depth and give your fireworks a more realistic appearance.
4. Test and Iterate: Don't be afraid to experiment and iterate on your designs. Test them out before the event to see how they look when they explode in the sky. Adjust and refine your designs as needed to achieve the desired visual impact.
5. Share and Discover: Sharing your fireworks designs with the Animal Crossing community can be a great way to showcase your creativity and inspire others. You can also discover new design ideas by browsing online platforms, social media, or design-sharing websites where players share their own fireworks designs.
Remember to have fun and enjoy the process of creating unique fireworks designs for the Fireworks Festival. The event is all about personalization and creativity, so let your imagination soar and design fireworks that will truly make your island shine.