Best ACNH Cottagecore Design Ideas & Tips - Country Rural Path & Clothes Custom Design Codes In Animal Crossing
9/11/2020 4:15:57 PM
Animal Crossing New Horizons offers you a great chance to escape into Cottagecore from a stressful world, calming ethos for your febrile moment! If you do love and want to reproduce the idealistic aesthetic inspired by a romanticized interpretation of a simple, rural life, here are some great ACNH Cottagecore Design ideas and tips that can help you, features some amazing country island designs and rural custom design codes.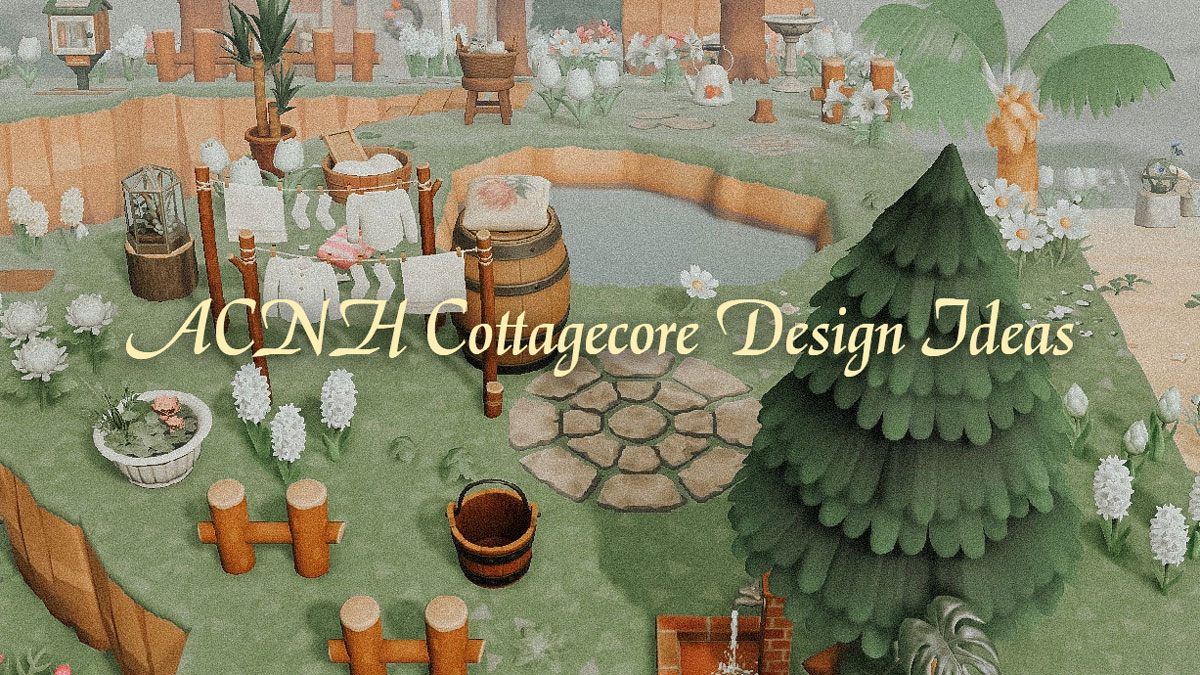 Build Up Your Cottagecore Island In Animal Crossing New Horizons
Cottagecore also is known as farmcore or country core has become the most defining lifestyle trend of 2020 - away from the narrowness of the city, trying your hand at gardening in your own garden or on the newly rented parcel of land and spending your free time in nature between forests, meadows, and mountains. The CottageCore is characterized by a quiet life beyond the cities and the frenzy of our society, where nature, animals, flowers, and home cooking make up the everyday!
However, in real life, not everyone can arbitrarily have the opportunity to escape the oppressive reality and enjoy Cottagecore freely, especially for most urban people. Thanks to Animal Crossing New Horizons, people can put cottagecore themes into the game, take modern escapist fantasies like tiny homes, voluntary simplicity, forest bathing, and flowers. Cottagecore aesthetic has been one of the most popular design ideas in Animal Crossing New Horizons!
Related Read:
Animal Crossing New Horizons Cottagecore Design Ideas
Cottagecore in Animal Crossing New Horizons refers to a style that is based on the natural and agricultural vibe of an open field, farm or forest, gardens, campsites, rural living, farmer vibe house. Cottagecore islands resemble the crowded and messy, yet organized decoration and use of different items, mentioned below:
ACNH Natural Theme Cottagecore Island Design Tips & Tricks
First all, before we starting, learn some tips and tricks of building up Cottagecore theme island will make your work easier:
Tip 1: Lots of Terraforming
You want to make your terraforming as natural as possible, rounding off edges and creating cliffs and rivers that aren't perfectly circular/square, but more random and naturally occurring Herb. By doing this, it creates a more natural and cozy look. It also not a bad idea to create little nooks and secret areas. Within those areas, you can add little sections such as a garden, farm, cafe, or a villager's house. By adding more multiple distinct sections in your island that helps give you the feeling that your island is bigger than it actually is. Now for your waterfalls experiment with creating multiple layers, you can try incorporating single lane and double lane streams, not every waterfall you create has to be massive and epic.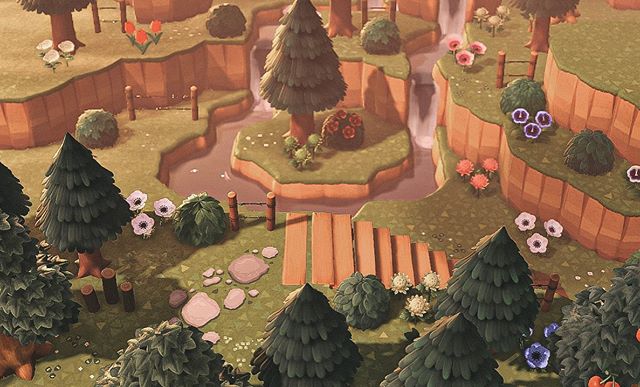 Waterfalls & Rivers: Waterfalls make your island look very natural and simple. Placing smaller items and flowers on cliffs and waterfalls can make your island appear more cottagecore and rural. Small islands in rivers give off a very natural vibe as well. try creating a little floating island with a tree and some flowers!

Gardens: If you were living on a real farm, there would be gardens! you can use mum cushions, watermelon beach balls, mushrooms, and blue hydrangeas to make it seem like you have cauliflower or watermelon patch, or blueberry/mushroom farm!

Garden Shed: If any of you are excited to see if they add farming into Animal Crossing then this is definitely for you. Simply use three stalls (recipe from Nook Shop) and position them form a quadrilateral missing one side.

Make A Farm: Create a farm by planting tree saplings. When they're very close together, they won't grow and will stay as sprouts. Try it with hardwood, cedar, palm trees, and bamboo for a variety of looks.

Place Critters: Surely, add some critters into your design would make it more cottagecore and natural. Some fish and insects have lovely containters when you place them, such as the goldfish, mosquitoes and grasshoppers, they make a great addition to your indoor and outdoor decoration.

Fence Combos: Mixing hedge fencing with other fences makes a great outdoorsy combination. It almost gives the impression that the hedge has grown over the fence.
Tip 2 - Decorating Item Selection
You want to make sure your items and decorations fit the overall theme of cottagecore and rural. Old and rural style theme items could always be a good choice. Items commonly used in country theme islands: barrels, log items, tiny libraries, old-fashioned washtubs, country fence, clotheslines, acoustic guitar/ukulele, mush items, garden lanterns, pots, a stack of books, leaf stool, any Animal Crossing items of the natural color scheme (brown, white, green).
Use wooden items to give a rustic feel. Log stakes, wooden benches, log stools, and barrels are great items. This makes your areas feel more like a woodsy cottagecore island.

Choose items that have personality and are charming, such as books, cushions, potted plants, comfy chairs, clothing items, and lost items. This gives a homey and warm vibe.
How to place cottagecore items: place things almost randomly, in a messy yet organized way. things should be crowded, but enough space for a walking path. It's common to place items like hyacinth lamps, pots, butterfly models, or plucked flowers on barrels, mush logs, or log stools.
Tip 3 - Flowers, Trees & Plants
You'll need a lot of flowers, trees, and brushes, surely this is up to you but trying to find a cohesive color palette. But remember that you should keep your flowers under control, otherwise they will mess up your designs. All you need to do is place clear transparent patterns on the ground around the flower to prevent it from spreading. For trees, you should be going for mostly cedar trees, and if you can get some mushrooms too, and autumn is the right season you can collect this kind of ACNH item. Green mums/pink/yellow/orange/purple flowers are also common! you can plant weeds to fill small empty spaces, after 150 planted weeds, they will no longer grow.
Tip 4 - Add Rural Theme To Other Buildings & Whole Island
Keep the rural theme throughout the entire island, even around the storefronts and museum. Adding lots of trees and rustic items can help blend the buildings with the cottagecore theme.
Create remote areas for your villager's homes that are surrounded by nature. Use wooden furniture, plants, and other cottagecore aesthetic items to decorate around their homes. Experiment with placing the house on top of cliffs, near rivers/waterfalls, and on the beach.

Create outdoor spaces that are realistic that your villagers could use. For example, outdoor libraries, cafes, markets, farms, gardens, greenhouses, etc. This will again add community and a friendly vibe to your island.

Add seating spaces for your villagers to interact with. It makes the space more communal and cozy.
Tip 5 - Custom Designs For Paths, Floors, Clothes
Cottagecore in Animal Crossing New Horizons is not only reflected by transforming the natural landscape and placing the matching furniture, but also can be decorated with a variety of custom patterns. Things like stone paths, bricks, wooden planks, clovers, leaves, picnic blankets, little flower patterns, all these custom patterns will help you fill-up the empty space on your island and give it that messy but sort of cute whimsical look. To make your island appear more natural, you can use design codes like wooden paths, clovers, stepping stones, flowers, and leaves. Utilize custom design codes to spice up your grass and sand. This gives detail and adds more nature to your island. It also prevents weeds, flowers from growing everywhere.
ACNH Cottagecore Custom Design QR Codes For Path & Cloth Patterns
Below are some popular Animal Crossing Cottagecore Custom Patterns and their QR Codes we have collected for you.
Cottagecore Stone & Wooden Paths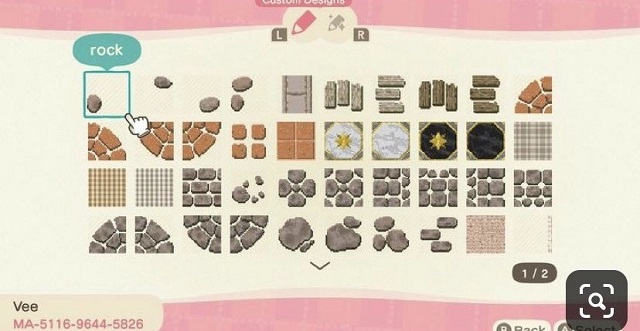 Cottagecore Balloon-hem Dress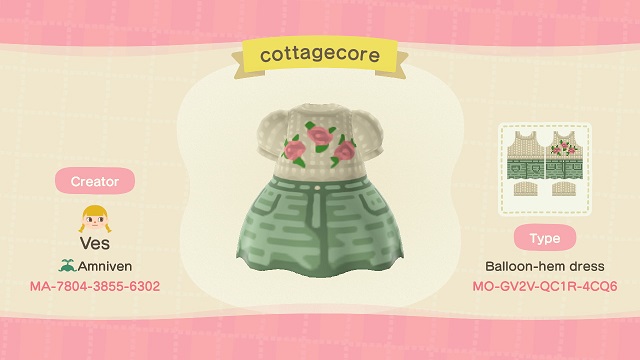 Grape Witch Balloon-hem Dress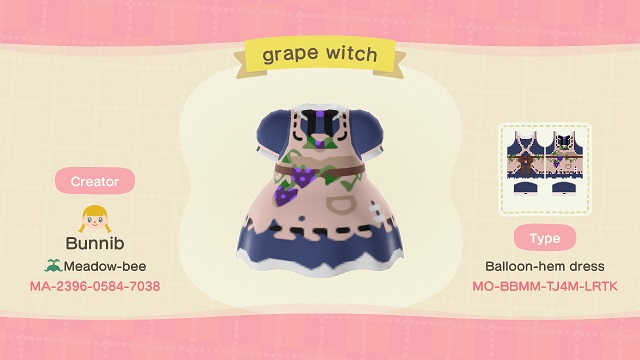 Acorn Apron Dress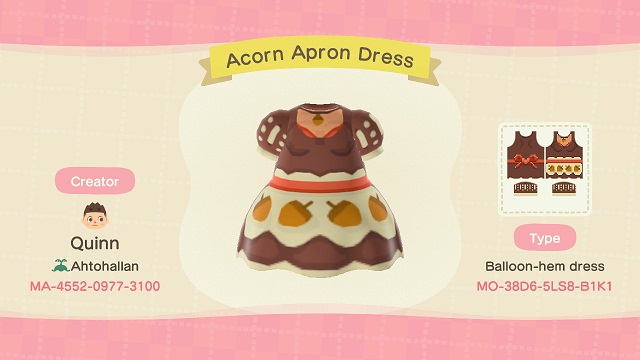 Best Animal Crossing New Horizons Cottage & Country Rural Designs
To help you get more natural cottagecore inspired ideas, here we collected some great designs from Twitter, Instagram, and Reddit:
1. Autumnal Cottage Garden
Shared by heart.cove on Instagram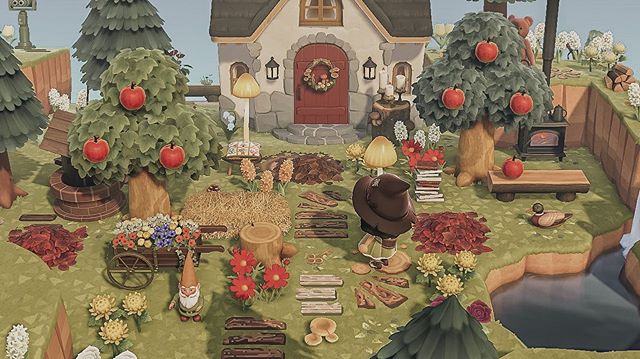 2. Farm Vide Living Room
Share by dreamycrossings on Instagram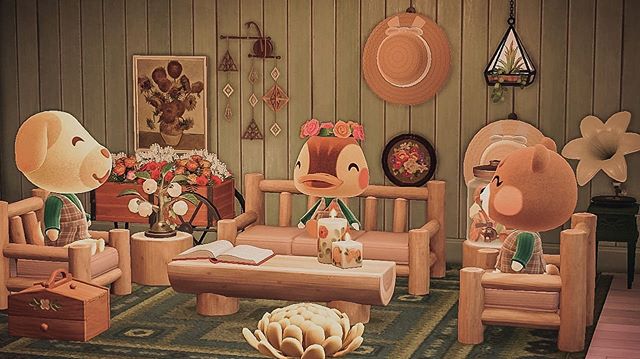 3. Pashminas House
Share by floralacnh on Instagram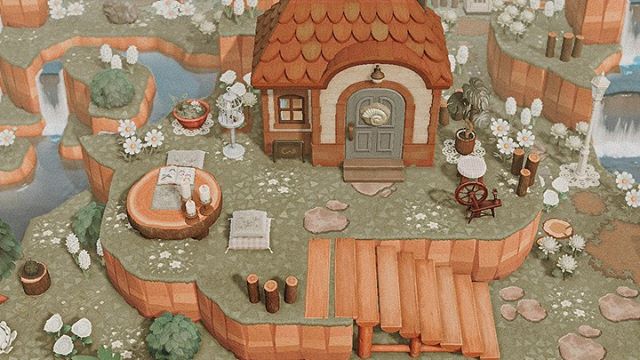 4. Poultry Farm
Share by floralacnh on Instagram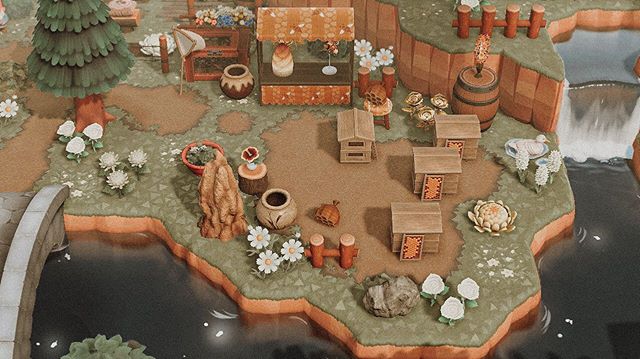 5. Cocoa Farm
Share by eldercreek_ on Instagram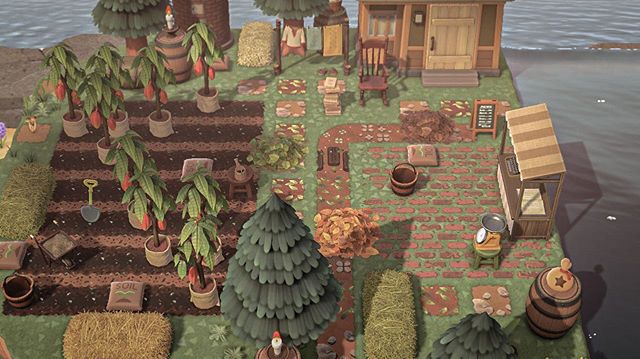 6. Cottagecore Courtyard Design
Share by Shinfua on Twitter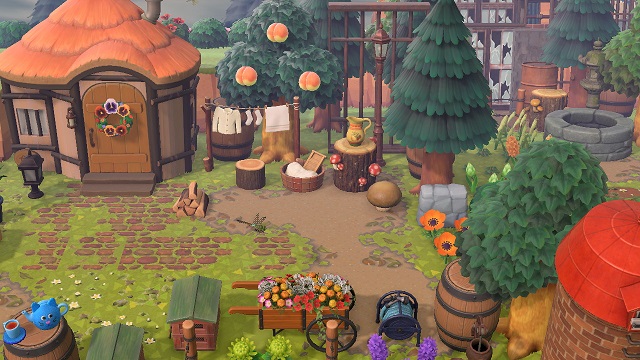 7. Cottagecore Theme Market
Shared by lizard queen on Twitter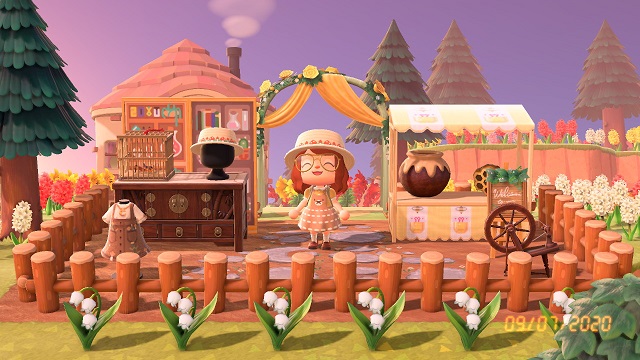 8. Cottagecore Style Beach House & Campsite Design
Shared by jessi on Twitter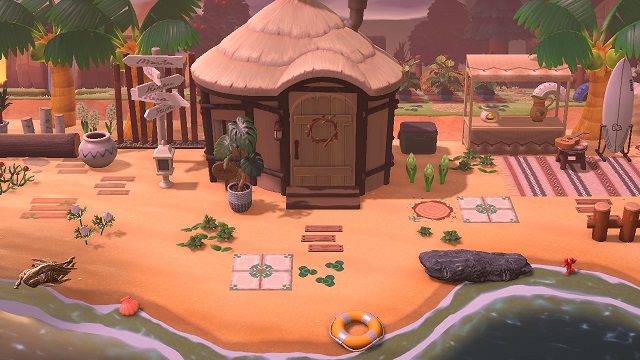 9. Cottagecore Library Design
Shared by nova on Twitter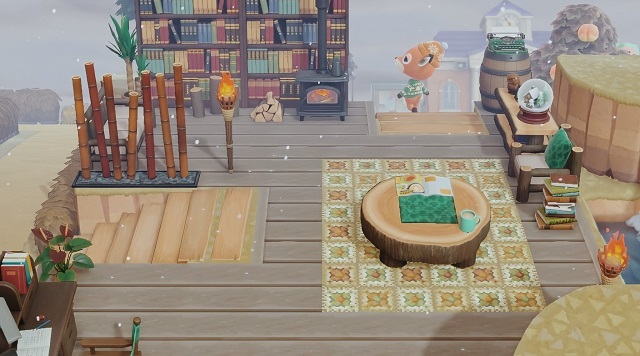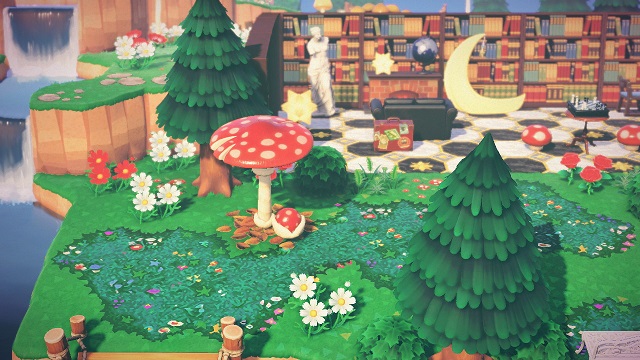 10. Cottagecore & Farmhouse Kitchen Design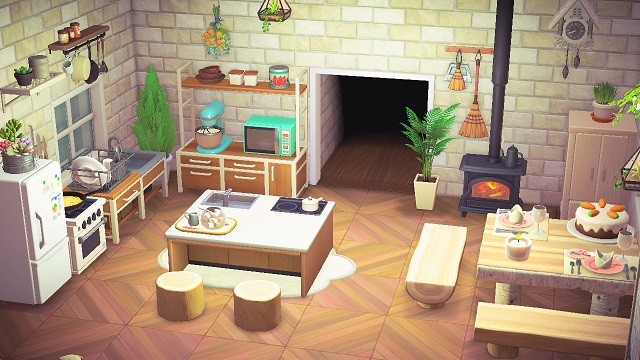 11. Cottagecore Outdoor Party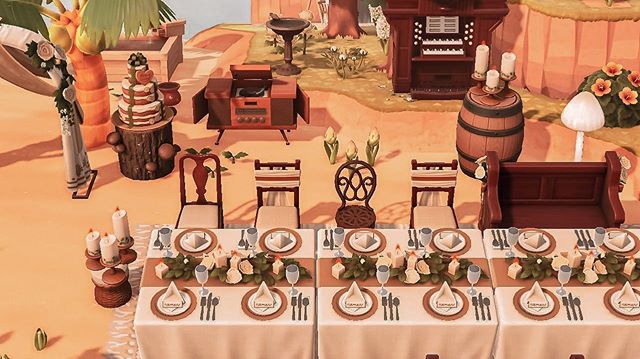 Well, that's all, with our ACNH Cottagecore tips and tricks, hope you will build up your dreaming farming vibe island. If you do need more Animal Crossing Nook Miles Tickets or ACNH Bells for making up your island, welcome to check out the best offer on AKRPG.COM.