ACNH February Update 2021 - New Events & Items in Animal Crossing New Horizons February & Spring
1/5/2021 4:00:43 PM
A new year has come, we are also looking forward to the ACNH January update brought by Nintendo, what new items, events and changes will be available? Here we listed the events, items, and DIY recipes that are possible to see in February for Animal Crossing New Horizons Northern Hemisphere, check out the ACNH February update 2021, new ACNH items are updated along with the ACNH 1.7 version.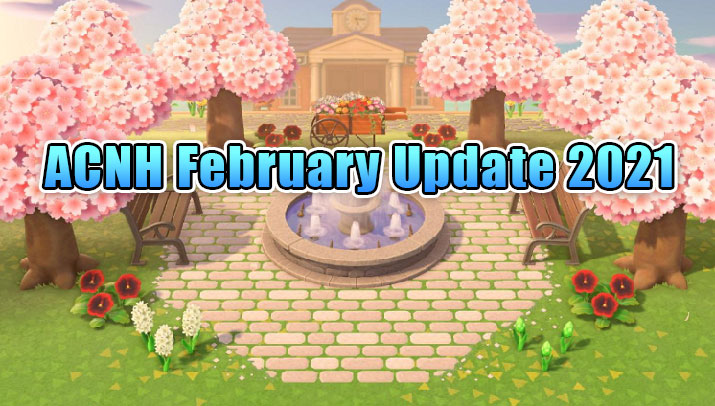 Related Read: ACNH March Anniversary Update Predictions
ACNH February Update 2021 - New Events & Items in Animal Crossing New Horizons February Update
Update:
With the launch of the first major ACNH update in 2021, players have the chance to unlock a series of new nook shopping seasonal items, festivale event items, and more themed ACNH items for a limited time, in celebration of the festivale and some mini-events that will occur in February.
1. ACNH Big Game
To celebrate the Super Bowl takes place in the United States, some Big Game items have been added into the game as seasonal items through the 1.7.0 update. You can buy these items through Nook Stop for a limited time. Even though the Cheer Megaphone comes in a variety of designs, only one of these designs will be available on any given day, but you will be able to find every design on your island eventually.
Big Game Items (January 15th to February 15th):
Football Rug
Football Cheer Megaphone
Fiery Cheer Megaphone
Starry Cheer Megaphone
Glittery Cheer Megaphone
2. ACNH Setsubun
Setsubun is a Japanese festival celebrated in real life just before spring, in celebration of Setsubun in New Horizons, the Bean-Tossing Kit has been added through Nook Shopping. More additional ACNH clothing items for this event are available now, they come in a variety of colors including blue, red, and green and can be purchased from the Able Sisters for a specific time.
Setsubun Items (January 25th through to February 3rd):
Bean-Tossing Kit
Horned-Ogre Mask
Ogre Costume
Okame Mask
3. ACNH Groundhog Day
Groundhog Day is an event held in past Animal Crossing games, to celebrate early Spring. The special item for the Groundhog Day update in ACNH is Resetti Model, which only for sale in a short time.
Groundhog Day Items (January 25th to February 2nd):
Resetti Model
4. ACNH Valentine's Day
Valentine's Day is a popular festival across the world, and usually takes place in February. Animal Crossing Valentine's Day event is an event based on real-world Valentine's Day, so it will take place on February 14, 2021. In Animal Crossing New Horizons, Valentine's Day themed items including Chocolate Heart and Heart-Shaped Bouquet, are available in multiple colors, and it will change daily. The Chocolate Heart is available in milk chocolate, dark chocolate, white chocolate, and strawberry chocolate variations. And the Heart-Shaped Bouquet is available in red, black, purple, pink, white and yellow.
Valentine's Day Items (February 1st to the 14th):
Chocolate Heart
Heart-Shaped Bouquet
5. ACNH Lunar New Year
Lunar New Year in Animal Crossing series is a typical event that occurs in January or February, only held in Korean towns in ACCF and ACNL, and worldwide in ACNH. The time of the Lunar New Year update/event is depending on the actual date of the Chinese New Year and varies every year, in 2021, the Lunar New Year in New Horizons should come on February 12, 2021. To celebrate the Lunar New Year, Lucky Red Envelope and Lunar New Year Decoration will be available for one week at Nook Stop.
Lunar New Year Items (February 10th to the 17th):
Lucky Red Envelope
Lunar New Year Decoration
6. ACNH Korean New Year
Another New Year celebration is Korean New Year, the themed item Bokjumeoni Lucky Pouch will be added for best wishes. Note the selling time of the item.
Korean New Year Items (February 10th to the 17th):
Bokjumeoni Lucky Pouch
7. ACNH Festivale (Northern Hemisphere) - February 15
Nintendo has revealed the latest trailer for the ACNH January update, and confirmed that the update will start from January 28, and the Festivale event is scheduled on February 15 with the return of Pave. The Festivale event will fill with dances and colored feathers. Catch the flying feathers with your net and use them to exchange dance, or themed furniture items. On the day of the Festivale, Pave will visit your island and holds the festival. Help Pave collect colored feathers, you can get exclusive furniture from the Pave as the reward, and take part in other activities during the day. Festivale clothing will also be available at the Able Sisters shop for a limited time in February.
Festivale Items (February 1st to February 15th):
Festivale Accessory
Festivale Tank dress
Festivale Costume
Festivale Float
Festivale Stall
Festivale Stage
Festivale Parasol
Festivale Lamp
Festivale Garland
Festivale Flag
Festivale Drum
Festivale Confetti machine
Festivale Balloon lamp
More Details: ACNH Festivale Event Guide & Update 2021
8. ACNH February 25 Update - Super Mario Update
Nintendo announced the next update ACNH Mario Update will drop on February 25, and the Super Mario items including furniture and outfits will be available through Nook Shopping on March 1. There is also Teleportation Warp Pipe for changing your location on the island.
Super Mario Items (Drops on March 1):
1-Up Mushroom
Block
Coin
Fire Flower
Floating block
Goal Pole
Large Mushroom Platform
Pipe
Shell
Small Mushroom Platform
Super Mushroom
Super Star
Thwomp
? Block
Luigi hat
Mario hat
Princess Peach crown
Wario hat
Luigi 'stache
Mario 'stache
Wario 'stache
Luigi outfit
Mario outfit
Princess Peach dress
Wario outfit
Luigi shoes
Mario shoes
Princess Peach shoes
Wario shoes
Mushroom mural
Block flooring
Lakitu's Cloud rug
Yoshi's Egg rug
ACNH February Update 2021 - Animal Crossing New Horizons February DIY Recipes
Since the Winter in New Horizons will last until February 25, so you can also get some ACNH Winter DIYs, crafting materials and items in the month, in addition, with the departure of Winter, we will usher in Spring, which brings Animal Crossing Spring recipes and new ACNH items.
ACNH Winter Snowflake DIYs: December 11 - February 24 (Northern Hemisphere)
ACNH Spring Bamboo DIYs: February 25 - May 31 (Northern Hemisphere)
So in February, you can collect Snowflakes and Young Spring Bamboo to craft different seasonal items and furniture.
ACNH February Update 2021 - Animal Crossing New Horizons February Critters and Other Items
Please note the following new ACNH critters are based on Northern Hemisphere.

1. New Bugs and Fish in February
Bug name - Location - Sell price - Available months - Catch time
Tiger Beetle - On the ground - 1500 bells (sell price) - February to October - any time
(There are no new fish for Northern Hemisphere in February.)
2. Bugs and Fishing Leaving in February
Bug name - Location - Sell price - Available months - Catch time
Rajah Brooke's Birdwing - Flying - 2500 bells - December to February - 8 AM to 5 PM
Damselfly - On the ground - 500 bells - November to February - any time
Dung Beetle - Near snowballs - 3000 bells - December to February - any time
Fish name - Size - Area - Sell price - Catch time
Pond Smelt - small - river - 400 bells - any time
Blowfish - medium - sea - 5000 bells - 9 PM to 4 AM
3. Sea Creatures Leaving in February
Item name - Shadow size - Catch time - Sell price
Sea Pig - medium - 4 PM to 9 AM - 10000 bells
Oyster - medium - any time - 1100 bells
Sweet Shrimp - medium - 4 PM to 9 AM - 1400 bells
Venus' Flower Basket - medium - any time - 5000 bells
(There are no new sea creatures for Norther Hemisphere in February)
6. More ACNH February Items
Other than the above holiday items, more items will be available with the launch of ACNH 1.7.0 update.

Maracas
Mermaid Fence
Purple Feather
Rainbow Feather
Red Feather
Green Feather
Blue Feather