ACNH Spring Designs & Decorations - Best Spring Clothes & Path Design Codes In Animal Crossing New Horizons
1/5/2021 3:24:13 PM
Spring is here, let your troubles float away like a petal in the breeze. New vitality and warm flavor is springing on your island, go to make some changes with great design ideas for emerging a beautiful, vibrant spring island in Animal Crossing New Horizons. Here we go over some indoor and outdoor decorating tips for Animal Crossing New Horizons Spring design, also present the best Spring design codes (custom patterns) for path, costume, floor, rug, flag, board, wall, stall and other furniture.
Best Animal Crossing New Horizons Spring Ideas & Tips
As spring returns to the island of Animal Crossing New Horizons, the snow melts and everything recovers. It's time to remove the winter decoration and let your island regain its colorful theme. In fact, spring is suitable for any theme design, especially rural islands full of meadows, rolling hills and farmland. If you are struggling in creating your own island to enjoy the fragrance season in ACNH, don't be panic, here we share you great Spring designs with different themes, beautiful landscaping, as well as creative terraforming and ideas.
1. Use Spring seasonal items to decorate
With the advent of spring, cherry blossoms are in full bloom on the island, and bamboo shoots emerge, which will bring players a series of DIY items. There is no doubt that these items are excellent decorations for spring-themed designs.
2. Use spring style custom patterns
Spring is the season of flowers. No matter which theme design you prefer, adding custom designs of patterns to the ground, Path, pillow, wall, or other furniture can add a spring romantic atmosphere.
3. Place lots of plants
If you're decorating your beach, house or your town into Spring, and don't know what to add, just add more flowers. Whether that's house plants, cedars or palm trees, you can't go wrong.
4. Create a flower or butterfly garden
Designing a garden with butterflies flying, or creating a small themed garden area in the courtyard, can perfectly make your island full of spring. Add a pile of cobblestone floors, a fountain and some seats, and then plant them with trees and flowers.
5. Zen garden or bamboo forest
Creating a Zen Garden with cherry and bamboo items is the best choice for spring themes. Don't forget to add a hot spring. The natural landscape can be perfectly blended with flowers and trees.
Read More:
ACNH March 1st Anniversary Update New Events & Items

ACNH Spring Changes & New Items In March & April
ACNH Sanrio Villagers, Items, Clothes Guide
Animal Crossing New Horizons Spring Custom Designs For Path, Costume, Floor, Furniture
As always, custom patterns are an indispensable part of the spring theme design. A variety of personalized patterns will provide the possibility for any design style. Therefore, we have collected a variety of spring-style custom patterns for paths, floors, clothing, walls, and furniture for you. You can get inspiration from them or use them directly.
ACNH Spring Costume Custom Design Codes
Design 1 - Spring Dress (Design Code: MO-5L0C-G7D8-4GSB)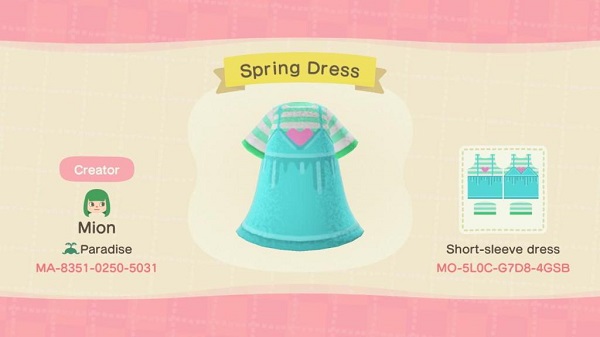 Design 2 - Spring Petals Hanbok (Design Code: MO-9X0Q-MC92-8R2Q)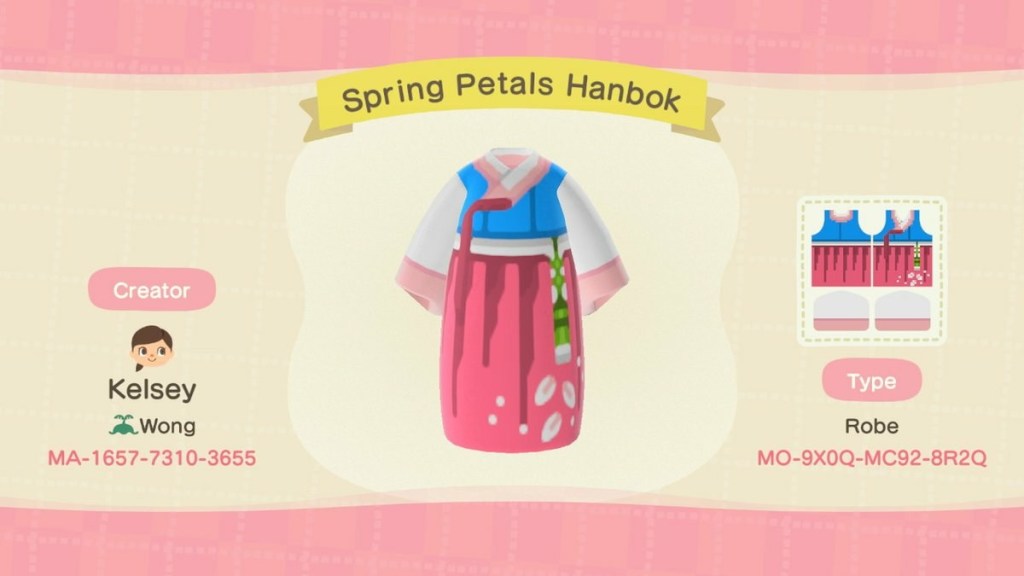 Design 3 - Spring Hat (Design Code: MO-089B-K86T-6QJ1)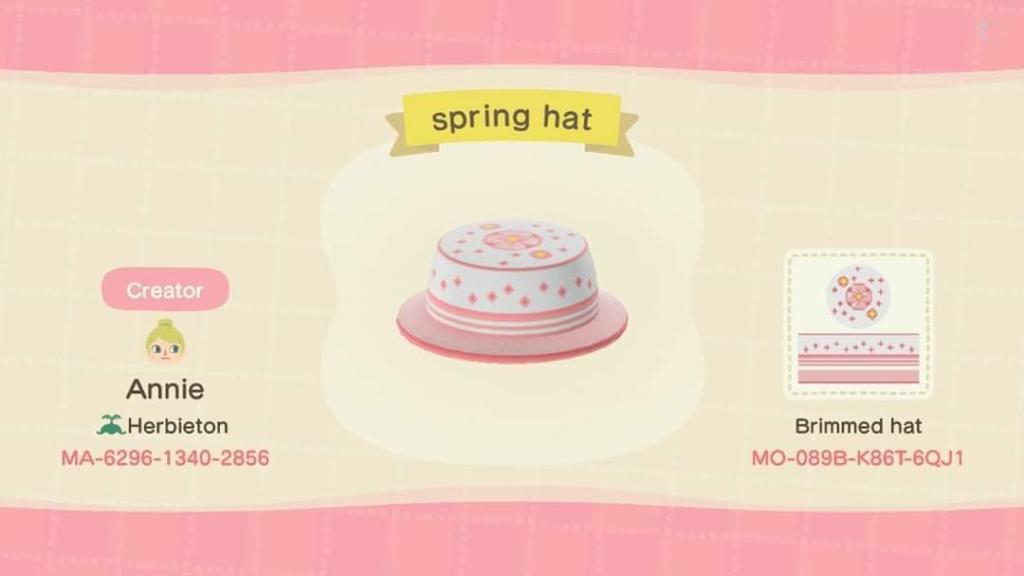 Design 4 - Pink Spring Coat (Design Code: MO-X1MW-BF1C-Q0P8)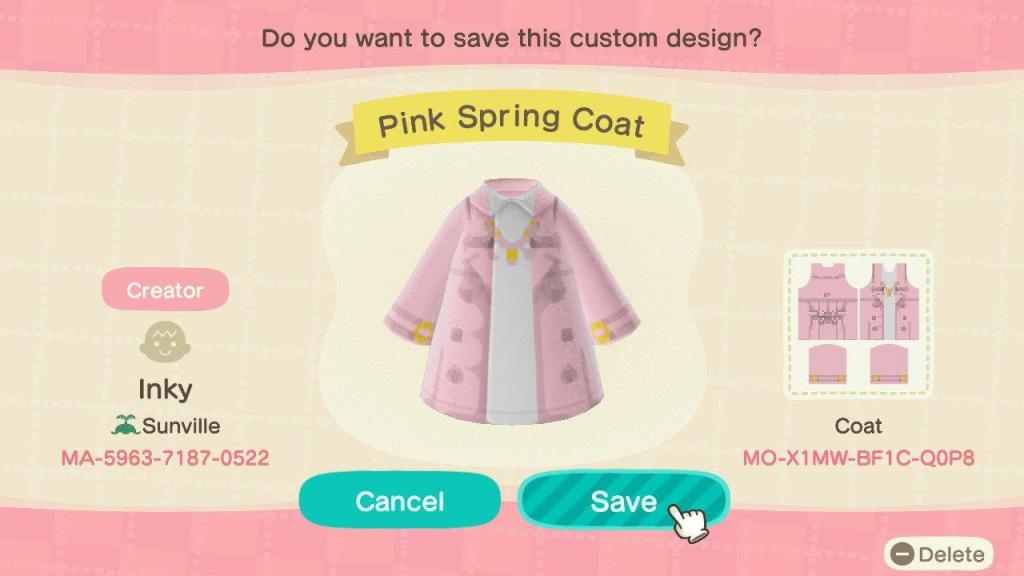 Design 5 - Spring Sprinkle (Design Code: MO-YTRF-L44Y-ND72)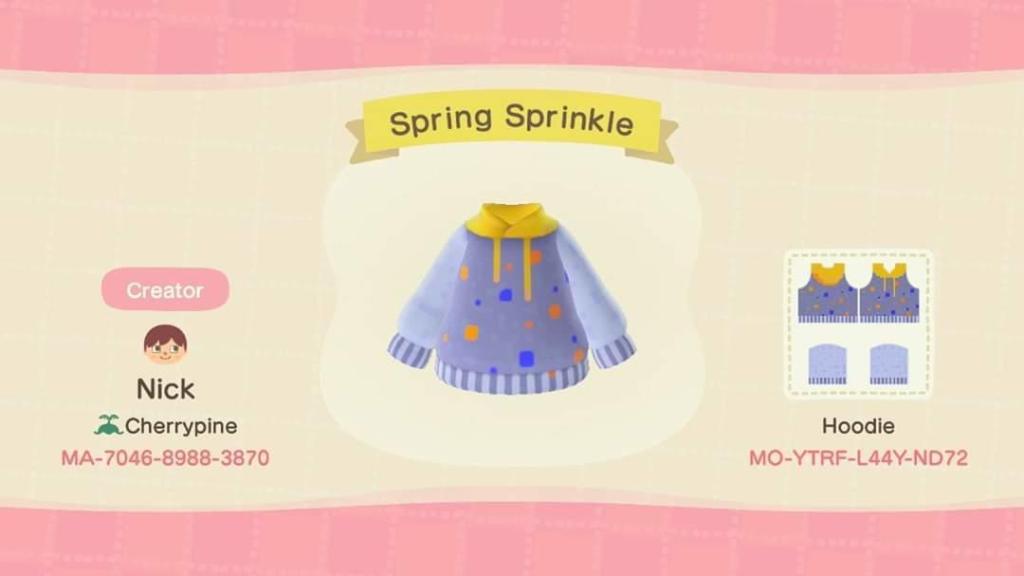 ACNH Spring Path Custom Pattern & Design Codes
Design 1 - Spring Brick (Design Code: MO-XHBD-FFK6-486J)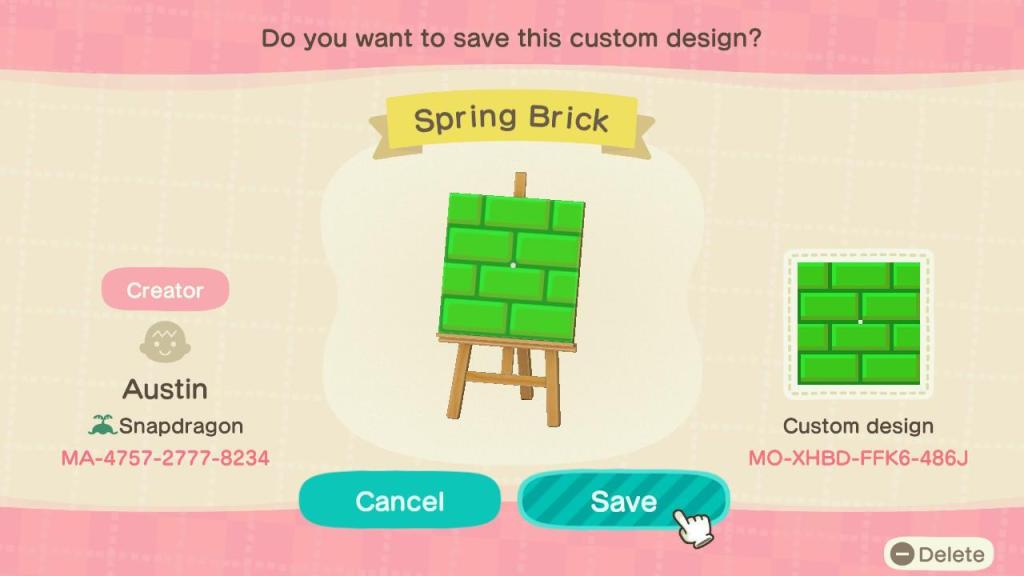 Design 2 - Spring Cherry Blossom Path (Design Code: MO-22RK-X6XQ-02C4)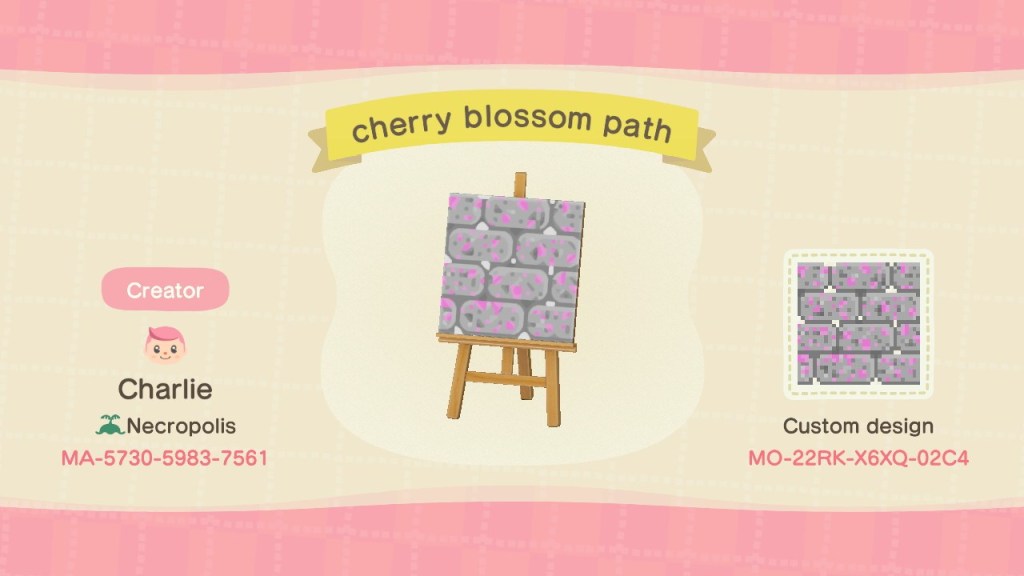 ACNH Spring Patterns For Floor, Board, Stall, Wallpaper, Flag, Rug, Furniture
Design 1 - Hot Spring Signboard (Design Code: MO-21PM-BKJ9-X99R)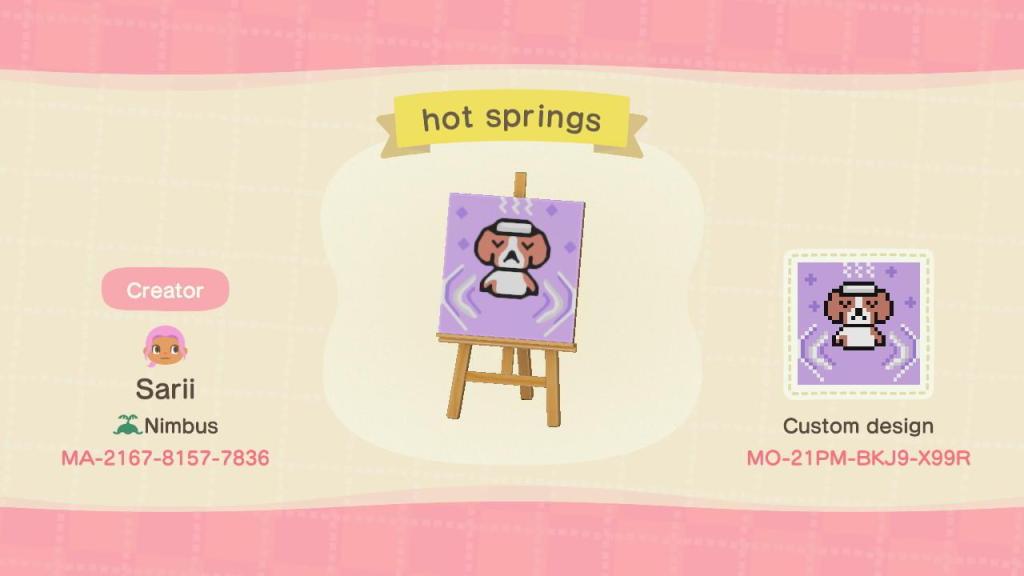 Design 2 - Spring Mat (Design Code: MO-Q0SX-P2RM-QG57)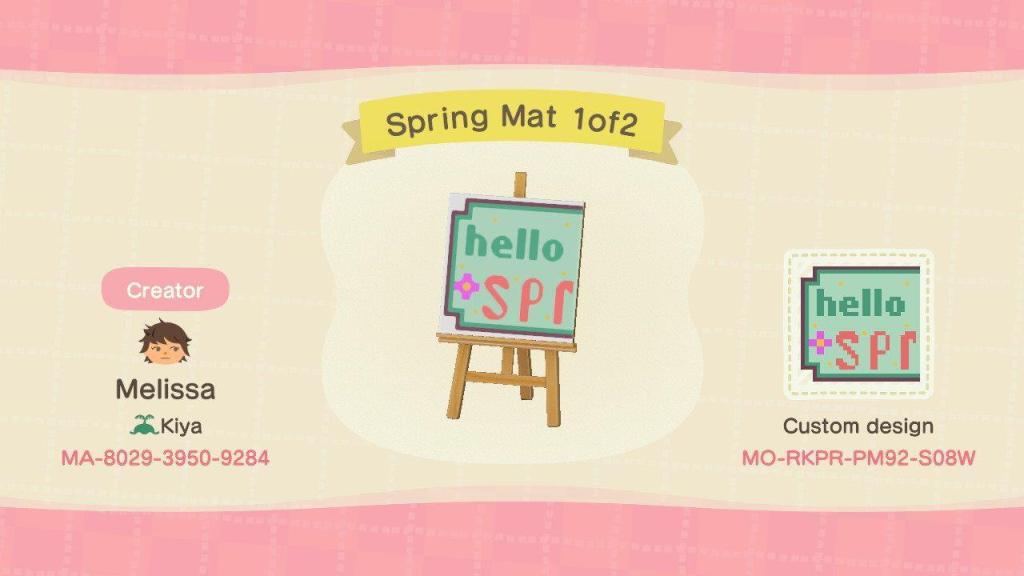 More Animal Crossing Spring Custom Designs will be updated here, stay tuned!