ACNH Festivale Event & Items 2022 - Date, Pavé, Furniture, Clothes, Feathers of Animal Crossing Festivale Update
1/2/2022 12:15:39 PM
Pavé returns our island to awaken the soul of the dance that is in us and our island will be colored with feathers and confetti on the occasion of Festivale. Let's find out together what we can do during this cheerful day with our ACNH Festivale Event Guide!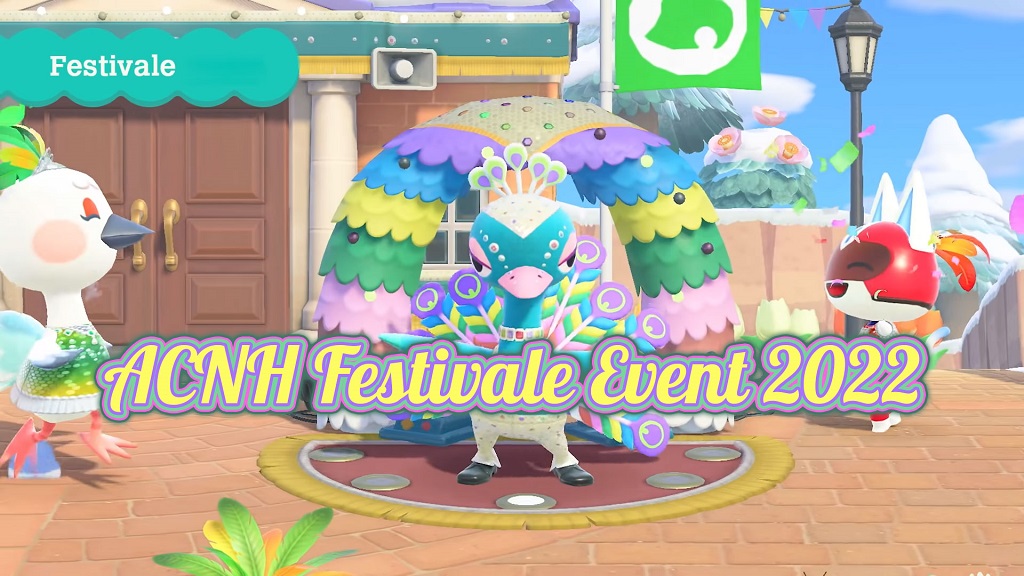 ACNH Festivale 2022 - Animal Crossing New Horizons Festivale Update Date & Items Guide
With the ACNH February Update, the most cheerful and colorful event of the year - Festivale is hosted by Pave and celebrated all over the world in 2022 again! The arrival of this Festivale still fully embodies the spirit of the Carnival by bringing the gorgeous Festivale Furniture and Festivale Themed Clothes.
ACNH Festivale Event 2022 Start Date
Festivale in Animal Crossing New Horizons is derived from the worldwide holiday Carnival (mainly in Brazil) and is usually celebrated two days before Ash Wednesday. So the ACNH Festival 2022 is expected to be held on February 28th, running from 5 AM to 5 AM on March 1st for full 24 hours. But you can start preparing your island for the big day from February 25 and enjoy the holiday joy until March!
Related Read:
How To Break Your Leg & Get Cast in Animal Crossing New Horizons
ACNH Gyroid Decorating (Display) Ideas - Best Ways To Use Gyroids
How To Move The Resident Services Building & Plaza Really in Animal Crossing New Horizons?
ACNH Spring Update 2022 - March, April, May Events, Seasonal Items, DIYs, Critters
ACNH Festivale Event Changes
Judging from the previous updates of Nintendo's return to events, we can look forward to getting brand new items and clothing at this year's Festivale event. If so, we will update the changes here as soon as possible.
ACNH Festivale Event Items 2022
During the Festivale, Pave not only bring the most colorful and lively day of the year, but also deliver a bulk of beautiful Festivale items to us - you can collect colorful feathers to trade Festivale Float item with Pave, purchase Festivale items from Nook's Cranny with ACNH bells, and order colorful clothes on Able Sister's store to get in the Festivale mood! Now follow us to check out all Festivale items and costumes available for you during the event.
ACNH Festivale Set Funiture
Festivale Balloon Lamp




Festivale Confetti Machine




Festivale Drum




Festivale Flag




Festivale Garland




Festivale Lamp




Festivale Parasol




Festivale Stage




Festivale Stall



How To Get Festivale Items & Color Variations?
1. All Festivale items, except for Festivale Float, can be purchased with bells on Nook's Cranny from February 1st to 15th, or exchanged with 3 regular Feathers of the same color or 1 Rainbow Feather from Pave on February 15th (Festivale day).
2. All color variants of Festivale furniture items, except for the Festivale Float, can be customized with Rainbow Feathers on DIY Workbench or on Reese and Cyrus' customization shop at any time into these five colors: Red, Blue, Green, Purple, and Rainbow.
3. Festivale Float available in a single variant can be obtained by exchanging 3 Rainbow Feathers with Pave on Festivale Event (February 15t) after collecting all 9 other Festivale items.
ACNH Festivale Clothing
These are all Festivale clothes you can purchase on Able Sisters' Store from February 1 and until the Festivale Event (February 15th):
Festivale Accessory (Blue, Red, Purple, and Green)




Festivale Costume (Blue, Red, Purple, and Green)




Festivale Tank Dress (Blue, Red, Purple, and Green)



How To Get ACNH Festivale Clothes & Color Variants?
Exclusive Festivale themed clothing items in four different color variations will be on sale randomly on Able Sisters shop starting from February 1st to February 15th, you can check out every day to purchase different variations.
Pave Feathers
If you don't want to spend your bells to buy Festivale items from Nook Shopping, trade feathers to Pave on February 15th's Festivale Event to exchange is a cost-effective way. To do so, you should collect different colors of leathers during the event:
What To Do With Feathers?
Wear Feathers as headwear

Use Red, Blue, Green, Purple Feathers to trade Festivale Set furniture with Pavé

Use Rainbow Leathers to trade Festivale Float reward with Pavé

Use Rainbow Leathers to customize different color variants of Festivale Set Items
Normal Feathers
The feathers are available in four different colors: blue, red, green, purple. We will be able to catch them with the net as they twirl in the air.

How To Get Red, Blue, Green, Purple Feathers?
1. Catch colored feathers - On Festivale, find the Red Feather, Blue Feather, Green Feather, and Purple Feather floating around the air, use your Net to swing at the feather and catch it.
2. Exchange feathers with our villagers - On Festivale, find villagers around our island while dancing and celebrating wearing their Festivale costume. Talking to them, we will be able to exchange feathers to get different colors!
Rainbow Feathers
If we are lucky, we can also find very rare rainbow feathers falling from the sky, which can be used to customize Festivale items into different colors.

How To Get Rainbow Feathers?
1. Get Rainbow Feather DIY Recipe from Pave - After wearing our Pave costume, we will go to Pave in the square and, after showing us some of his dance steps to present himself in a manner appropriate to the occasion, he will explain how the event will take place and will reveal how to make a very particular fifth type of feather: the Rainbow Feather!
2. Craft Rainbow Feather - For this purpose, it will give us a new DIY Recipe and we can make a unit of Rainbow Feather using: 1x units of blue feather, 1x units of the red feather, 1x units of green feather, and 1x units of the purple feather.