ACNH January Update 2023: Events, Seasonal Items, DIY Recipes, Critters, Changes in Animal Crossing
12/26/2022 5:16:00 PM
Read our guide of ACNH January Update 2023 to check out the new events, seasonal items, DIY recipes, bugs, fish, sea creatures, and changes to expect on our Animal Crossing New Horizons islands in the first month of 2023!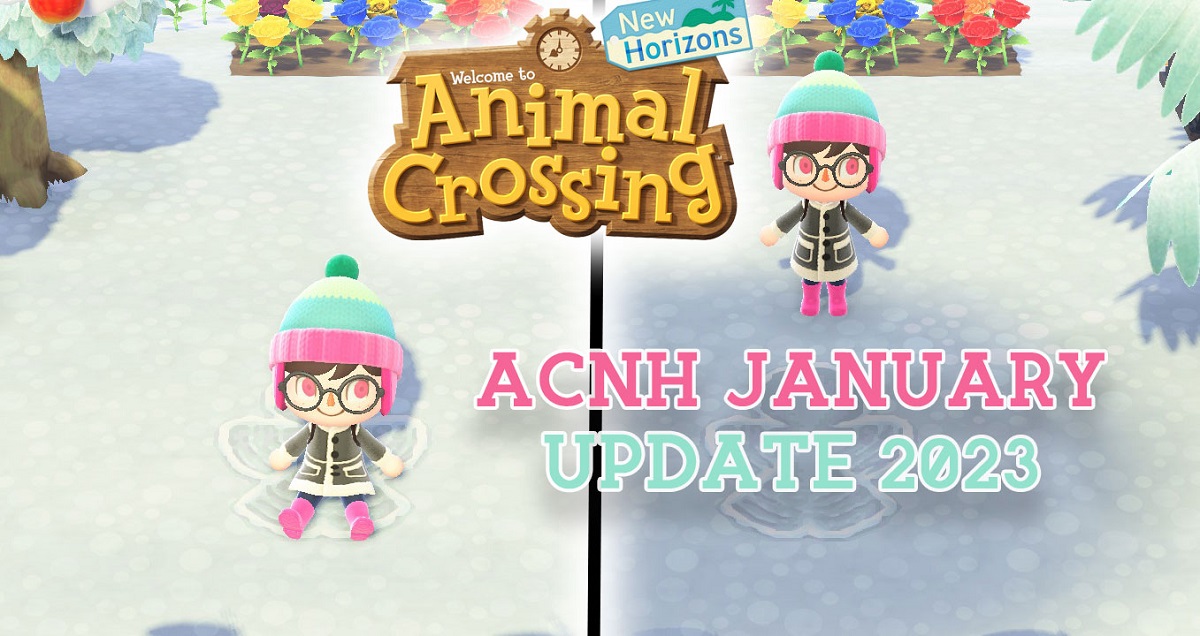 ACNH January Update 2023 - Events, Seasonal Items, DIY Recipes, Critters, Changes
The first month of a brand new year is upon us, January 2023 is another month where you can enjoy a variety of different activities in Animal Crossing New Horizons. For a lot of people, this might actually be their very first month playing the game, so we're going to jump into everything new happening around your Island throughout this month.
Related Read:
ACNH January Update 2023: New Events, Seasonal Items, DIYs, Critters, Changes in Animal Crossing
ACNH February Update 2023: New Events, Seasonal Items, DIYs, Critters, Changes in Animal Crossing Spring Update
ACNH Island Themes 2023 - Top 10 Most Popular Unique Island Design Ideas in Animal Crossing
1 - ACNH Brewster Event
Starting us off as the New Year celebrations start to fade away, there is a special one that you can now experience within the roost. A lot of people don't actually seem to realize but a little special interaction happens when you go talk to Brewster on January 1st, where he will wish you a Happy New Year. He does this a few other times throughout the year, so it's definitely worth visiting the roost on January the 1st as this is the only time you can see the specific interaction with him. Sadly there's nothing different about our coffee but we still think this is pretty neat all the same.
2 - ACNH January Seasonal Items
Speaking of the New Year's, a ton of limited-time seasonal items will become available immediately on January 1st, many of these will be to celebrate the new year with different items from around the world. We also can't forget to mention the Zodiac Rabbit item as this is the first time you can get the item as a part of a New Year's Event of course this is the first year of the rabbit since Animal Crossing New Horizons launched. There are so many other seasonal items that you can get throughout the month though including ones to celebrate the big game and such and some for the Lunar New Year as well later on. January definitely has to be up there in terms of the number of seasonal items you can collect throughout the month and honestly there's some really great items. Since the 2.0 update, a lot of these items have been converted into food type items now so they're actually edible and can give you energy which is really useful. So head to your Nook shopping tab in January and collect those items otherwise you might be waiting until next year to get them and that zodiac rabbit will only be here this year until the next few of the rabbits so it might be a long wait.
3 - ACNH Lunar New Year
Speaking of the New Year, the Lunar New Year starts on January 22nd and this is a very special little event in Animal Crossing New Horizons that we feel like a lot of people don't know about. You can actually get a ton of special and exclusive villager Dialogue on this day that you can't see any other time of the year, we always want to get more dialogue and interactions with our villagers, so this event is the perfect time to do so and you might see something that you've honestly never seen before in Animal Crossing New Horizons. Two special items are available as well and they have unique functionalities, these items basically allow you to wrap up money and gift it to villagers, whereas usually if you try and give villagers money they will completely reject it so this is really one of the only times that you can actually do this. The event is definitely more low-key than the others in Animal Cross New Horizons but still we think it's a fun little inclusion and we really wish we'd gotten even more like this. So on January 22nd make sure you log in and chat with your villagers you might see some dialogue that you've never seen before.
4 - ACNH January Feature Update
Continuing on the Nintendo Switch online feature which allows you to create custom villager icons based on the village of birthdays currently happening this month in the game will be updated for one of the final times. So if a villager in New Horizons is celebrating their birthday in January, you'll be able to head on and collect them as an icon. It's really easy to do and a lot of fun and although it isn't directly within your game it is connected in the way of the birthdays, so if you know one of your Islanders is celebrating their birthday this month, you can head to your Nintendo switch online section of the switch and you can collect them as an icon. This feature has been updated for nearly a year now, we believe the very first update for it was actually in March so it's almost done updating. It's unknown what they will do with the feature afterward but we are hoping they'll add in a lot of the special Animal Crossing characters which will be really exciting they all have their own birthdays too, so it'd be great if we got them included.
5 - ACNH January DIYs - Ornaments
Back to your Island on January 6th, the ornaments will start to disappear from the trees on your Island regardless of whether you're in the Southern or Northern Hemisphere that means no more festive items and ornaments to collect at this point, you'll have to wait until next to get more. We always do really enjoy this time of the year in Animal Crossing New Horizons and it feels like it's gone by so fast this year, but since the holiday season can be so busy for people we think it's great that we get a little bit of extra time into January to still collect these ornaments as well, just make sure you do before January 6th because that is when they will completely be gone and you will have to wait.
6 - ACNH January Bushes
There will also be some Bush changes around your Island in January too, for example, the Camellia will start to bloom from January 1st for those of us in the northern hemisphere. For those in the southern hemisphere, the Hibiscus will start to bloom from January 21st, but the hydrangeas will stop blooming on January 20th. It's always fun when we get to see the foliage around our Island change, it's not going to change drastically because the season is basically the same but as we get into spring later on in sort of March time and then autumn in the southern hemisphere we can expect to see a lot more changes.
7 - ACNH January Fishing Tourney
On January 14th, we'll get our first Fishing Tournament of the year. If you haven't played one of these already then we definitely recommend that you do, you can get some Nook miles for taking part in the different ones throughout the year, unlock all kinds of exclusive prizes and even sell your fish to CJ for extra bells which is always really useful. It's also really the only time that you can see all your villagers interacting in this way. For those of us who have played so many fishing tournaments, now we guess it's just something fun to do that you don't get to see every day.
8 - ACNH January Bug-Off
For those in the southern hemisphere, there will be a bug tournament on the third Saturday of the month as well. As you can see for those of us in Winter, we get the fishing tournaments and those in summer get the bug tournaments. So definitely take some time to play with these events depending on what hemisphere you're in it's a lot of fun.
9 - ACNH January Critters
Of course, as a new month starts, we can expect to see new bugs fish, and sea creatures available. While the snow is still covering the islands in Northern Hemisphere, there are no new fish, bugs, or sea creatures become available. While for the southern hemisphere, there are 21 brand new bugs, 5 new fish, and 3 new sea creatures available to catch during the month of January.
We really hope you enjoyed checking out all of these updates and changes happening throughout the month of January.