ACNH Bunny Day 2021 Update & Guide - Date, Items & DIYs for Animal Crossing New Horizons Bunny Day
3/17/2021 10:28:46 AM
The Animal Crossing New Horizons March 2021 update (1.9.0 version) is set to arrive on March 18, this free update includes a range of contents, including anniversary items, seasonal events, improved features, and brand new currency. What we focus on in this article is the next big event - Bunny Day. How will it return in New Horizons? Get the details in our ACNH Bunny Day 2021 Update & Easter Event Guide, covering the release date, character Zipper, DIY recipes, materials, eggs, items and rewards.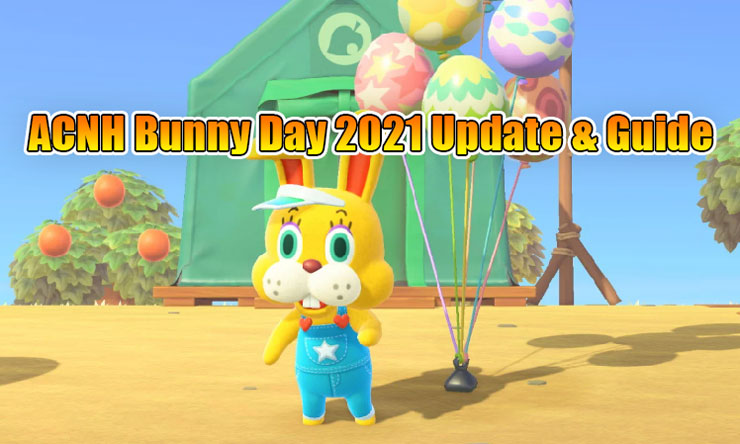 Related Read: ACNH Bunny Day Designs & Decorations
ACNH Bunny Day Update 2021 - Release Date of Bunny Day
Nintendo has confirmed that Bunny Day will be starting from March 28 and end on April 4. Compared with last year, it takes a relatively short time. In 2020, massive eggs were hidden where resources can be found, which results in players always find out eggs other than what they really want. What's worse, the Bunny Day-themed items crafted with eggs are not very good, and the activity takes a very long time, finally became a hindrance to players. So this year, we are expecting Nintendo will improve the event based on the problems.
ACNH Bunny Day Update 2021 - Zipper & Eggs
Easter Bunny Day is a Spring event in Animal Crossing, Zipper T. Bunny is the character who hosts the event outside the Resident Services. On April 4, 2021, Zipper will appear in the plaza and villagers can dress in egg costumes. Players have the chance to obtain a Bunny Day DIY recipe by talking with Zipper. He will also allow the player to trade in 3 of any type of eggs for 1 of any other type, and also exchange 1 of each type of egg together for a Bunny Day item which can be crafted. When you find and craft every single Bunny Day recipe, talk to Zipper again, you'll be rewarding the Wobbling Zipper toy recipe. After crafting this recipe and returning to Zipper the third time, you can receive the final prize.
Types of ACNH Bunny Day Eggs & How to Get
Sky Eggs: found hanging on multicolored balloons
Water Eggs: found by fishing
Leaf Eggs: found in groups of 3 on trees and needs to be shaken off
Stone Eggs: found by hitting a rock with an axe or shovel
Earth Eggs: found in the ground like fossils
Wood Eggs: found occasionally by hitting a tree with an axe
What can you do with Bunny Day eggs?
- Similarly, the different types of eggs can be used to craft items in the Bunny Day series, collect them to use as crafting materials for DIY recipes.
- Eggs can be eaten, which provides stamina in the same way as eating fruits in the game.
- Eggs can also be traded with Zipper to exchange another type of egg or specific ACNH item (Bunny Day-themed furniture).
ACNH Bunny Day 2021 Items & DIY Recipes
We would see a brand new set of Bunny Day furniture added in the next free update. Some of them can be crafted with eggs while you unlocked the DIYs, and unique Bunny Day items will be on sale in Nook's Cranny, you can purchase them with the Animal Crossing bells.
How to get Bunny Day items in ACNH 2021?
So there are several ways to get ACNH Bunny Day items 2021 in the game.
- Learn about Bunny Day DIY recipes and find out eggs to craft the item.
- Use 1 of each type of egg together to exchange the specific item (Bunny Day Basket) from Zipper.
- Buy five new Bunny Day items in Nook's Cranny with bells.
- Buy any of Bunny Day items you want at reasonable prices on AKRPG.
Updated:
1. ACNH Bunny Day Items Not Craftable
There is a total of 45 different Easter-themed Bunny Day items (furniture & costumes) for 2021, here is the list of new ACNH Bunny Day items added in the March Sanrio update and can be purchased at Nook's Cranny with bells.
Bunny Day garden flag

Bunny Day planter box

Bunny Day candy

Bunny Day topiary

Bunny Day tree

Bunny Day Basket:

This item can't be crafted but you can obtain it by speaking to Zipper T. Bunny when he shows up outside Resident Services. You need to collect one of every egg type and exchange it for the furniture.
2. ACNH Bunny Day Items Craftable (ACNH Bunny Day DIY Recipes)
Here is the list of ACNH Bunny Day items can be crafted with Easter Eggs with crafting DIYs:
Bunny Day furniture items:
Bunny Day Arch: 2 Earth Eggs, 2 Stone Eggs, 2 Leaf Eggs, 2 Wood Eggs, 2 Sky Eggs, 2 Water Eggs
Bunny Day Bed: 1 Earth Egg, 1 Stone Egg, 1 Leaf Egg, 1 Wood Egg, 1 Sky Egg, 1 Water Egg
Bunny Day Fence: 1 Earth Egg, 1 Stone Egg, 1 Leaf Egg, 1 Wood Egg, 1 Sky Egg, 1 Water Egg
Bunny Day Festive Balloons: 1 Stone Egg, 1 Wood Egg, 1 Water Egg
Bunny Day Flooring: 2 Earth Eggs, 2 Stone Eggs, 2 Leaf Eggs, 2 Wood Eggs, 2 Sky Eggs, 2 Water Eggs
Bunny Day Glowy Garland: 1 Earth Egg, 1 Stone Egg, 1 Leaf Egg, 1 Wood Egg, 1 Sky Egg, 1 Water Egg
Bunny Day Lamp: 4 Wood Eggs
Bunny Day Merry Balloons: 1 Earth Egg, 1 Leaf Egg, 1 Sky Egg
Bunny Day Rug: 1 Earth Egg, 1 Stone Egg, 1 Leaf Egg, 1 Wood Egg, 1 Sky Egg, 1 Water Egg
Bunny Day Stool: 3 Water Eggs
Bunny Day Table: 4 Earth Eggs
Bunny Day Vanity: 4 Leaf Eggs
Bunny Day Wall: 2 Earth Eggs, 2 Stone Eggs, 2 Leaf Eggs, 2 Wood Eggs, 2 Sky Eggs, 2 Water Eggs
Bunny Day Wall Clock: 3 Sky Eggs
Bunny Day Wardrobe: 4 Stone Eggs
Bunny Day Wreath: 1 Earth Egg, 1 Stone Egg, 1 Leaf Egg, 1 Wood Egg, 1 Sky Egg, 1 Water Egg
Wobbling Zipper Toy: 4 Earth Eggs, 4 Stone Eggs, 4 Leaf Eggs, 4 Wood Eggs, 4 Sky Eggs, 4 Water Eggs
Bunny Day clothing items:
Bunny Day Bag (Backpack): 1 Earth Egg, 1 Stone Egg, 1 Leaf Egg, 1 Wood Egg, 1 Sky Egg, 1 Water Egg
Bunny Day Wand: 1 Wobbling Zipper Toy, 3 Star Fragments
Bunny Day Crown: 1 Earth Egg, 1 Stone Egg, 1 Leaf Egg, 1 Wood Egg, 1 Sky Egg, 1 Water Egg
Egg Party Dress:3 Earth Eggs, 3 Stone Eggs, 3 Leaf Eggs, 3 Wood Eggs, 3 Sky Eggs, 3 Water Eggs
Egg Party Hat: 2 Earth Eggs, 2 Stone Eggs, 2 Leaf Eggs, 2 Wood Eggs, 2 Sky Eggs, 2 Water Eggs
Earth-Egg Outfit: 3 Earth Eggs
Earth-Egg Shell: 2 Earth Eggs
Earth-Egg Shoes: 2 Earth Eggs
Leaf-Egg Outfit: 3 Leaf Eggs
Leaf-Egg Shell: 2 Leaf Eggs
Leaf-Egg Shoes: 2 Leaf Eggs
Sky-Egg Outfit: 3 Sky Eggs
Sky-Egg Shell: 2 Sky Eggs
Sky-Egg Shoes: 2 Sky Eggs
Stone-Egg Outfit: 3 Stone Eggs
Stone-Egg Shell: 2 Stone Eggs
Stone-Egg Shoes: 2 Stone Eggs
Water-Egg Outfit: 3 Water Eggs
Water-Egg Shell: 2 Water Eggs
Water-Egg Shoes: 2 Water Eggs
Wood-Egg Outfit: 3 Wood Eggs
Wood-Egg Shell: 2 Wood Eggs
Wood-Egg Shoes: 2 Wood Eggs